There are about 200,000 military veterans who transition back into civilian life each year – and we're proud to have some of this incredible pool of talent working with us here at The Container Store! Check out our photo gallery showing many of our veterans on the job in our stores, office and distribution center. We're passionate about attracting the best and brightest talent to the retail industry – and want to encourage veterans entering the civilian workforce to consider what a retail career can mean: endless opportunity, creativity and innovation!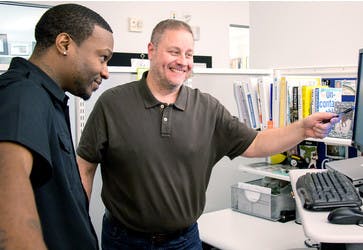 Chuck (right) helping his team member design a customer's elfa closet solution.
We took a moment to ask one of our TCS Veterans – our Customer Solutions Department Supervisor, Chuck Mavrinac – about his decision to embark on a career in retail after serving for eight years in the U.S. Air Force.
Q: Tell us about your role in the Air Force.
A: I served in the Air Force as an Explosive Ordnance Disposal Technician and really gained a lot of incredible life experience during that time. As a part of the Explosive Ordnance Disposal team I had the opportunity to work closely with the United States Secret Service and travel all around the country helping ensure the safety of the President. I was also deployed overseas several times – including once to Egypt – which is an experience I won't ever forget.
Q: Tell us how you decided to work at The Container Store after serving in the military?
A: I began my career with The Container Store in 1997 at the San Antonio, Texas store. I decided to go back to school after I left the Air Force and I happened to see a recruiting ad for The Container Store. I needed a part-time job, so I applied and was hired as a seasonal employee helping to unload merchandise trucks. At the time, I didn't think that I was beginning a nearly 20-year career in retail, but I really fell in love with the company and the industry. When I was offered a full-time sales position at the San Antonio store I knew that was it for me – I was all-in at that point!
Q: What has your career path been here?
A: I spent three years at the San Antonio store where I had several different roles – I learned register sales, elfa space design and was eventually asked to head up all of the payroll, scheduling and training for the store. Then, in 2000 The Container Store launched its ecommerce site and began selling online for the first time. I was asked to move from San Antonio to Dallas to begin working at the home office in the "mail order department" as we called it then – I was really excited to have the opportunity to build this part of the business and be part of something new that was just starting out. Fast-forward 15 years to today – I'm now a Supervisor in our Customer Solutions Department where we serve customers via the phones and online – whether that's helping them place orders, design custom closet spaces, answer questions about products, our business – you name it.
Q: How were you able to use your military experience in your job with TCS?
A: When I left the military, I was told that the majority of the skills I'd learned probably wouldn't translate very well to my first civilian job. Well that just simply wasn't the case at The Container Store. True to our Foundation Principle 'Intuition does not come to an unprepared mind. You need to train before it happens,' I was encouraged to leverage my past experience from the military while doing my job at The Container Store. Some of the things that were most applicable to my new role were great organizational skills, the ability to multi-task and excellent decision-making skills.
Q: What's your favorite part about working at The Container Store?
A: I love how our company is always growing and changing – things are never stagnant here! Just this past year, we've launched our new TCS Closets built-in custom closet systems and we're rolling out our Contained Home professional organizing service across the country – it's exciting to be part of a company where I have the opportunity to impact new initiatives in a positive way.
And of course – my other favorite part about The Container Store is the team I work with. It's truly a family atmosphere here, and every single person that works at this company is approachable, helpful, and collaborative. Our Chairman and CEO even walks around our home office and visits with employees on a regular basis, just to find out how they're doing!
Q: What advice would you give to other veterans seeking their first civilian job?
A: Be open-minded to change. I definitely wasn't seeking a career in retail when I left the Air Force, but I was open to the opportunity as it presented itself. Try to be a sponge for information and learn all you can. When you're leaving the military, nine times out of ten your experience isn't going to be an exact perfect fit for a civilian career field, but that doesn't mean you can't utilize your military experience – so think outside the box about how your skills can translate. I NEVER would have thought I'd go from sweeping for explosives to working on the sales floor of a retail store, and designing elfa closet spaces for customers. But now I can't imagine having worked anywhere else but The Container Store for the past 18 years!!!!