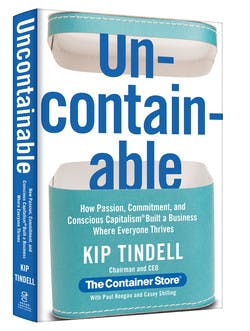 Fortune just named Kip's book – Uncontainable – one of the top five business books for 2016!!
Columnist Verne Harnish says, "The Container Store has fans as avid as Apple's and a workplace as appealing as Google's – despite selling wastebaskets and closet organizers. It has a staff turnover of less than 10% and turns away 96% of applicants. In Uncontainable, its Co-founder and Chairman shares the blueprint of how The Container Store has pulled it off. Read this book now and shamelessly steal the great ideas that keep the retailer on Fortune's Best Companies to Work For list every year."
Visit www.uncontainable.com to learn more about the book, which by the way we think would make a great gift for the naughty and the nice on your list this year!