Over the last few years, the Drop-Front Shoe Box has become one of The Container Store's most popular items. Though our regular customers enjoy this product, it was the "sneakerhead" community that really fell in love with it and made it such a big success. Clear, stackable, and durable, it's become the go-to choice for many with noteworthy sneaker collections, and as a result we've been contacted by numerous sneakerheads seeking partnerships.
One of the most unique sneakerheads to reach out to us was Daniel Lister, whom we first got to know in November 2017. In addition to his passion for Nike sneakers, Daniel is a single father, a college student, a classical piano player, and an amputee, a fact he states in his social media sobriquet (One-Legged Lister). And it wasn't just his interesting background or huge social media following that made him an ideal partner. "He's the most humble, authentic, amazing guy," says Lauren Rose, The Container Store's Digital Marketing Coordinator. "Ever since the first time I spoke to him on the phone, I knew he was everything we wanted in a brand partner."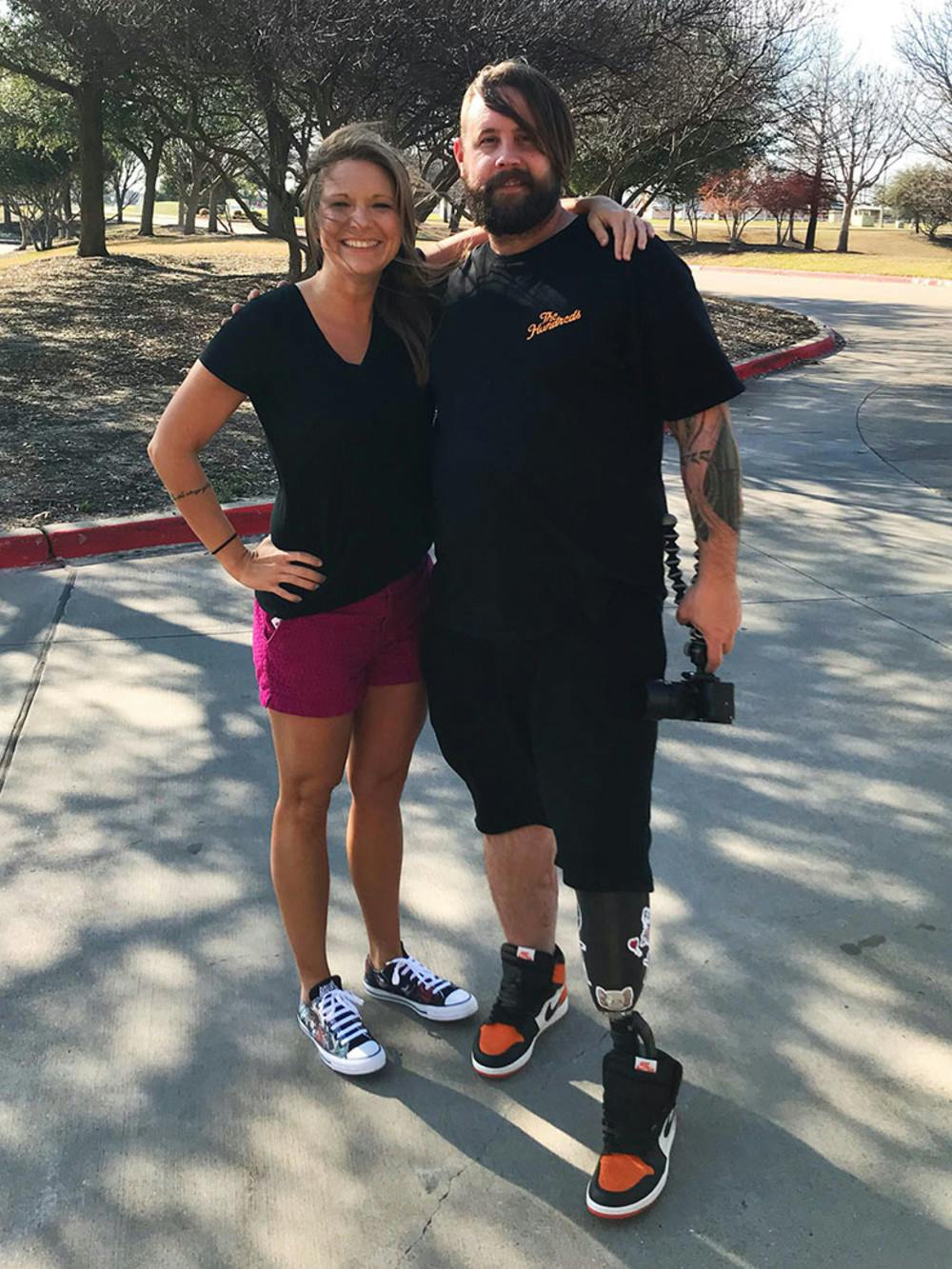 Daniel Lister (right) with our Digital Marketing Coordinator Lauren Rose.
Daniel's journey to the forefront of the sneakerhead world has been far from easy. An Army brat, he followed in his father's footsteps by enlisting in the Army in February 2002. Though the War on Terror was in its early stages, he insists that the desire to be a hero had nothing to do with it. "I had just recently gotten married and was only 20 years old," he explains, "so I was just trying to be a good husband and pay the bills." Daniel became a combat engineer—clearing mines, constructing and blowing up bridges, etc.—and served three tours in Iraq and one in Afghanistan. During his time in the Army he enjoyed the camaraderie with his fellow troops, and his job—though dangerous—gave him a sense of pride.
It was that deployment to Afghanistan, however, that changed his life forever. On June 2nd, 2010, Daniel stepped on an IED (Improvised Explosive Device), and the blast ripped through his legs. The incident cost him his left leg and severely scarred his right, and military medical personnel just barely managed to save his life. As he endured months of painful surgeries and treatments, his thoughts got darker and sometimes suicidal. "My mind kept screaming, 'your life is over,'" he admits. "I felt like I was a burden on everyone taking care of me." He spent time self-medicating, his marriage ended, and he was lost in a haze of depression and post-traumatic stress disorder.
But when all seemed hopeless, Daniel ultimately decided that he wanted to live. He wanted to get sober and take care of his children, so he began attending recovery programs in an effort to conquer his demons. And another form of help arrived with his introduction to the sneakerhead community. Though he'd collected sneakers ever since he was a child, he began to pursue it with a renewed passion, and social media allowed him to find a like-minded, supportive, and positive community made up of people from all walks of life. "As I started to meet people, they helped bring me out of my shell. There was a whole world going on outside my own mind, and it really helped me and my children heal," he says.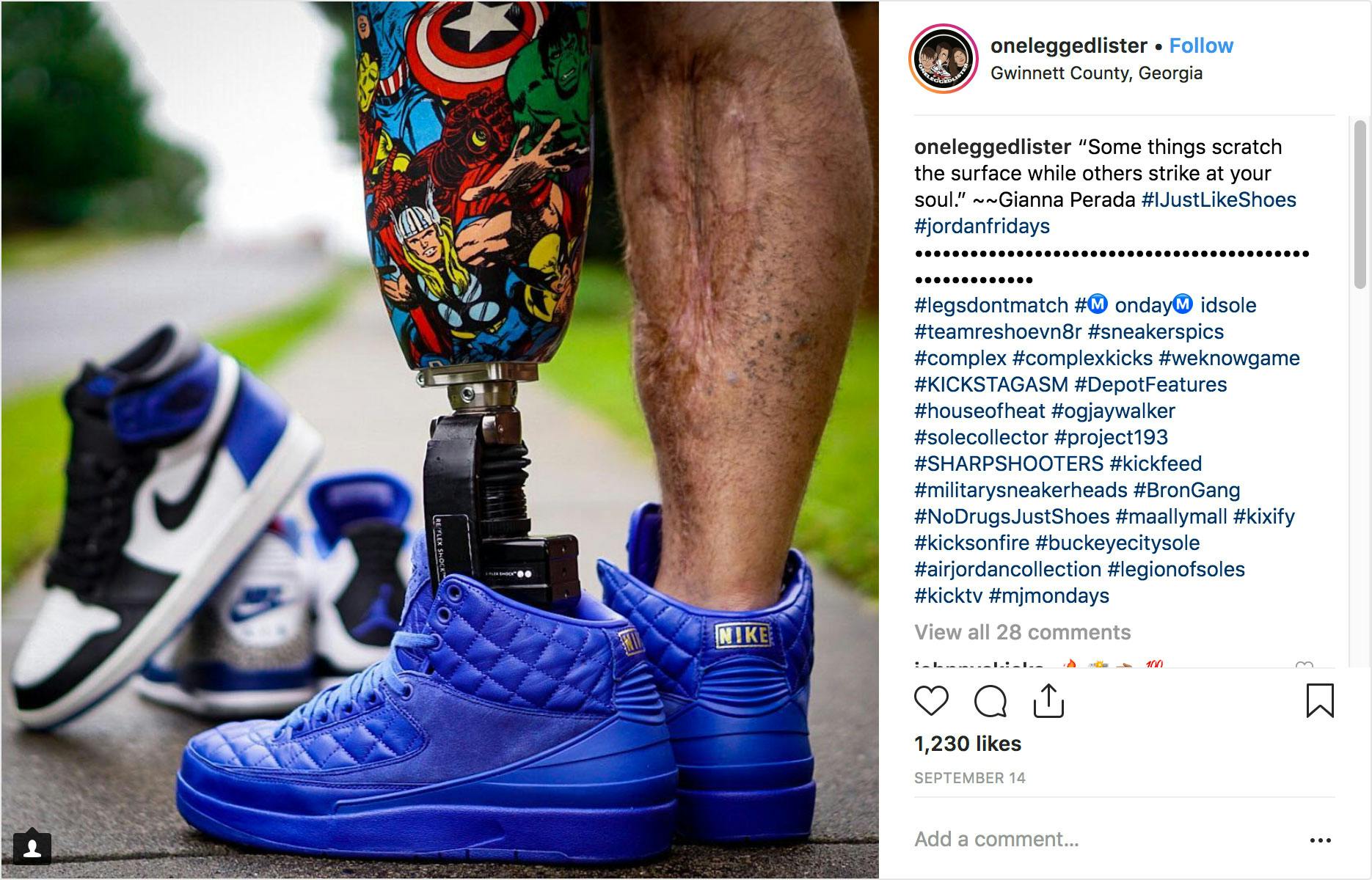 It was this reignited interest in sneakers and the friends he made along the way that ultimately led Daniel to us. When he'd spent time wheelchair-bound, he'd found it enormously difficult to constantly stack and un-stack shoe boxes—"sneaker Jenga," as he refers to it—and eventually he discovered that the Drop-Front Shoe Boxes made it much easier to store and display his collection, which has grown to upwards of 370 pairs! "People who aren't even sneakerheads love them and compliment my room," Daniel says. "I'll be forever grateful to The Container Store. I know it sounds small, but it was a big thing for me."
After signing on as a brand partner, Daniel was finally able to visit us in person at our Home Office in Texas last summer. "It was so exciting to finally meet him in person," remembers Lauren. "We were honored to thank him for his service and support in person, and we shared a lot of laughs. And since Daniel lives in Atlanta, we just HAD to take him out for some authentic Tex-Mex!"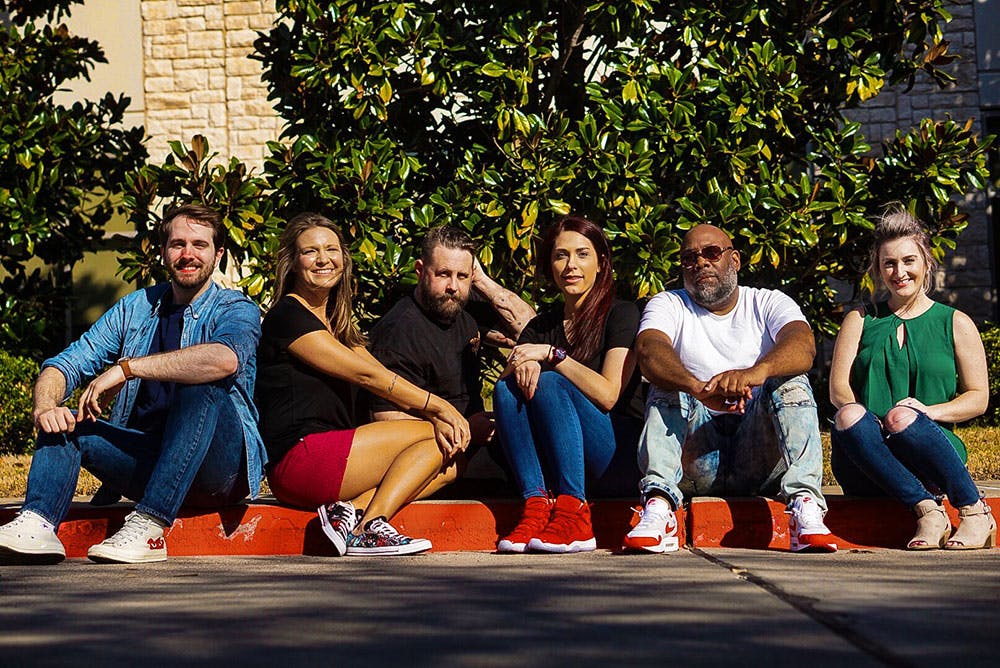 Daniel (third from left) visits friends at The Container Store's Home Office.
As Veterans Day approaches, Daniel reflects on his military service and the sacrifice others have made. As someone who is now filled with so much hope for the future, he can't help but try to spread that hope to others as well, and he often talks to other veterans going through troubled times. "I just want to tell them 'you deserve love and compassion," he says. "Allow others to help you bury the memories that haunt you. There's nothing weak about seeking help, and it's very important for them to open up, talk to someone, and let the healing begin." And while he appreciates it when strangers thank him for his service, he believes Americans need to make more of an effort to follow up their words with actions. "When you meet a veteran, don't just thank them or call them a hero—get to know them. Have a conversation," he says. "They're not the same man or woman they were before they served. They may be conflicted about the things they did or saw, so they need love, acceptance, and understanding." 
"We're so proud of our partnership with Daniel," Lauren says. "He connected us with our dear friend and partner, Mark Bostic, and he's gone above and beyond for us time and time again. We can't wait to see what the future holds for him. He truly loves our company—and we love him."