Our Holiday Hugs program is close to wrapping up for 2015, and we just had to share some special stories of our customers' generous donations so far:
A local Dallas Pre-Kindergarten class made our Holiday Hugs program their class project. Each student raised money performing class chores or carrying out simple acts of kindness. With the money they raised, they purchased toys and delivered them to our Dallas NorthPark store.
Morgan in Fort Worth heard about the opportunity to help kids in need and went to Main Event to earn coupons towards toys. While she was "working hard" to earn those coupons, a few others at Main Event heard what she was doing and joined in. She collected 2 shopping bags full of toys!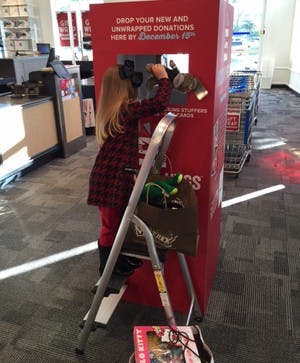 In our Denver market, the Business Management class from the University of Colorado-Boulder teamed up to collect toys and delivered a large box to our FlatIron store this week!
And in our Northbrook, Chicago store, the Illinois Shockwave Girls softball team couldn't wait to get involved when they heard about the opportunity to support children at a local hospital. They gathered dozens of toys, delivered them to our store and then celebrated with a fun bow demonstration!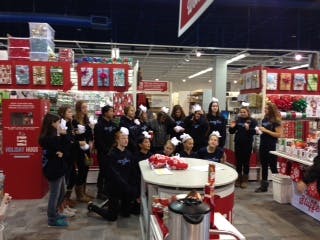 It's not too late to support our Holiday Hugs program and we still need YOUR help! Deliver new, unwrapped books, small toys and games, toiletries and gift cards to any of our stores through December 15! For more information on our Holiday Hugs program click here!