*This is part of our "Leaders We Love" series. Learn more about it.
Facebook's Sheryl Sandberg has such a powerful wake, we had not one, but TWO of our leaders at The Container Store submit a blog post about how she has inspired them! So, we're sharing both posts together. Read below to learn how Area Director, Christina and General Manager, Angela were inspired in different ways by Sheryl.
By Christina W., Area Director – Florida
I find Sheryl Sandberg to be a very astute leader who is currently shaping the mindset of today's business woman and parent alike. After four years as Facebook's COO – during which she took the company through a multi-billion dollar IPO – Sandberg was named to the social network's board of directors. With this appointment she became the first female board member in the company.
She had previously served as chief of staff for the U.S. Treasury Department under President Bill Clinton, and managed Google's online global sales and operations as a vice president. One of few prominent women in tech, Sandberg has become the catalyst for a generation of women aspiring to balance high-profile jobs with motherhood.
"I don't believe in 'having it all,'" she said in a Fortune article. "But I do believe in women and men having both a successful career and family. The more women we get into positions of power, the more likely we'll get that."
Her book titled, Lean In has sparked controversy as some people might consider Sheryl Sandberg an overly aggressive feminist. I differ with this assessment as I feel she embodies the struggles of not only the working parent, but also supports the stay-at-home parent.
Her message is powerful, insightful, inspiring and impactful for all career minded people and parents alike. She encourages everyone to lean into their passion whether it is family or career- giving it your entire focus to be the most successful that you can be. Effective communication is the catalyst to leaning in, which is in direct correlation with our Foundation Principle "Communication is Leadership".
If you're interested in learning more about Sheryl Sandberg- pick up a copy of her book titled Lean In: Women, Work and the Will to Lead.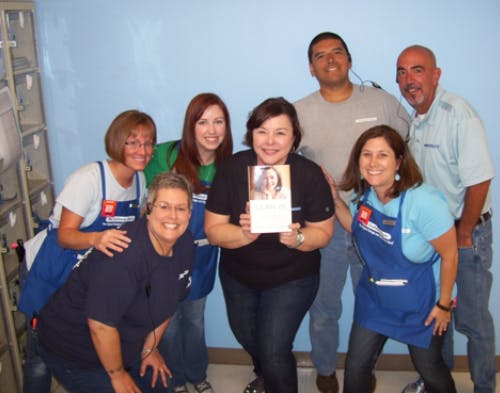 By Angela S., General Manager, Houston Champions Store
I've been intrigued listening to many interviews with Sheryl Sandberg. She recently wrote a book, Lean In. She served as the Chief Operating Officer at Facebook. She is married and has two children. The characteristic that grabbed me about Sheryl was not only her accomplishments but her unyielding support concerning women.
One of the chapters in her book is titled, "It's a Jungle Gym, Not a Ladder". At The Container Store, we strive to hire the very best people – our first Foundation Principle is 1 Great Person = 3 Good People (in terms of business productivity). Most companies use the ladder to develop their staff – they train them in one area only and expect them to stay on that track their whole career. This is a more limited approach.
Our company is filled with a staff that is trained in many areas. All of us have had dips in our careers, external barriers, re-entering the workplace and taking time off. The "jungle gym" provides many views for many people at all timeframes of their careers. Most of us have not stayed on track with the original map to our career. The dots are sometimes not connected the way we thought. This is one of the things that makes The Container Store such a unique place to work.
Reading this book inspired me to never give up, to support my staff and help them achieve their goals. I encourage all of you to believe in yourself and think BIG by leaning in! If you are interested in learning more about the Lean In movement, you can visit www.leanin.org or read Sheryl's book.