The Junior League of North Harris, in the Houston-area, started a new community program called Healthy Appetites Promote Positive Youth (H.A.P.P.Y). The group realized that 60 children at two local schools who qualify for free or reduced meals during the week could also benefit from better nourishment over the weekend. So, Junior League volunteers planned to create more than 2,100 backpacks of healthy, child-friendly, non-perishable food for the children to take home each Friday.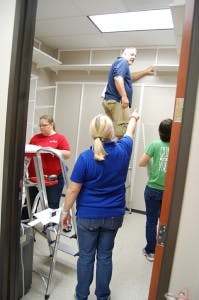 The program was ready to go, except, they had no organizational system to house all of their supplies. We knew The Container Store could help with that! We designed and installed a space using elfa Shelving that would be perfect to get their program up and running.
The ladies with the Junior League were so excited to finally get this project underway! When all the shelving was installed, we stayed to help them place some of the food they already had onto the shelves, and in true TCS style, organized it into different zones for efficiency.
The ladies talked with us about how poor nutrition can be directly linked to poor school performance. Children who do not receive proper nutrition over the weekend return to school tired, but even after school lunch, it still takes several days before they regain their energy and concentration. We believe this program will have a huge impact on their health and participation in school and were all honored to be able to play a part!
Kristen Johnsen, full-time Sales at The Woodlands Store (2 Years)