As if having The Container Store come to Boca Raton wasn't exciting enough, our team here at Dress for Success Palm Beaches was thrilled when they offered to organize the new "boutique" that houses our professional attire. Our organization promotes the economic independence of disadvantaged women by providing business clothing, a network of support, and career development tools to help them thrive in work and in life. Referral agencies send job-ready women to our Career Transformation Center to select a suit when they have scheduled a job interview.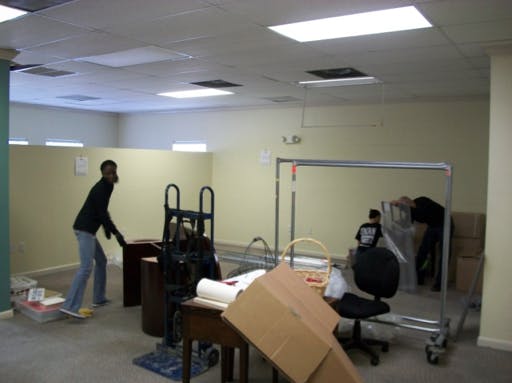 Dress for Success Palm Beaches' Boutique before its elfa make-over.
Now almost halfway through our third year, we have grown from helping 100 wome`n a year to more than 400 local women annually. We recently moved into a much nicer building in a safer part of town, but the space is half the size of our former center. On any given week we provide suits for 10 – 15 women, with their sizes ranging from 0 – 20. Needless to say, we must keep a lot of clothing and accessory options on hand! The Container Store team worked with us to design a customized elfa Shelving system for the boutique (previously an office building with cubicles) to help us maximize our limited space in a fashionably fabulous way.
A team of volunteers showed up and we couldn't believe how quick and easy the installation was. I also love that the elfa components can be rearranged in the future if needed. We're very proud of our new home and finally feel as though we are able to offer our services in a location that's worthy of the wonderful women we serve. Now, their interview suit fittings feel more like a true retail shopping experience – a luxury that many of us take for granted. The Container Store made it possible for us to make half the square footage work… even better than the old, bigger place!
Diane S. Wilde, CEO/Founder, Dress for Success Palm Beaches