We're currently hiring for positions in our Distribution Center here in Coppell, Texas – here are the top 10 reasons our Distribution Center is an awesome place to work!!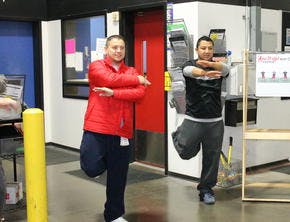 10. It's safe and clean. The Container Store Distribution Center provides a safe, clean environment where everyone can thrive. Not only do we have a Safety Committee, but we have measures like dock restraint systems on all doors, which take everyone's safety into account from drivers to those who load our trucks. Another safety program is Rev-It-Up, which is designed to prevent common injuries like strains and sprains with dynamic exercises.
9. Ability to grow above & beyond your job. There are tons of opportunities to contribute beyond your regular job: by being on the Training Team, Travel Team (go and set up a new store!) and potentially even cross train by working in the home office. These opportunities help you contribute even more in different areas.
8. Awesome equipment. We have 77 high-volume/low speed fans and a sophisticated air filtration system that 'turns' the air five times an hour to help keep us cool. We utilize the most up-to-date tools and equipment, such as voice picking technology, labor management and warehouse management systems...and tricycles!
7. The Gumby Cafe. Both home office and DC employees regularly eat breakfast, lunch, snack, and sometimes even pick up dinner in the onsite Gumby Cafe. The company heavily subsidizes food here, and fresh seafood is trucked in twice a week. Imagine a complete breakfast of pancakes, eggs and sausage under $3.00.
6. Training and Development. Did you know we have a team of trainers who are responsible for growing and developing great talent in the DC? You receive training not just in your home department, but in other areas of the Distribution Center too. We believe there is value in knowing other departments within the DC, so you may be cross-trained in fulfillment, special processing, maintenance or logistics.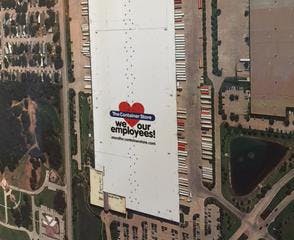 5. That roof. If you are in an airplane landing at DFW Airport from the north, you can look out the window and see the Container Store's biggest love letter to its employees-on the roof of the Distribution Center! This was a surprise given from our leadership team on February 14, 2012 (We Love Our Employees Day). Watch the video here:
http://standfor.containerstore.com/biggestlovenoteever
4. The Empire State Building can lay down inside of it. That's really big. Just over one million square feet of world-class warehouse space is the central hub for inbound and outgoing product for our 70 stores nationwide. 18 football fields fit inside!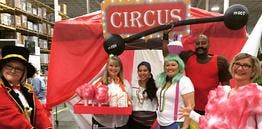 3. Fun. The Derby and Chili Cook Off are some local favorites hosted inside the Distribution Center. Our DC also hosts Turkey Bowling, Gift Wrap Fashion Show and department celebrations throughout the year.
2. Open mindset. We are a growing and evolving company—always learning something new and expanding our knowledge in many ways! We encourage employees to help contribute to our business—give feedback, ideas, etc…we understand that the people closest to the tasks are the best ones to improve it.
1. Great people! We are one big family. We truly care about each other and want each other to succeed! You will LOVE the people you work with every single day AND we are okay with the word LOVE in the workplace!