Our inaugural Holiday Hugs program has come to an end, and with the help of our customers, vendors and employees, 4,200 Holiday Hugs were given to local children's hospitals across the country. These hugs gave many children staying in each of these hospitals a moment to celebrate and just be a kid.
We just love these stories a child life specialist shared about two of their special kids that benefitted from our Holiday Hugs program.
"On Christmas morning a terminally ill child woke up with his younger siblings to see that Santa delivered presents to his room. His parents don't have much and have many medical bills to pay, which meant that they weren't able to provide their children with presents on Christmas morning. But his family was together, in our hospital, and for one day felt the magic of Christmas when gifts for everyone were delivered to the hospital room. You were like Santa's helpers delivering all those presents to the hospital. The next day this child passed away. And while it is of course still hard, we know that they will always cherish those memories of this special Christmas morning.
Another child was given the exciting news that he could come off of his ventilator on Christmas Eve. The family had not prepared to be in the hospital on Christmas day, so they did not have any presents for their son. I snuck into his room, hoping he was asleep, but he jumped right up in bed and I told him Santa had brought all his presents to me. He was so excited that even though he had an IV and an arm board on, he was determined to play and quickly started opening his presents. He loved his gifts and played all day. A happy spirit can definitely help children get discharged from the hospital and home sooner.
Most of our kids do get better, but regardless of their prognosis, donations like Holiday Hugs, and the generosity and kindness of people, help build lasting memories for these families."
We couldn't have provided new toys, books, games, toiletries and more without YOUR help or without the help of our employees who donated, volunteered to put the Holiday Hugs together and delivered them to each of our fabulous partner hospitals! Big HUGS to all of you!!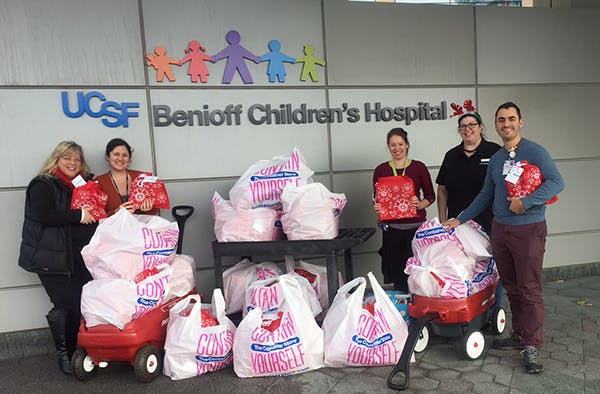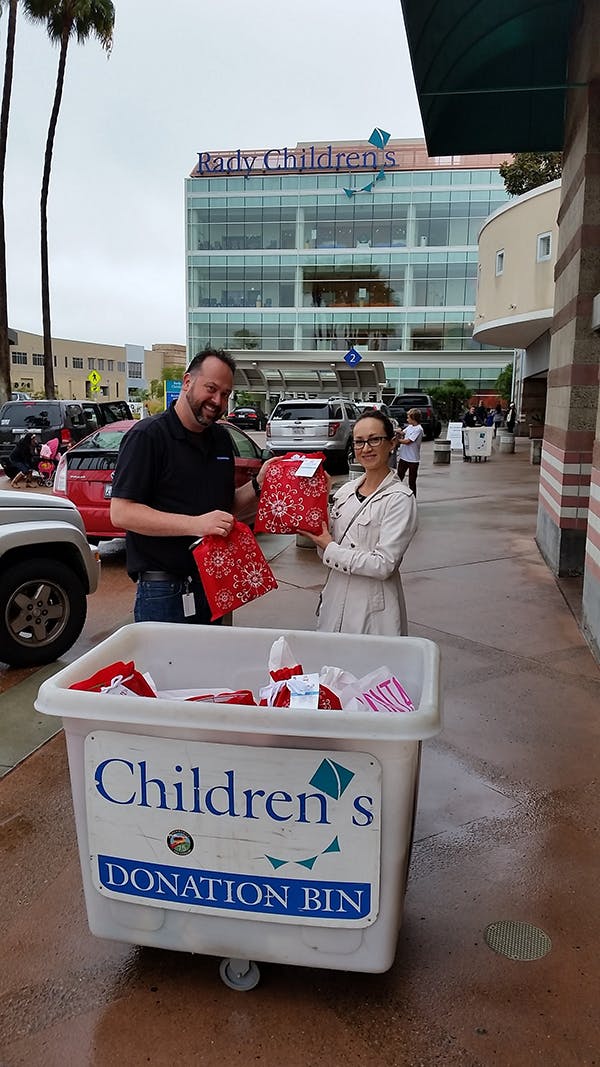 Holiday Hugs were delivered to the following hospitals across the country:
• Children's Healthcare of Atlanta: Scottish Rite, Egleston and Hughes Spalding
• Ann & Robert H. Lurie Children's Hospital of Chicago
• Cincinnati Children's Hospital Medical Center
• Nationwide Children's Hospital (Columbus, OH)
• Children's Medical Center (Dallas)
• Children's Hospital Colorado (Denver)
• Texas Children's Hospital (Houston)
• Children's Mercy (Kansas City, MO)
• Arkansas Children's Hospital
• Children's Hospital Los Angeles
• CHOC Children's (Orange County, CA)
• Children's Hospital of Wisconsin
• Children's Hospitals and Clinics of Minnesota
• Lucile Packard Children's Hospital Stanford (Palo Alto)
• The Children's Hospital of Philadelphia
• Phoenix Children's Hospital Foundation
• Rady Children's Hospital - San Diego
• St. Louis Children's Hospital
• Swedish Pediatric Specialty Care (Seattle)
• All Children's Hospital Johns Hopkins Medicine (Tampa)
• Children's National Medical Center (DC Area)
• Banner Diamond Children's Medical Center (Tucson)
• UCSF Benioff Children's Hospital San Francisco
• Nemours Alfred I. Dupont Hospital for Children (Delaware)
• Joe DiMaggio Children's Hospital (Miami)
• Arnold Palmer Hospital for Children (Orlando)
• Riley Hospital for Children (Indianapolis)
• Sunrise Children's Hospital (Las Vegas)
• Joseph M. Sanzari Children's Hospital at Hackensack University Medical Center (New Jersey)
• Winthrop University Hospital (Long Island, NY)
• Mount Sinai Kravis Children's Hospital (New York)
• Blythedale Children's Hospital (Yonkers, NY and White Plains, NY)
• Levine Children's Hospital (Charlotte, NC)
• UNC Children's - North Carolina Children's Hospital
• OHSU Doernbecher Children's Hospital (Portland)
• Hasbro Children's Hospital (Providence)
• Monroe Carell Jr. Children's Hospital at Vanderbilt (Nashville)
• Cook Children's (Fort Worth)
• Dell Children's Medical Center of Central Texas (Austin)
• Children's Hospital of San Antonio