We celebrated a true first at The Container Store when we recently hosted the wedding of two 25+ year tenured employees from our Distribution Center, right here at our headquarters! Talk about taking our Air of Excitement to a whole new level!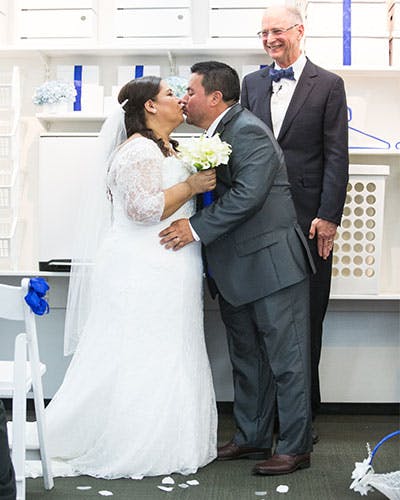 Greg Arechar and Lety Covarrubias were married in The Container Store's atrium, surrounded by friends, family, co-workers…and of course, our storage and organization products! Our Chairman Emeritus Garrett Boone, an ordained officiant, led the ceremony and our Chairman and CEO, Kip Tindell did a reading during the ceremony from Uncontainable, his new book all about The Container Store's culture, Foundation Principles and Conscious Capitalism.
Why a wedding at our workplace? Because it's where Greg and Lety met and fell in love! More than 29 years ago, Lety moved to the United States from Mexico and was recruited by a family member to work on the Special Processing team in our Distribution Center (where she's been working happily ever since!). Greg joined the company shortly afterward and has worked on several different teams in our Distribution Center. When the two first met, Greg asked Lety out quite a few times and she initially turned him down! Luckily, Lety had a change of heart, and invited Greg to attend an English class with her at a local high school. They've been together for more than two decades, and have two grown children who – you guessed it – also work at The Container Store! Read more about Greg, Lety and their family on our blog.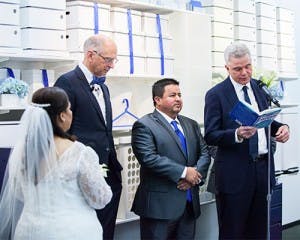 The couple decided it was finally time to make their union official at our Service Awards event this past summer at the Ritz Carlton, which honors employees with tenure of 10, 15, 20, 25 and 30 years. When the floor was open to honorees to share their feelings about their experience with the company, Greg waited his turn for the microphone and got down on one knee and proposed to his love of over 20 years. Lety said "yes" of course!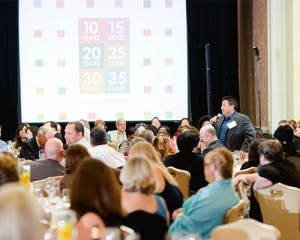 Lety and Greg say spending their careers at The Container Store has shaped their lives in positive ways they would never have imagined. They apply our Foundation Principles to their everyday lives – taking them everywhere they go, which has helped their relationships inside and outside the workplace.
Cheers to Lety and Greg – the most fantastic examples of our 1=3 GREAT employees we can imagine!