Theatro is a technology start-up that worked hand-in-hand alongside The Container Store for the past few years to create voice-controlled wearable devices for our store employees. These unique devices allow employees to better communicate with each other on the sales floor, while serving our customers. We recently sat down with Theatro CEO and Co-Founder, Chris Todd and asked him about the special nature of his company's relationship with The Container Store.
In the Beginning
Theatro founders, Chris, Guy and Steve were motivated by one question. "Why do we get such bad service in retail stores?" Prompted to solve this problem, they originally thought about a device that a customer could pick up at the door and use to request help when they needed it. As they started thinking about this solution, Guy decided to visit The Container Store location in his community of Austin, Texas because he had personally been wowed by the excellent customer service there. His visit helped him realize that their proposed solution wouldn't work, because bad customer service isn't a problem on the customer's end – it's something that happens when employees don't feel empowered to help. After talking to employees in the Austin store more about Theatro's idea, Guy was soon connected with John Thrailkill, our Executive Vice President of IT and Business Development, and his team.
Theatro's conversations with John led them to the conclusion that the real answer was to create a solution that would get rid of two-way radios and improve the customer experience. Customers want employees to look them in the eye; they don't want to see employees looking at a screen. Employees need to access information to serve the customer, but also need to look at the customer.
Ultimately, through the partnership with The Container Store, Theatro determined they needed to create wearable devices that would solve these problems by allowing information to be fed to employees through the ear instead of the eye.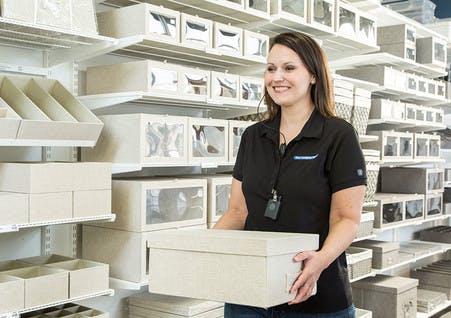 Theatro and The Container Store
Chris explained the mutually beneficial relationship between Theatro and The Container Store in this way, "It's rare to see an established company willing to take the time to form a true partnership with a small start-up. Most customers [in this case, The Container Store] don't usually wait for a company to meet their needs—let alone work with the company to figure out the needs and the solution. But the team at The Container Store was passionate about solving the problem and they genuinely care about customer service. There is a lot of trial-and-error when you're inventing something. It is a very complicated task and creating our wearable device took a lot longer than everyone thought, but throughout the entire process we couldn't have asked for a better partner than TCS."
Theatro worked exclusively with The Container Store for 2.5 years on product development, and that work really formed the basis of what the product is today. In February of 2013, Theatro ran their first pilot of the wearable voice-controlled device in the Austin store, and by August they were fully live.
Theatro Today
The product and the company have come a long way since the first days of casual conversations in the Austin store. After a controlled, soft launch they grew rapidly to include new customers like Bass Pro Shops and Cabela's in 2015. By the end of this year, they'll have over 30 customers, including nine of the nation's top retailers. They've even added their first grocery store and now provide 24/7 customer service for their clients.  
Giving Back
In February 2014, The Container Store launched our Employee First Fund which provides grants to employees for unforeseen circumstances for which they're not financially prepared. The Fund was launched with an initial donation from The Container Store, but one thing that made it extra special was that our vendor partners and service providers wanted to contribute as well.
The folks at Theatro saw an email about the launch of the Fund and knew they wanted to help. As a start-up company they couldn't afford to donate cash at the time, but with board approval they were able to donate company equity. The three founders also each donated personal equity to the fund. It is their hope that the equity will be worth a lot of money one day and can enable TCS to do something special for their employees who, in their words, "did so much for Theatro."
Chris went on to explain, "We wanted to memorialize our relationship with The Container Store. How can we ever repay/demonstrate to the team at TCS so they know how much we appreciate what they have done FOR us and WITH us, as well as how important they are to the company? There is an old phrase, 'Dance with the one who brought you' that really captures how we feel. TCS used to represent the majority of our business. As our company continues to grow, TCS may not always be #1 on the balance sheet but will always be #1 in our hearts."
Looking Ahead
As Theatro grows, they are placing an emphasis on maintaining a strong corporate culture. According to Chris, "TCS has been both a business and a cultural inspiration." Our Chairman and Co-Founder, Kip Tindell, invited him to the Conscious Capitalism CEO Summit in 2014. He says the Summit gave him a lot of inspiration to build a company that he wanted to work at. "We don't follow the path well-traveled and we stand up for what we believe in. Profits are important, customers are more important."