Payroll Director Stephanie Lind is just one of many Container Store employees who enjoy volunteerism.
April is National Volunteer Month – a time of year to celebrate volunteerism and those who devote their time to giving back to their communities. Whether you're passionate about animal welfare, the environment, senior citizens, or homelessness, there are a myriad of volunteer opportunities available all over the country. 
We at The Container Store are also passionate about giving back to the community, not only as a company but also on an individual basis. Many of our employees volunteer their free time outside of work to causes that are important to them. In fact, last year we even launched our own internal Giving & Volunteering Platform to help our employees search and sign up for local volunteer opportunities, and it's been a tremendous success.
One of our most passionate volunteers is Stephanie Lind, Payroll Director at our Home Office. One of her favorite places to volunteer is Cumberland Presbyterian Children's Home, a nonprofit in Denton that provides support, housing, life skills classes, and counseling to vulnerable children and single-parent families. As a mother, Stephanie decided to spend some of her free time helping other mothers. "I enjoy looking after the children while their parents attend the classes," she says. "They range in age from a few months old to teenagers, and it's so rewarding to play with them and get to know them each week. I want to see them grow up well and succeed, and hopefully they'll pay it forward to others in the future."
Another of Stephanie's favorite causes is collecting money, food, and household supplies for her local church. Some of what is collected goes to mission programs all over the world, and the rest is distributed to those in the community. They also partner with the North Texas Food Bank to hand out fresh produce to the community once a month. "Volunteering is not only good for others, it's good for me," Stephanie says. "It helps me to appreciate what I have and be a better person. My own son is grown and out of the house, so what better way to spend my time than by helping others?"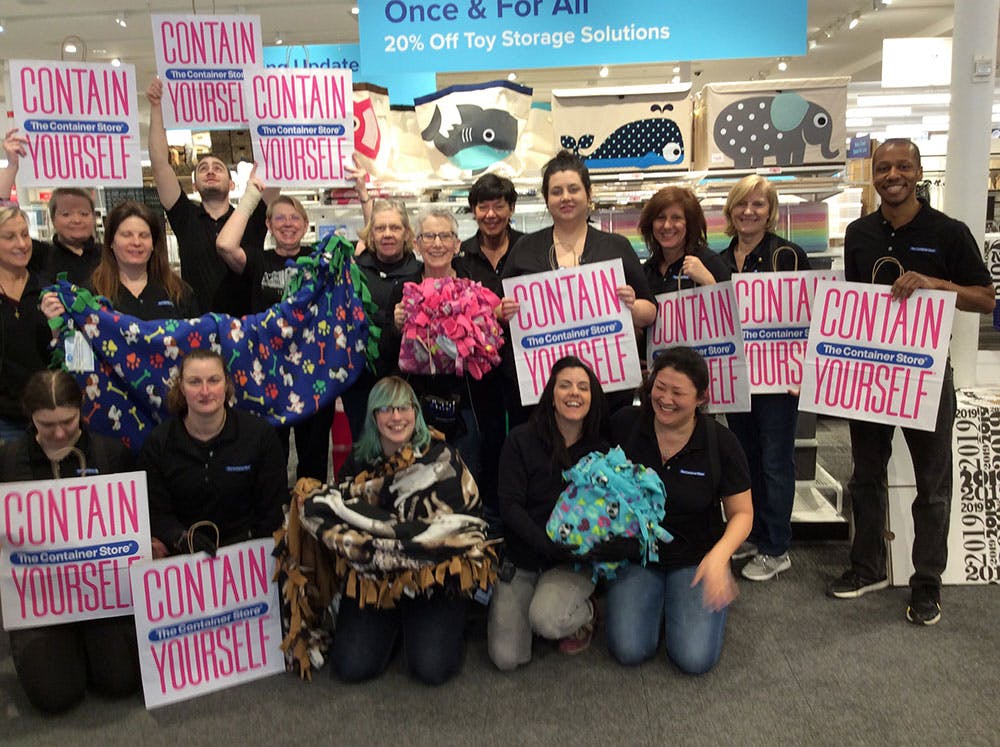 The employees of our Novi store proudly display the blankets they made for Fleece & Thank You.
The employees of our Novi, MI store location also love to give back. In lieu of having a holiday party, the Novi team raised money for local nonprofit Fleece & Thank You, which provides warm, colorful blankets for hospitalized children and the disabled. "All of us are so blessed and grateful for what we have, so we wanted to 'warmly' affect the lives of others in our community," says General Manager Lara Smolinski. They used the money they raised to purchase fleece blanket kits and then spent their lunch breaks cutting and tying the blankets. They were then able to deliver the blankets to the children in a local hospital, along with notes of encouragement from the team. 
"Our employees are passionate and dedicated to investing time in our communities across the nation, and it's incredibly inspiring," says Danielle Ricketts, The Container Store's Manager of Cultural and Charitable Giving Programs. "We love to hire people who are driven by purpose because we know that resolve manifests itself not only at work, but it also connects everyone to a greater common goal."
If you'd like to make a difference in your community, you can visit VolunteerMatch here.