Wonder what happens behind-the-scenes when you call or begin an online chat session with one of our employees?
The Container Store's Customer Solutions Department (CSD) is far more than just a call center. In fact, in many ways it's more like the "nerve center" of the entire company. Our CSD employees provide solutions to customer service-related issues, answer online product questions, monitor our various social media channels, assist our Contained Home organizers, provide technical support for our store locations, and create free custom elfa designs for your home or office.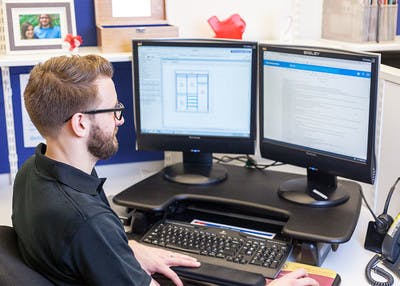 So let's say you're at home, you're excited to take advantage of our Annual 30% off elfa Sale, you've spent some time playing around on our elfa Design Center and you decide you'd like the advice of a pro. So, you click on our live chat button and you're instantly greeted by Brad.
Brad sits in front of two monitors. On one he sees your chat and on the other is our elfa design program. Every question he asks you impacts a decision he's making for your custom closet design. The dual-monitor set up means he never has to close your chat window to work on your design.
"Being an elfa designer is a cool, unique experience," says Brad. "It's very exciting to converse with the customer, get to know their needs, and present them with a design they're truly excited about. Plus, working over chat means customers can connect with us easily, no matter where they might be. I actually once designed a customer's closet while he was on a plane!"
A few days later, you've purchased all the components for your closet. Since it is a small space, and you're a DIYer, you've decided to install it yourself. Things are going well, but you have a question. You thought about watching the instructions and videos on our website, but you'd rather just talk to someone. So, you call 1-888-CONTAIN (266-8246) and Eva answers the call.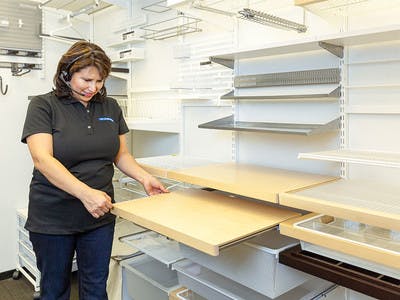 Your question is a great one, and Eva realizes she could answer it most quickly if she could touch the products herself. You're both in luck! We have an incredible in-house elfa area in the middle of the contact center, where we have a wide variety of elfa components. Eva can use these products to work alongside you, answer questions about measurements or functionality, and talk you through the process in a more personalized way.
Our Customer Solutions Training and Quality Assurance Manager, Gwendolyn, adds, "I love being able to physically touch and interact with the products. It allows us to connect more with the customer, explain things in greater detail, and provide an even better level of service."
So the next time you need help just remember our CSD agents are here for you. There's really nothing they can't do!