Since the founding of our company, Chairman and CEO Kip Tindell has had three goals for our distribution center: Safety, Happiness and Efficiency. We really believe that safe and happy employees are more efficient employees.
Over the course of the last year, our 1.1 million square-foot distribution center (DC) has been going through major changes to begin automating certain processes. There is no doubt that automation increases efficiency, so we set out to explore how this major change is improving the safety and happiness of our DC employees, and how our culture ultimately defined the way it was implemented.
Distribution Center Construction Manager Jeff Gora took us on a tour and taught us all about the ins and outs of the automation process.
Can you tell us in very basic terms how a distribution center works?
A DC receives products from vendors, stores the products until they're needed, and then ships the products to stores and customers.
How does automation work? How has it improved our employees' safety?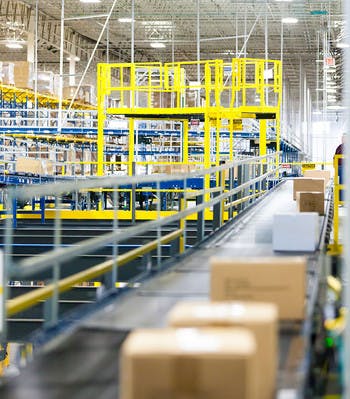 In the past, an employee in the DC was responsible for collecting items for one store order at a time. Our employee might drive a forklift the full length of the DC to fulfill this one store order – and then when he started on the next store order, he might have to drive that exact same path again. The process was very manual and required a lot of heavy lifting and movement.
Automation allows us to focus on products going to multiple stores at once. Now, our employees will see print-outs informing them that they need 10 of a certain product for multiple store orders, and they can collect all 10 at once and place them in labeled boxes or bins on a conveyor belt that will (magically ) deliver them to the correct outgoing store truck!
There are now 1.7 miles of conveyor belts in our DC. It takes roughly 8 minutes to get something from the very start of the belt to the end. By eliminating all of that unnecessary movement and lifting, we have dramatically improved efficiency and decreased opportunities for injury to our employees. It's a win-win!
Big change is difficult in any organization. How did we involve distribution center employees in the process and communicate the changes effectively to ensure all employees felt secure?
Guided by our Foundation Principle, Communication IS Leadership, we started communicating months ahead of time. All employees had an opportunity to sit in a small group setting for a presentation on the automation and to ask questions of the leadership team. We held focus groups to discuss standard operating procedures, and we asked for employees' feedback about the challenges they faced on a day-to-day basis. We then showed them the plans for the new system and again asked for feedback – we wanted employees involved from the beginning so that they could help us make sure automation would ultimately deliver the improvements we were looking for.
Many employees have had to take on new roles – how has that worked?
Yes, many job roles have changed, but our employees have really embodied our 1 Great Person = 3 Good People Foundation Principle. They've stepped up and taken initiative to learn their new job roles with great attitudes and enthusiasm. They've been very open to change. Our employees' flexibility and willingness to put in 110% every day is really the key to all aspects of our success. Instead of grumbling about having to learn new ways of doing things, our teams rallied around the automation process. Because of our great people, we feel like we've been able to ensure even higher quality of the orders we're processing every day.
When I hear "automation," it makes me think people are being replaced by machines. How have we managed to make these changes without eliminating jobs?
The short answer is – we planned ahead. Several years ago, when we decided that we wanted to start down the path of automating the DC, we began by taking a hard look at employee schedules to start preparing for what we'd ultimately need once we were automated.
We took this process very seriously. We brought in a consultant to conduct focus groups and surveys with employees about what types of schedules they would like the best. By the end of the process we had gone from the majority of employees having a 5-day work week schedule to a 4-day work week. Employees were happy because they'd had a chance to give their opinions from the beginning. Ultimately, we were able to give nearly everyone their first choice of schedule – which meant very happy employees!
And now, we're fortunate that we're in a growth mode—so we're not cutting staff, we're actually growing into the new roles and processes created by the automation. With normal attrition and adding stores, we've been able to efficiently utilize our current team to meet the needs of the automated DC. The true goal is to leverage the investment we've made in the automation, so that as the company grows, we're prepared to meet increased demand by growing the staff.
How has the automation improved the distribution center?
Going back to our commitment to Safety, Happiness and Efficiency—we've discussed the improvements to safety and efficiency, but we didn't overlook happiness as we took on the automation.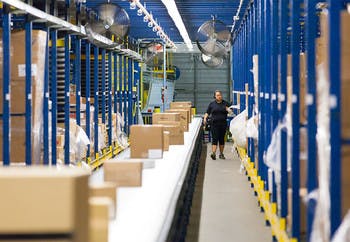 We did a lot of research—we even visited other DCs—to determine best practices. We found many other DCs were very poorly lit and incredibly hot. We understand that it isn't economically feasible to air condition 1.1 million square-feet of space, but we knew we wanted more for our employees. So we made significant investments in lighting and fans to make sure our employees are as comfortable as possible. And now, we have high-powered fans mounted every few feet along our conveyer belt working areas, as well as bright LED lighting that lends itself to a cheerful atmosphere.
Our automation process has given us the opportunity to deepen the connection with our employees, build even more trust and ultimately drive lots of efficiencies – all to ensure we live up to our reputation as the "Happiest Distribution Center on Earth." Being a part of this project has really been the highlight of my career.