A few weeks ago I had the pleasure of attending the Conscious Capitalism 2017 annual conference. As I sat in awe of the AMAZING speakers, here are my most relevant key takeaways that can be applied to any business the business world:
Raj Sisodia, Professor of Global Business at Babson College and Board Member of The Container Store, shared that in today's workforce, 30% of employees nationwide are actively engaged, 50% of employees are not engaged, and up to 20% of employees are actively disengaged with the companies for which they work! Those numbers were shocking to me! When your employees are distrustful of your company or indifferent to its mission, they can't be creative or innovative, and the business suffers as a result. The message was clear: building businesses on love and care, not just profit, is what really matters.
REI CEO Jerry Stritzke had an intriguing message: A brand-relevant, purpose driven company that takes risks will have a competitive advantage. Retail has changed substantially in the last 3 years, and becoming risk-takers is how they've stayed relevant. For example, last year REI made a big statement in retail with their #OPTOUTSIDE campaign by closing their doors on Black Friday. This was all done in an effort to give their employees (who were still paid for the day) and their customers time to be with their friends and families outdoors! It was a bold move, but by staying true to their higher purpose, REI actually made a greater profit in the long run because the campaign strongly endeared their customers to their brand.
Dion Drew, an employee at Greyston Bakery, and Mike Brady, Greyston's CEO, both told us about their amazing "open hiring" philosophy. Dion first lead us through his personal journey of becoming a drug dealer at 15 and later spending four years in jail. Once he was released, he was unable to gain employment due to his criminal record, but he was finally able to land a job at Greyston Bakery. According to Mike Brady, they will hire the next person in the door - no interviews, no background checks, no questions asked - all for the purpose of giving people a chance! In fact, one of Greyston's largest customers is Ben and Jerry's, and both the bakery and the surrounding community are able to benefit from this partnership. As Brady explained, "We don't hire people to bake brownies, we bake brownies to hire people."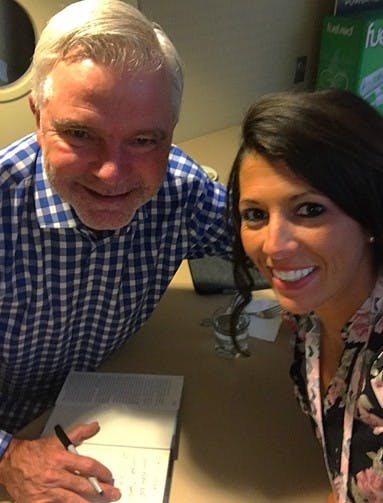 My biggest overall takeaway? At the end of the day, your values matter. Your purpose, your stakeholders, your leadership, your culture and your relevance are all extremely important in business. I learned that taking risks and being courageous for a higher purpose CAN be a worthy investment. If you're interested in learning more about the Conscious Capitalism movement please visit www.consciouscapitalism.org – I'd love for you to join me at next year's conference!!