In our new monthly blog series "Careers with Heart" we'll be looking at a variety of people throughout The Container Store to show the many different aspects of retail and how they all work together. Our first conversation is with Lindsey Lott, our Marketing and Community Relations Manager.
How long have you worked for The Container Store?
15 years. I started out part-time during my senior year of high-school and then continued as a seasonal employee while in college.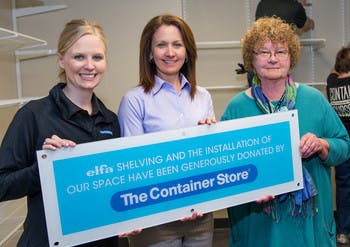 How did college play a role in your career?
I graduated from Baylor University with a B.A. in communications and a minor in business. When I was a sales manager I assisted every customer interested in elfa. I enjoyed connecting them with a designer and guiding their experience throughout the entire process. The role required good communications skills combined with a calm, confident approach, and what I had learned in class was so helpful.
As our Marketing and Community Relations Manager, what types of responsibilities do you have?
While I have the privilege of "dabbling" in many areas, a large portion of my job is managing our charitable giving opportunities. Whether it's helping a local school via an auction, coordinating a non-profit facility's elfa makeover, or assisting in markets where we are opening new stores, there are many ways we support our local communities. Giving back was instilled in me ever since I was little, so it's a part my core values and something in which I strongly believe; to have a career that aligns with those values is really important to me.
Which of Our Foundation Principles is the most meaningful to you?
I have focused on different ones throughout my career, but last year we talked a lot about "Communication IS Leadership." I love this one because it's applicable in every aspect of my life - with my husband, my friends, or even with people I just met. It makes me an all-around better person if I'm focused on clear, concise, and courteous communication. No one is perfect, so we all need to work on it together!