In this installment of "Careers with Heart," we had a great chat with Carey Gidden, our Contained Home Director, about professional organizing, keeping an uncluttered home and Jon Bon Jovi.
What did you do before you worked for The Container Store?
My early career was in marketing, but then I was a stay-at-home mom for about seven years. Around that time I was helping a friend get organized, and she insisted on paying me. Then she began telling other people that I had started a professional organizing business (which of course I hadn't!), but when my phone started ringing and people were desperate for help, I thought "why not?!" Being organized, efficient, and productive have always been important to me, so I loved the idea of being able to use those skills to help others!
Now, as our Contained Home Program Director, what are some of your job responsibilities?
Our customers have been asking us for this service for years!! They want The Container Store to just come to their home and do it all for them – and now we can!! Last year we rolled out Contained Home to all our stores by hiring and training professional organizers all over the country. Since then I've focused on nurturing these relationships alongside our store leadership, working on strategies to help the program grow, and ensuring that all of our customers receive amazing service!
What do you find most enjoyable about your job?
I love the people I get to work with every day! We have a lot of fun. You might walk by our department and find us planking on the floor for a little daily exercise, show-and-telling our latest Stitch Fix purchase or posting silly pictures of each other on our doors (like my 1988 prom picture, thank you very much Kevin Knapp). I can't believe I get to do such satisfying work alongside such talented, hardworking, FUN people. I'm pretty lucky.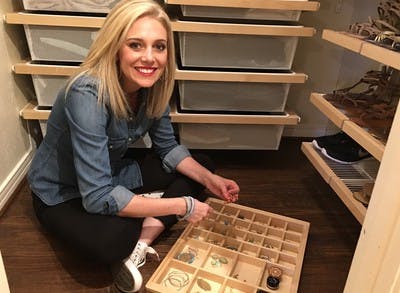 Do you have any cool organizational tricks that you'd like to share?
When my three kids were younger I used to keep an organized playroom by selling toys they'd stopped playing with. I still have two garage sales a year to de-clutter and then use the money to reinvest in better organizing systems, like elfa or pretty bins!
In fact, one Christmas morning when my daughter was around 6 years old, she opened a present and said "Oh mommy, I love it so much! Please don't sell it!" So that's why my children will need therapy one day. (Laughs.)
What qualities do you look for in a potential Contained Home Organizer?
Our organizers are professionals with their own successful organizing businesses, and we look for ones with excellent reputations and happy clients! After all, they're representatives of The Container Store. They are also highly skilled in organizing and selling solutions. Our best recruits already shop with us, so we get great referrals from our store employees who work with them every day!
What's your favorite of The Container Store's Foundation Principle?
Contained Home is the embodiment of "Fill the Other Guy's Basket to the Brim. Making Money then Becomes an Easy Proposition." My job is to make sure our organizers are so thrilled with this partnership that their joy overflows into everything they do. When they win, we win because our customers win!
What's your idea of the perfect vacation?
Totally off the grid: no cell coverage, no internet, no TV. Just sunshine, long walks on the beach, Sauvignon Blanc, and a good historical fiction novel.
If you could go to dinner with one celebrity, who would it be?
Jon Bon Jovi. I would tell him how I used to stand in front of his poster in my room and cry because I loved him so much and how I was convinced that if he just met me he would fall in love with me too. And then I would ask him what face cream he uses because he has aged really well.
Finally, the most important question: what TV shows are you obsessed with right now?
Right now I'm obsessed with House of Cards. At the end of each episode I find myself wondering if the Underwoods can get any more evil, and I can't look away!