Product photography is a vital and ever-evolving part of the retail industry and combining a creative field with an employee-first philosophy, makes it an even more attractive pursuit. In this installment of our ongoing "Careers with Heart" series, we spoke with Bryn Prather, our Creative Coordinator, about how the right company culture makes all the difference in finding a rewarding career path.
Why did you decide to study photography in college?
I like to think that at some point everyone will have that one teacher that will recognize and encourage their passions. For me, that was Mr. Grimm, my high school photography teacher. Through his encouragement, I fell in love with the whole photography process and that carried into my time at Austin College.
After college, what sort of work did you do in the fashion industry?
I first worked for a modeling agency based in Dallas, starting as an intern and eventually working my way up to Creative Manager. We would work long, hard hours to help develop the models and to get them signed in different markets like New York or Milan. I loved so many things about working in such a fast-paced industry, but my favorite experiences were always photography-focused. It was a joy getting to work on a variety of sets with new photographers and watch their concepts come to fruition. When not on set, I also enjoyed combing through hundreds of images to ensure it featured our talent in the best possible way.
What led you to apply at The Container Store?
As a little girl, I used to shop with my mom at The Container Store in Southlake, and she would reward me with a colorful AMAC box if I was well-behaved. Once I learned the company was based in Dallas I started researching them in an effort to promote the modeling agency's talent to the TCS Creative Department. In doing so, I came across the "What We Stand For" cultural blog and was blown away – the employee-first culture, the sense of community, all of it! I was so inspired and knew I had to find a way to be a part of what they were building.
How did you end up transitioning from the Customer Solutions Department to the creative team?
Similar to having an impactful teacher, I was fortunate to have a boss like Jason Lomonaco who recognized my strengths and pushed me toward my career goals. He helped facilitate opportunities for me to grow, and eventually I started helping part-time in the Creative Department by assigning and scheduling incoming creative requests. I embraced that opportunity and soaked up every piece of knowledge I could until I earned a full-time position in the department. I have to say, one of the most admirable things about The Container Store is their willingness to identify strengths in their employees and then utilize those strengths by placing people in positions where they can thrive – even if that means creating a brand-new position like mine.
As our Creative Coordinator, what do you like best about your job?
It's my job to manage and oversee the needs of our online photography studio. I love getting a sneak-peek into the products that will be coming into our stores, and hearing directly from our buying teams on why each product was chosen and what makes it special! I spend a large amount of time thinking from a customer's point of view to determine how our photography can provide a good user experience for our customers so they can make informed decisions.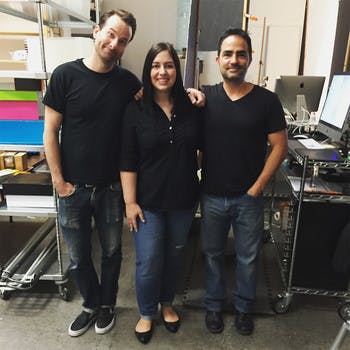 Bryn in the studio with a couple of our awesome photographers.
What types of creative pursuits do you enjoy outside of work?
If it's creativity-based, I'd say visiting museums, galleries, and art exhibits, walks or fairs - I'm there! I'm also an obsessive art and fashion magazine reader. But when it comes to creating art – even though my passion is photography - I tend to paint. Nothing particularly special; just acrylic or even pastels on canvas, and I stick to abstract to avoid being overly critical! (Laughs)
How cool was it to have your own elfa garage space featured in our catalog?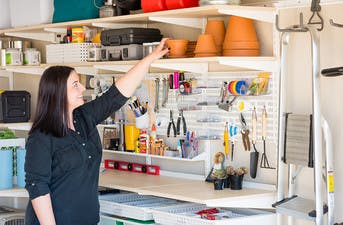 That was so much fun! I had just moved into my new house and I was in desperate need for some organization, particularly in my cluttered garage. What I enjoyed most was being able to participate in all aspects of that process. I used my elfa design experience from the Customer Solutions Department to create the perfect solution that would work for me, and then I went to work scheduling the before-and-after photoshoots. After I purchased and installed the space, I started unpacking and "styling" my garage. Once I had ensured the photoshoots went smoothly, all that was left was to enjoy my organized garage!
Do you have any favorite products from The Container Store?
Of course! The first one that comes to mind is our Deep & Shallow Metal Drawer Organizers. I use them all throughout my house! They come in a variety of sizes and can stack on top of one another. Plus, I love the fun pop of color! I'm also a big fan of our Like-it Bricks; their varied sizes and modularity make them a perfect solution for my awkward under sink spaces to my pantry and garage shelves. Lastly I'm addicted to The Laundress; if they make it, I most likely own it. My current obsession is their Home Spray, and I always pick up a bottle anytime I visit one of our stores.
What are some of the biggest or most important things you've learned in your career at The Container Store?
Something that I continue to learn is how important it is to help support our employee-first culture. That includes taking care of each other, respecting one another, and helping to set everyone up for success. I honestly believe our culture is what sets our company apart and makes this such a great place to work!