What's "Air of Excitement"? It's that wonderful, energetic, joyful feeling you get when you visit one of our stores—and one of our greatest embodiments of this is Joanie Coles, our Custom Closets Sales Manager at our Sixth Avenue store. For this edition of "Careers with Heart," Joanie was kind enough to tell us all about how she found this excitement at The Container Store and how it's led to a seven years and counting career!
What field did you work in after college? 
I worked in direct marketing and e-commerce for a retail clothing company for 10 years after receiving my MBA in Business. However, I contemplated a career change when I realized that I wanted to do something I felt more passionate about.  Even though a job at The Container Store wasn't directly related to the marketing field, I loved the feeling of excitement in the store and the products that they sold. I don't think I could be successful selling something I wasn't excited about, so it's a good thing we don't sell auto parts! (Laughs)
Speaking of which, how did your career at The Container Store begin?
I cannot believe that I have just celebrated my seventh year here!  Even on my first day I knew it was going to be more than just a part-time job. Originally it was just intended to be an interim job while I considered what my next career path would be, but the product assortment was mesmerizing and, as many customers tell us, it quickly became my "happy place."
I started at our White Plains store in May 2009. I became full-time early the following year, and I transferred to the Sixth Avenue store in October 2011. Since then, I've worked as Sales Trainer, Store Manager of Sales, and now as the very first Custom Closets Sales Manager for the Manhattan Market.
What does your current job entail?  
I am primarily responsible for managing the day-to-day custom closets business in Manhattan, including both elfa and TCS Closets. I get to lead amazing teams at both our Sixth Avenue and Lexington Avenue stores, and also work with our TCS Closets design team at our home office in Texas to ensure that each of our customers receive astonishing service from start to finish. I love building relationships with our customers to design the closet of their dreams, whether it's in the store or in their homes with our Contained Home organizers. I can truly say that my career at The Container Store has developed out of a passion for our company, our commitment to helping customers, and a love of everything we sell – not to mention our ever-changing closet business!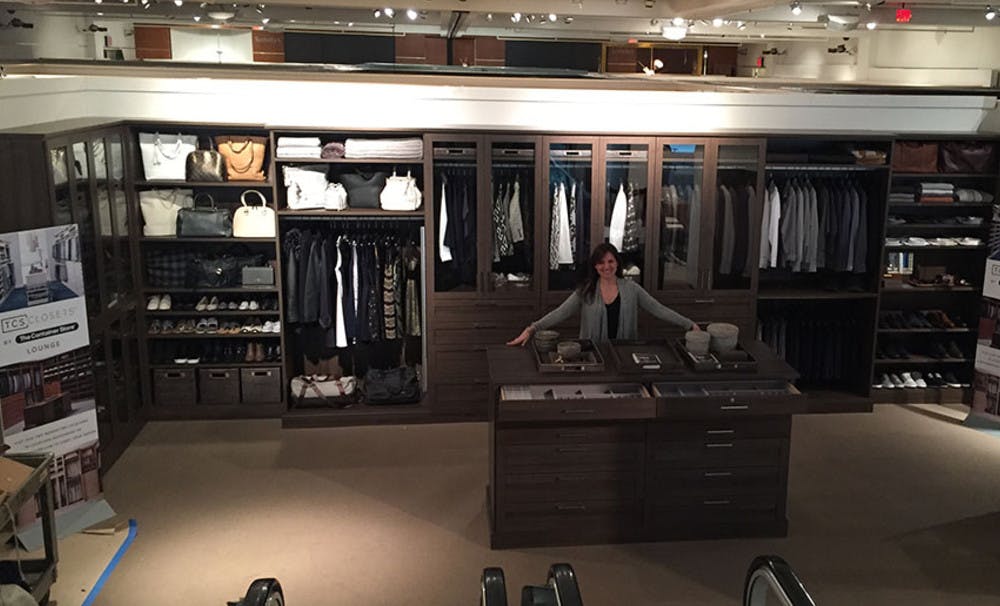 Joanie in our TCS Closets Lounge at Sotheby's
Why do you think it's important to have an organized life?  
I feel more focused and relaxed when I know my home or work space is well-organized. Everyone feels pressed for time, so getting ready for the day, getting kids off to school, or packing for a trip shouldn't take any more time than needed. When you're home and your closets are reasonably organized you can save precious minutes in your day and have more time to focus on what matters most, whether it's family, friends, cooking, reading, travelling… whatever makes you feel like the person you want to be.
What are some of your favorite products for keeping everything nice and neat? 
I can still remember the excitement of my first purchase after I was hired: a drying rack, a tea box, and an undershelf basket that I still use to this day and recommend to everyone I know!  And as soon as I learned a bit about elfa I began telling everyone I met to have their closets designed with us. Every time I visit a friend's house they ask me to take a look at their closet to see what I can suggest!
Other than my elfa closet, my other favorite products are simple but life-changing: our assortment of shoe and storage boxes. They make finding the pair I want to wear a breeze, and I can easily change them out from season to season.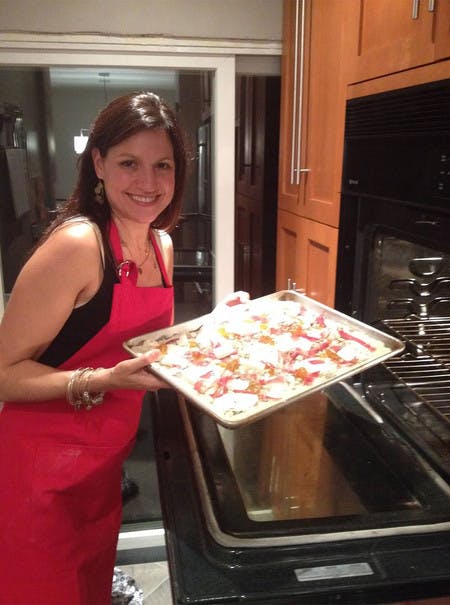 Chef Joanie trying a pizza recipe
When you're not helping your friends organize their homes, what do you like to do for fun?
Besides organizing, I also really love cooking and party planning for my friends and family. I read my cookbooks like they're novels and have a whole shelf of cooking magazines with flagged pages of recipes so I can channel my inner Martha Stewart, Giada De Laurentiis, or Ina Garten.
I think my penchant for party planning has also spilled over into my work at The Container Store because my co-workers joke that I am rarely without my clipboard planning some type of in-store event, upcoming meeting, or celebration. I actually have a collection of fun clipboards that people have picked up for me along the way!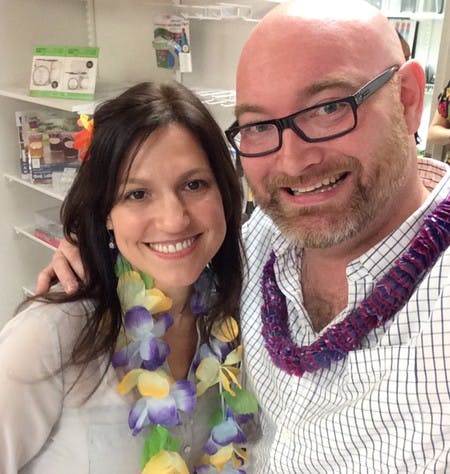 Joanie enjoying a luau with Lexington Avenue Store Training Manager, Jason Hood
What have been some of your favorite celebrations over the past seven years?
Each year we plan a fun in-store party for our employees who have reached five and 10 years of tenure with the company and I love to help plan those celebrations. Plus, we always have a fun theme, such as a Hollywood-style Red Carpet, a pirate party, or a luau. I've also been fortunate enough to attend our recent grand openings in Westbury and Yonkers, and those are GREAT parties as well! I just try to infuse Air of Excitement in all I do!