At The Container Store, we try to have fun no matter what we do, and this is certainly the case in our distribution center. For this installment of "Careers with Heart" we had a lively conversation with Loscar "Los" Mejia, our Distribution Center General Manager, about fun in the workplace, salsa dancing, and his family's love of elfa (though not in that order).
What made you decide to go into the logistics and distribution field after studying marketing in college? 
While I was passionate about marketing and advertising in school, related jobs were scarce, so I took a chance and applied at a local, retail company distribution center in Arkansas.  I had never even been inside a distribution center so I was surprised when they gave me a chance to be their outbound area manager for their meat and produce shipping operation. Once I started, I fell in love with the energy and competitive nature that distribution brings out.
After working in this field for so long, what made you decide The Container Store was the right fit? 
Well, after spending three years working in Puerto Rico I was looking to come back to Texas to be closer to family. During my job search I met with a recruiter and he told me, "With your experience I can find you a job with anyone, but I think you would love The Container Store.  It's the best place to work in Dallas-Fort Worth." After I left the meeting, I immediately looked the company up and filled out an application that same day.
However, while I quickly landed an interview, I ended up taking a different job at the time because I was looking to come back to the States as soon as possible. But two years later, The Container Store called me out of the blue to see how I was doing and offer me another opportunity., At that moment, I officially knew this was the place I was destined to be!
What are some common misconceptions that people might have about working in a warehouse or distribution center environment? 
There are several. First, some people think only men can do this job, but that's not true!  Some of our best performers are our female employees!  Many people also think the work is repetitive and never changes, but that's not true either. We are constantly improving our processes and procedures to drive efficiency and productivity. 
Some people think it is impossible to do this type of work safely for a long period of time. We take pride in keeping our employees safe at all times; we even have several departments in our distribution center that have gone two or three years without any injuries or accidents!
For those pursuing a career in distribution and logistics, what are some important skills to develop? 
Since this area brings together people with many different skill sets and backgrounds, I feel the best skill that you must possess is a genuine love for people. Although we move boxes all day long, the most critical part of the job is helping our employees stay engaged, safe, and productive every single day.  It's also important to be goal-oriented and have a passion for results, as we measure EVERYTHING! Lastly, it's important to be flexible.  Every day at work is different from the last, so you must always be ready for the different challenges and opportunities that lie ahead.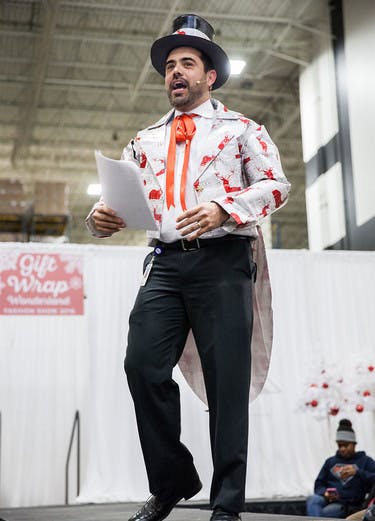 Los exhibits his love of people by co-hosting our annual Gift Wrap Wonderland Fashion Show at our Holiday Party.
Why is Air of Excitement your favorite Foundation Principle?  
Because I get to feed off the positive energy and love of so many great people! I absolutely love the fact that our company expects us to have fun at work, and I'm surrounded by world-class coworkers who genuinely care for one another. There is no better formula for success than to love what you do and have fun while doing it!
What are some of your favorite products from The Container Store?
We love all things elfa! The day I told my wife that we get a 50% discount on elfa, she went to our NorthPark store and designed four different spaces! I didn't find out until it was too late and she had bought them all! (Laughs) We now have Elfa solutions in our office, closets, media room, and garage. Looking back, I don't know how we survived all these years without it.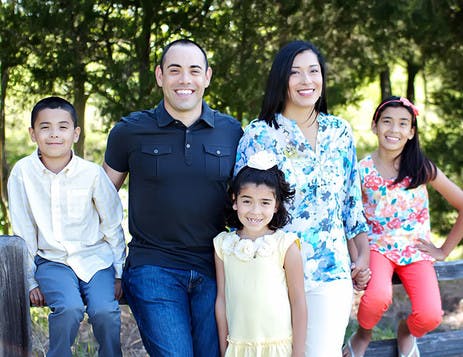 Los with his family
So…let's switch gears to salsa dancing. How'd you get interested in that? And do your wife and kids enjoy it as well? 
Being from Nicaragua, it is almost a rite of passage to make sure you can bust a salsa move or two, so when I was 12-years-old my mom enrolled my sister and I in ballroom dancing classes for the summer. Initially it was not my favorite thing, but I must say that it has come in handy over the years. To me, nothing gets a party going like great salsa music! Luckily, my wife Laura is also an avid dancer, so she's my "partner in crime!" Our three kids like breaking us up when we dance at home, but most of the time we get them to join in. 
What's it been like to see all the big changes in The Container Store's Distribution Center over the past year and a half? And what do you look forward to in its future?
This past April we rolled out an extensive, complex automated system, and our employees have worked so hard to make this huge initiative a success! The fact that we could do that and still meet all our customers' needs without ever missing a day of service is a testament to the resiliency and ownership of our amazing DC employees and support staff.
We are so fortunate that our senior managers believe in the importance of our distribution network enough to invest so heavily in it, especially since many other companies do not. Their leadership and foresight has allowed us to implement a world-class system that enables growth for years to come, so I'm excited to see where we – and my career – go from here!