Unexpected. That was the answer we got when we asked Sweden-based elfa Research & Development Manager Peter Nilsson to describe his 24-year career in one word. In this installment of Careers with Heart, we'll explore the exciting twists and turns of Peter's career.
How long have you worked for elfa? And what has your career path been?
I have been here for 24 years with an 8-year break. My very first job was in elfa production back in 1984, and then I moved into the maintenance workshop for a couple of years.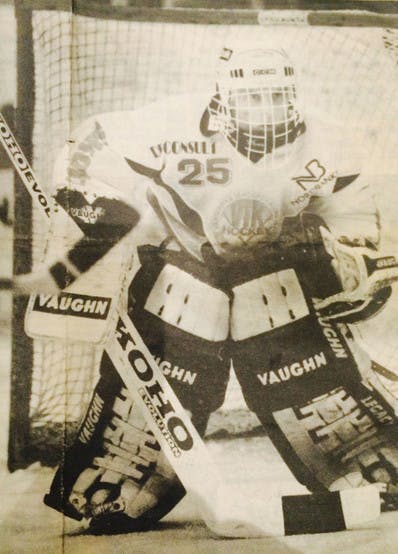 A Swedish newspaper featuring Peter on the ice.
In the late 80s and early 90s I wanted to explore some of my other passions, so I took a break from elfa and worked at a nuclear power plant, played professional hockey as goalkeeper, worked as a model for Reebok and opened my own restaurant. How's that for career diversity?
By the late 90s I was ready to come back home to elfa! I spent a few years as a maintenance technician and production engineer before being recruited to the Product Development team.
Eighteen years later, I'm still on that team as Research & Development Manager.
What are your job responsibilities? What does a typical work day look like for you?
My responsibility is development of elfa's product assortment. As Research & Development Manager, my department consists of seven members: four product developers, two project leaders and one prototype manufacturer. We evaluate prototypes and test and verify new product ideas. While I get to travel quite a bit meeting with our suppliers around the world, a typical work day for me starts early with status updates from my team about our ongoing projects, and then meetings and collaborations with others, including video conferences with our friends and colleagues at The Container Store!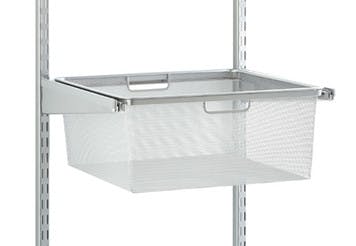 A gliding drawer works with The Container Store's hanging standards thanks to Peter's drawer frame.
What's your favorite elfa product/solution?
The drawer frame for gliding functions. That is the product that I believe has given elfa a very big advantage over our competitors and has been a key to our success. That product has also contributed to the job I have today.
We had a mission to integrate a drawer system into our existing hanging system. (Imagine trying to attach a functioning drawer to a book shelf). At the time, I was working in the maintenance department and one day got the idea for a drawer frame. I cut a prototype out of a metal strip with a metal shear that fit into our ventilated shelf bracket. I showed it to one of our product developers and not only did we begin producing them, but sometime later he offered me a job in product development! The first machine that we used to cut drawer frames produced 25 frames per hour. Today we produce over 1 million frames per year!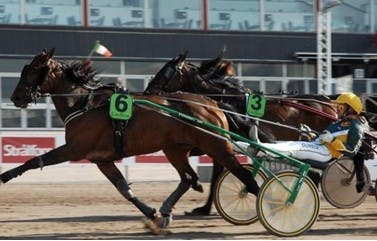 One of Peter's trotters during a great race.
What are your hobbies/interests outside of work?
I love spending time with my wife, Fia and daughter, Ebba, and my two hunting dogs. My wife and I are now drawing and building our dream house by the sea, which is very fun and time-consuming.
I like sports in general but golf in particular. I'm also interested in horse racing and breeding, and I am a partner in several trotters. ("Trotters" is a form of horse racing in which the horses race at a specific gait—a trot or a pace—while pulling a two-wheeled cart. Harness racing is a worldwide sport, but is particularly popular in Sweden).
From athlete, to model, to Research and Development at elfa; Peter's unexpected career path and incredible talent are just a couple examples of what makes elfa so special. Read more about our unique relationship with them here.