Can a brief, casual conversation alter the course of your whole life? According to our Inventory Planning & Allocation Manager Mark Annerino, that answer is a definite "yes!" In our latest "Careers with Heart" interview he explains how his very first visit to The Container Store changed both his career and his life. He also turns down our invitation to perform a death-defying motorcycle stunt.
When you first graduated from college, what did you originally want to do?
Well, I wasn't initially sure what I wanted to do with my MfgT-P Degree. (That's "Manufacturing Engineering Technology with an emphasis in Production Operations Management" if you're keeping score). I was intrigued by the process of using raw materials to create products, and since my hometown of Chicago was a molding "Mecca" of sorts, I started working in the plastics industry. However, after five years of doing that I came to the conclusion that I needed something different.
How did you begin your career at The Container Store?
On my first visit to the Oak Brook store, I was amazed by everything and everyone. After spending most of the afternoon filling up a couple of carts with products that I couldn't live without, reality started to set back in and I knew I had to go to work that evening. As I was grumbling about the idea of it, one of the store employees overheard me, smiled and said, "If I hated my job as much as you seem to hate yours, I'd find a different job."  He told me that he too had had a lousy job before he found The Container Store and could really relate to what I was going through. He encouraged me to apply, and within a few weeks I started full-time at the Oak Brook Store!
You've worked at TCS for over 20 years! Tell us about some of the roles you've held.
It's been an AMAZING 20 years! Initially I helped unload trucks and worked on the sales floor, but within a few months I was asked to be part of the Oak Brook Store Inventory Coordinating team that tracks and manages the inventory to ensure timely, accurate replenishment of the merchandise. Eventually I started travelling to new stores to help with Inventory Coordinator training. A few years later, I happily accepted the Store Manager position at the new location in North Houston. I held that position for the next three years before my engineering and management experience (as well as my 7 years of store experience) led to me be chosen for the merchandise forecasting team.
What exactly does an Inventory Planning & Allocation Manager do?
Forecasting involves planning and analyzing data to determine how many of each product gets ordered and shipped to each store. I've been in charge of the Hooks, Laundry, Trash, Bath, Shelving, and Travel departments for several years, and the accuracy of the forecast is critical to the success of our supply chain. We collaborate with multiple teams to make sure all facets of our business are considered when planning for each campaign or marketing event.
What's your favorite part of your job?
I love planning and forecasting for new products. New products excite both our customers and employees! While this one of the more difficult parts of forecasting, it is certainly the most fun!  Every product is a unique part of The Container Store and is very important to our success.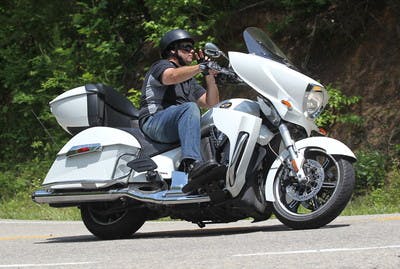 Speaking of fun, what do you like to do for fun?  
When I'm not at work or with my kids, riding a motorcycle is my passion. I've been riding for nearly 30 years, and it's like a mini vacation every time I go out on the road!  I have a White 2012 Victory Cross Country Tour right now and it's awesome!  The weather here in Texas allows me to ride it to the office most days, but I've also enjoyed my longer trips, including to Pike's Peak, Bike Weeks in Daytona, Chicago, and Tennessee. Even though I've been through rain, snow, ice, and 119-degree heat, there is no bad day of riding! 
What's your favorite product from The Container Store (other than elfa)?
My favorite product is the Eagle Creek Pack-It Compression Set!  They are a necessity for travelling, especially on my motorcycle! 
If we lined up a bunch of our cars in the parking lot outside, would you be willing to attempt a ramp jump over them like Evel Knievel?
I'm not so sure about that! Regular riding can be dangerous enough! (Laughs)