We open a number of new store locations each year, so our New Store Trainers are an especially vital part of The Container Store team. In this edition of our "Careers with Heart" series we spoke with Julie Leopard, one of our Dallas-based trainers, about the evolution of her career, qualities of a good trainer and how to stay organized while on the road. We also received a few great wine recommendations!
What was your first job?
My first job was as a hostess at a restaurant. I then moved on to become a waitress. I was young and inexperienced, and I learned quickly that I did not have what it takes to be in the food industry—as evidenced by the dime tip I once received! It was definitely a good experience for me because I have such an appreciation for the people in that field, that is not an easy job!
How did you begin your career at The Container Store?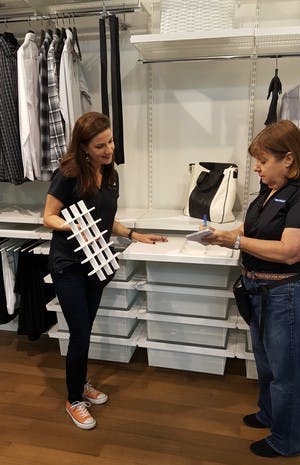 After working in outside sales for about 11 years, I was very unhappy and needed a change. I applied to The Container Store's Northwest Highway store for a part-time position on a bit of a whim thinking it would buy me some time to figure out which direction I wanted my career to take. Within four months I went full-time and, shortly after that, I went to train the staff of a new store during the first few weeks of Grand Opening. I could not believe the excitement I had after that experience! I came back with a whole new idea of what I wanted to do at TCS and most importantly, realized that I had finally found my calling! I wanted to become a trainer for the new stores.
The New Store Training team had not been created yet, so while I already knew what my dream job was—it technically didn't exist! While I waited for my dream job, I had to be aware of other opportunities that would help my career progress. At that time, the next logical step was to become a manager, so I could still travel as well as support and train my team. Shortly after I became a manager, the New Store Trainer position was created and while I hated to leave my new role, there was no way I could pass up my dream job!
As a New Store Trainer, what are your typical job responsibilities?
The job of a New Store Trainer is to travel to new store locations either before, during or after the grand opening to assist in training new employees. There are typically three phases of training for our team. There is pre-training - which is usually three weeks prior to opening, there is post support – which is grand opening week and the week that follows and there is post training – which occurs a few weeks after the post support team leaves.
During the pre-training phase, we are there to teach the new staff all of our systems, our philosophies and equally important, we show them what a "Employee First" culture truly looks like. From register classes, to design training, to man in the desert selling and MANY more classes, these employees have their heads full of knowledge and are ready to show it on grand opening day!
During the post support phase, we are there to hold their hand as those doors open for the first time. That first week is very overwhelming so the support team is right by their side whether it is with designing, in the register bay, sales support and all other aspects of the store, they have our full support so they can ease their way into their comfort zone. The second week we are still there for support, but we take a step back and encourage them to use their intuition and feel confident in the choices they are making. By the time we leave after about 2 ½ weeks, they are confident and proud knowing they've 'got this'!
The last scheduled time we go in to the new store is a couple of weeks after grand opening, during which time they have been putting all their new knowledge and practices into action with no support team. This post training team typically consists of two to three people and we are there to finish up any training classes needed. This could be getting more people design trained, order processing trained, etc., as well layering on any additional training needed, but this also includes starting from the beginning with any people that may have recently been hired.
New store trainers are also a vital connection between The Container Store's home office and the stores. We receive a lot of feedback from our store employees during training, and then we pass that along to our training department. This helps us continually improve and strengthen the training that our store employees receive.
What are some of the necessary qualities of a good store trainer?
First of all, trainers must have a passion for seeing people succeed since that's the key to everything. They must also be very organized and good time managers since everything moves so fast.
It also helps to be a creative, outside-the-box thinker. All sorts of things can happen when you are training in a new store, so you have to be creative enough to keep things moving along when a wrench is thrown into your plans! For instance, when the registers go down during register training, instead of panicking, we may just move them in to one of their other classes until we can get them fixed. Not ideal, but fortunately for us, they are on such a whirlwind of learning, they just smile and nod and go with the flow!
What's it like to travel to different stores and train new employees?
AMAZING!!! It is truly an incredible experience, and I am so fortunate to be able to do it. It's fascinating to meet people around the country from different backgrounds and hear their stories. The last day of the trip usually ends in tears for us because we have invested our hearts and souls in these new employees. The fact that they have been so open and willing to take on so much information in such a short period of time is truly amazing. At The Container Store we talk a lot about our wake and how wide it can reach. Having these experiences, really shows you how powerful that is.
On a recent store trip, there was a young lady who was very quiet and shy. I was worried that I was not going to be able to break through and give her the confidence in herself to really set her up for success. As the weeks went on, I had her in several of my classes and was able to spend some time encouraging her. The last few days we were there, she was smiling and you could tell she was getting more confident in herself and her contribution to her team. The morning I was set to leave, she called the store several times and left messages for me to call her. I was worried, of course, but when I called her back, she told me that she appreciated me so much and that I had made a huge difference to her and she was grateful. We talked for several minutes and when I hung up the phone, I remember thinking to myself, "I'm going to cry once I wrap my head around what that phone call meant." It was truly one of the most touching things that has ever happened to me or change to on a training trip.
What are some of your favorite products from The Container Store?
Because I travel so much, I love the Eagle Creek Pack-It Folders and Wallaby Organizers. I rarely let people who are shopping the travel aisle leave without one!
I also love our Linus Divided Turntable. I use it in my bathroom cabinet so instead of knocking everything over as I reach for a product in the back, I can just spin the turntable and bring it to the front.
How is it being on the road, away from your family?
Of course I miss my husband and my "fur babies" so very much! I have an 8-year-old Golden Retriever and two 15-month old Lab/Shepherd/Pit Bull mixes, affectionately known as the "knucklehead twins." We love to take them out to restaurants and stores with us to make sure they have experiences outside of the house – so I sure look forward to those outings when I get back from a training trip.
What are some of your other passions and hobbies?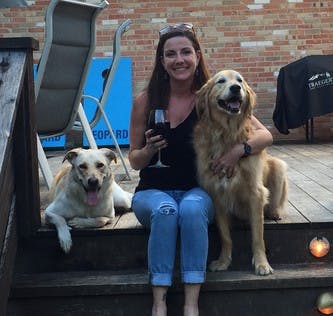 I love almost all red wines but my favorites are Pinot Noir, Zinfandel, Barbera and Meritage. If I have to bring a gift of wine, any Pinot Noir from Oregon is a safe bet. And I love jogging because it clears my head. I live relatively close to a lake so running around there enjoying the view is very peaceful.
What New Store Trainer skills do you have in your repertoire that you may use in your everyday life?
Being a trainer has helped me become a more thoughtful and well-rounded communicator and has changed my understanding of people. Everyone reacts to feedback differently, so it is important that I know how to relay such things to ensure that the information gets communicated in a manner that instills confidence in the listener, whether it is with my friends, family or coworkers. Oh, and I'm now a HECK of an organized luggage packer! (Laughs)