Creating a safe, secure workplace is one of the most important jobs here at The Container Store and no one understands this more than Shain George, our Distribution Center's Safety and Learning Manager. In this edition of "Careers with Heart" Shain proves he's definitely on the A-Team of the safety industry.
What did you study in school? And what made you decide to pursue safety as a career?
I'm a proud member of the Fightin' Texas Aggie Class of 2003, where I graduated with a bachelor's degree in Biological Systems (Environmental) Engineering. While there I took a safety course as an elective and really found it interesting.  Then, when I discovered the Systems Safety Engineering certification only required a few additional credit hours (like a minor), I went ahead and completed it. 
As I proceeded into private industry I realized that safety would become my bread and butter, and pursued other certifications and classes (such as CPR) to stay ahead. I worked as an engineering consultant/auditor and an Environmental, Health & Safety Manager in the chemical and plastics industries prior to coming to The Container Store. 
What brought you to The Container Store?
I heard so many great things about the wonderful people and culture here. We genuinely care about our employees and it shows in our actions.  Our ability to care for people at a deeper level, and serve each other speaks to me and my values. 
Some safety professionals tend to get a bad reputation in the industry as caring more about OSHA regulations than people. You can't ignore one for the other, so you must find a balance between compassion and compliance.
What areas does your current role encompass?
As the Safety and Learning Manager, my job is to make sure our distribution center employees have the safest possible work environment. The engineer in me enjoys evaluating our processes and seeing opportunities for improvements. Training is just as important in our operation; it can make or break our efficiency and accuracy (not to mention our safety), so the more you know, the more successful you'll be!
How do you keep training and safety fun?
Contrary to belief, you CAN make safety fun and memorable although you often have to get a little unconventional about how to approach safety because people already have their minds made up that it's not fun.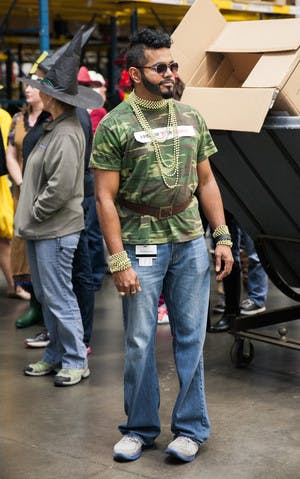 For example, last year I was told that Halloween was coming up and that "everyone dresses up" for Halloween. At first I was hesitant because I'm just not a big "dress up for Halloween" type of guy, but I thought it would be a good opportunity to establish myself as the new safety manager. I got dressed up as "Mr. Safe-T." (a play on Mr. T from the 1980's show the "A-Team") and had my slogan taped to my shirt "I put the 'T' in safety foooooool!" I'd yell out "I pity the fooool who isn't safe!" and it was an absolute HIT! To this day I still get introduced to new employees as Mr. Safe-T every chance they get. I'll probably never live it down, but I know it helped them welcome me into the TCS family as one of the group.
Do you have an example of a common unsafe workplace practice that most people don't think about? 
One of the most common workplace safety violations is actually something you might see people do at home too! It is what I call "electrical daisy chaining," which is when people wire multiple surge protectors and/or power strips in sequence to make a longer cord (You see this a lot with Christmas lights or office equipment). This is among the top causes of electrical fires in the country since it can overload the outlet, which leads to uncontrolled heating of the wires.  Extension cords are meant for temporary use only, so if there is a permanent need you should have additional outlets installed. 
What's your favorite product from The Container Store?
I feel a little sheepish admitting this, but my favorite product is the FlipFOLD Laundry Folder. Before I started working here I saw an episode of Big Bang Theory where Sheldon used one to fold his laundry. I thought it was so cool! I wondered if there was even a company that actually sold those things, then of course I found it at The Container Store!
What is your favorite part of your job?
I LOVE watching our safety measures and training efforts make an impact on the people around me, especially seeing workplace injuries decrease. Of course it is rewarding to be able to say that you've met goals or saved the company money, but more than that it is just so great to know fewer people are getting hurt.
And I'd be lying if I didn't mention that I love the challenge of making safety fun. It's personally pretty thrilling to have people tell me that they actually had a really good time running in a Safety Relay Race or playing Safety Pictionary!