One of the more unique career opportunities we offer at The Container Store is that of a TCS Installer. For those who love working with their hands, installing our beautiful elfa solutions and TCS Closets systems in customers' homes provides a great way to put those skills into practice and bring top-quality service right to our customers' doors.
One of these highly-skilled TCS Installers is Kyle Karnes. In this edition of "Careers with Heart," we spoke to Kyle about why he enjoys this role so much. Also: beer, bonding, and bicycles.
How did you become a TCS installer?
My background is in construction, and I've worked with Habitat for Humanity and the Dallas Theater Center in the past. When I started working at The Container Store's Dallas Northwest Highway location, I really enjoyed helping all the customers with their storage needs, but found I missed working with my hands and wanted to get back to that. That's when I decided to join my two interests and become a TCS Installer. Now I'm able to work with my hands AND help customers solve their storage problems!
What are some skills that make a installer?
It's good to have a general knowledge of home construction so you are aware of where plumbing and electrical wires might be behind the wall. Installing TCS Closets also requires some finish carpentry skills and trim work, so that's good to have, too.
Attention to detail is also important—it's the little things that make a big difference! And a really great way to be different in the construction world is to work efficiently and clean up as you go so you don't leave a huge mess.
What do you like most about being an installer?
While I work with the same products day-to-day, I like that each space and each customer is different. This keeps each day interesting and fun. I also enjoy having a flexible schedule.
Any funny or unique installation stories you can share with us? 
Last year I installed an elfa space for a woman who'd just purchased a home in a new residential development. Then, probably a month or so later, I had another installation in that same neighborhood, and that same woman came by! As it turns out, she'd shown off her closet and sold her neighbor on it; she even told them to "ask for Kyle!" 
This actually happened a few times, and each time she checked in to say hello. During one installation visit she learned that I was engaged, and then next time I saw her she surprised me with some baked goods and a wrapped wedding gift!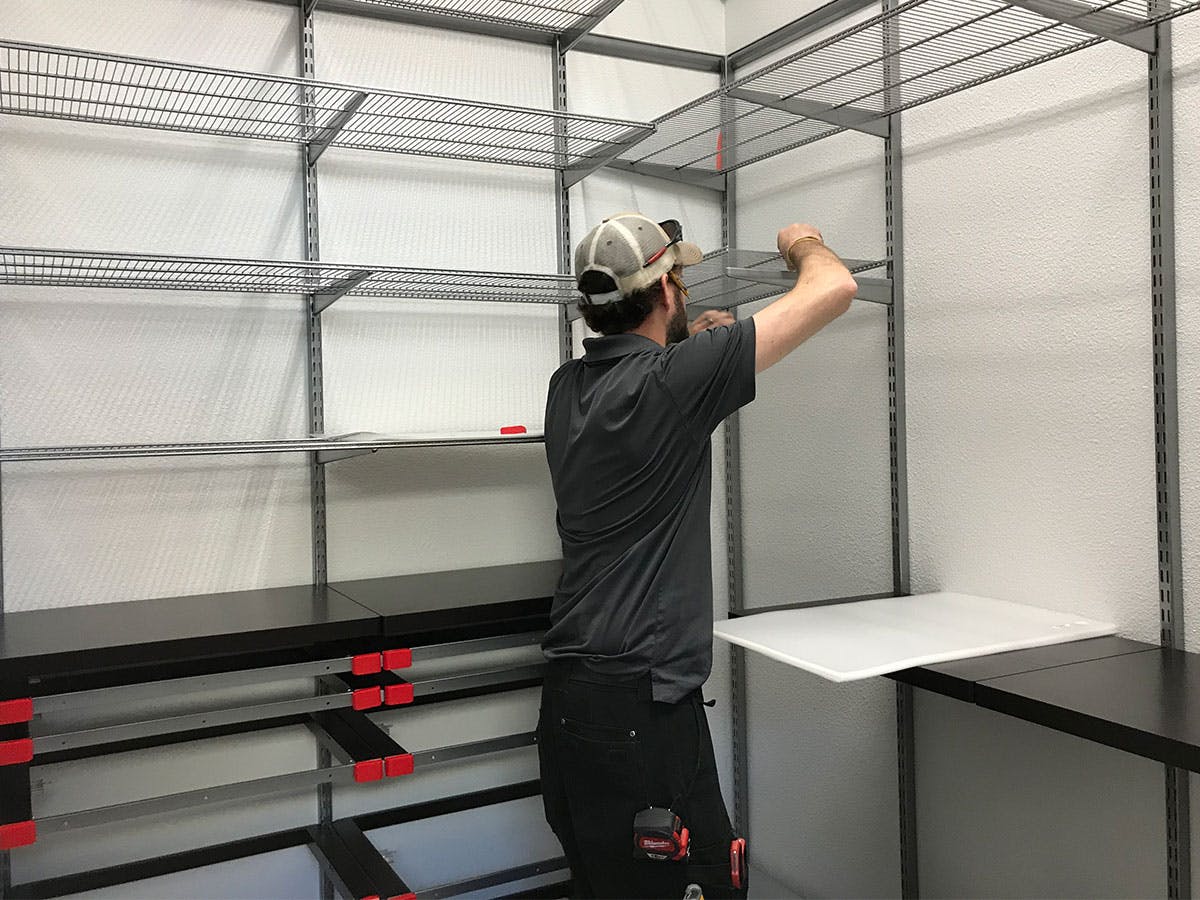 How have you used elfa in your own home?
My wife and I have elfa in every closet of our house, as well as in the garage. I like how elfa is so easily adjusted to different needs of different spaces. It really says something about the strength of the system when a shelf used in a closet at our old house can now be used in our new garage. Some of the elfa products we own have moved as many times as we have over the years!
Speaking of your wife, how did you two meet?
We met while working at the Dallas Northwest Highway store. I'll spare you the long version of the story, so we'll just say it took a year or so before a great friendship turned into a relationship. She likes to tell people that we bonded over unloading 18-wheelers at 5am – very romantic! Now she's a Training Manager at The Container Store's Home Office.
What's it like having two Container Store employees in the same house?
Perfectly organized, of course! J Okay, maybe not perfectly, but I think you could walk into our house and know that we work at TCS.
I feel like being organized is a living thing, and it takes intentional decisions to stay that way. Once everything has a place, you must be diligent about staying organized and neat. Sometimes life happens and things get a little messy, but then in time you catch up, put things away, and everything is right again.
What do you like to do when you're not working?
I really enjoy going to breweries and beer festivals so I can try new and unique beers. My wife and I both enjoy cycling and any excuse to get outside.
And we know you've also ridden the Shiner GASP, which combines both of those! What's it like to bike 100 miles from Austin to Shiner? That sounds exhausting!
It's exhausting for sure, but crossing the finish line at the brewery makes it all worth it! Plus, you also get to meet a lot of fun people during the ride. My wife and I have ridden the Shiner GASP for 8 years, every year since we met. Last year, it was the weekend before our wedding, but she still insisted we go! Then, we actually had a small family wedding ceremony after we crossed the finish line.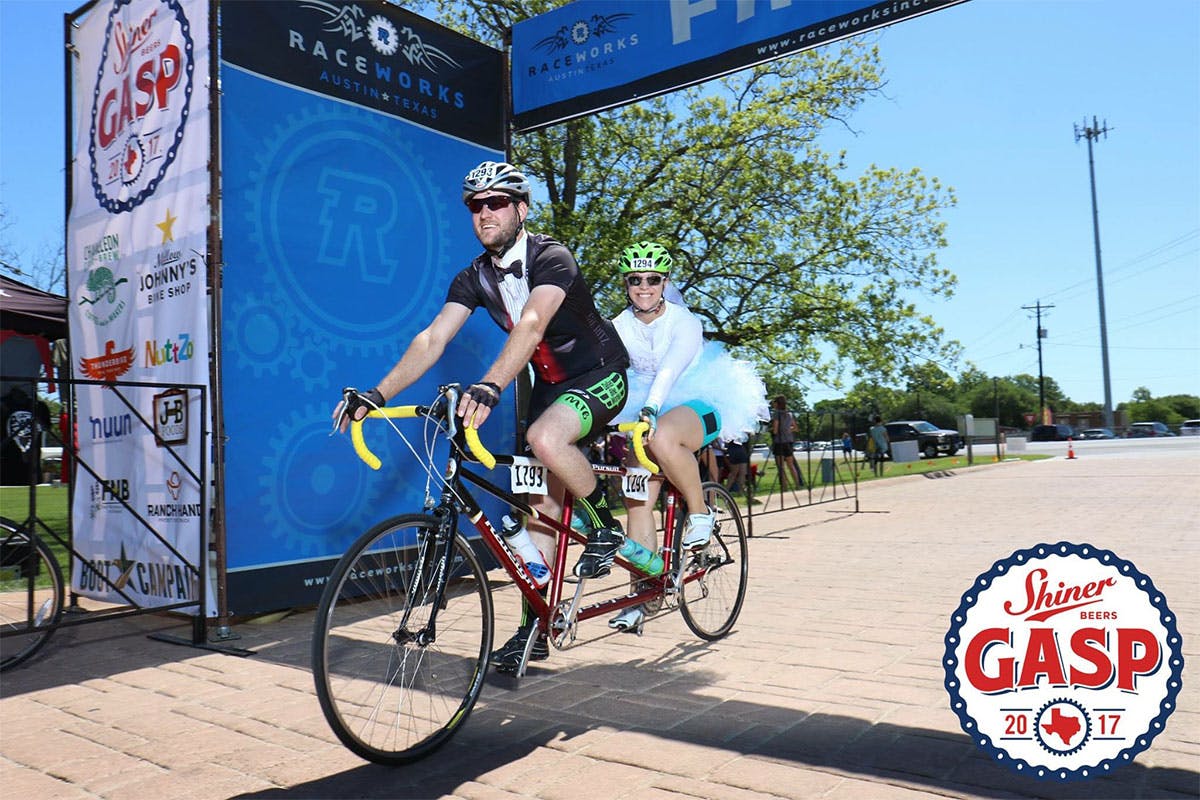 Mr. and Mrs. Karnes crossing the finish line.
Between your career and meeting your wife here, is it fair to say that The Container Store has changed your life?
You could definitely say that. It certainly wouldn't be the same without my experience at The Container Store!