While shopping on our website you've probably seen our cool product videos, many of which are the work of our in-house video producer Chris McCrackin. In our latest addition of "Careers with Heart" we spoke with Chris about this vital but relatively unknown area of retail, and how he totally owes The Container Store for playing matchmaker between he and his wife.
How did you get interested in photography and video?
When I took my first photography class in 8th grade I discovered that I loved taking pictures and developing the film in the darkroom. From that point on, I signed up for any photography class I could take. Building and maintaining a darkroom is expensive, so I made the switch to digital photography when I got my first DSLR (a professional-style camera with interchangeable lenses) in 2005. 
What led you to apply at The Container Store? 
I had been laid off by my previous employer and was in need of work. Because of The Container Store's reputation for being a great place to work, I applied for a job at the distribution center. I was brought in for a group interview and was offered a job in Store Replenishment shortly after. 
How did you end up in your current role after starting in our Distribution Center?
During my time in Store Replenishment, I met Kevin Marlow. He was working as an Operations Analyst at the time and served as the company's unofficial Audio Visual Specialist. I introduced myself to him after an event and volunteered to assist him with A/V and event photography needs. Because we both had video production experience, we were both later chosen to work on a training video. One video led to another, and then eventually there were enough videos being requested that we were offered the opportunity to do video full time!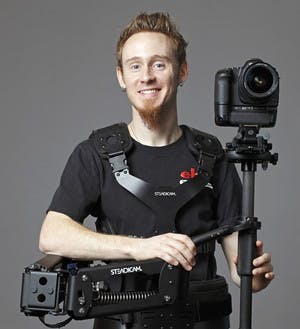 What kinds of projects do you typically work on these days?
Kevin and I work on product videos for our website, internal training videos, and a variety of videos highlighting our employee-first culture. We start with the concept and other aspects of pre-production and then move on to production (the actual shooting process) and post-production (editing, routing, and delivery). On any given day we are working on multiple videos at various stages of completion. 
What do you enjoy most about doing creative work for a living?
I enjoy the whole process of coming up with an idea, working to make it a reality, and then releasing it into the world so it benefits both our customers and employees. As we like to say, "we sell the hard stuff," so our training videos help set up our employees for success with the product knowledge they need to provide "man in the desert selling" to our customers. And we also help our customers on our website with the product videos by showing them all the different features of our products so they can envision how those products can really work for them.
Switching gears, tell us how you met your wife at The Container Store. (You're welcome, by the way…)
Stacy and I met when we were both part of The Container Store's travel team, which is a group of employees who travel to assist with remodeling our existing store locations or setting up new ones. Stacy and I became fast friends during that time and after I moved into my Video Producer role about three years later, we started dating. The rest is history!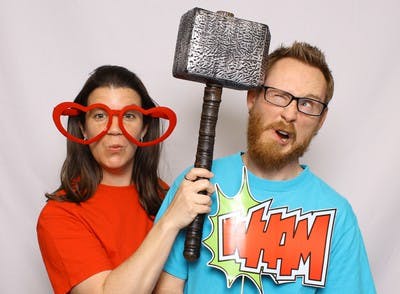 Chris and his wife Stacy having fun in a photo booth at our Fortune "100 Best" Celebration.
Each year The Container Store holds its Service Awards event, where we celebrate employees who have been with us 10+ years. Last year, you gave a very touching speech about how The Container Store changed your life. What impact has working here had on you?
I cannot imagine my life without the wonderful influence of The Container Store. My TCS family has helped me grow in so many ways, both as an employee and a person. I even met my wife here! I am truly grateful for every opportunity they've given me, and in return I try to be the best 1=3 employee I can be.
What do you like to do on your days off?
I still pursue my own photography and video projects as a hobby, but I also enjoy gaming and traveling. Some of our favorite destinations thus far have been the San Francisco Bay area, Seattle, Nashville, and Disney World.
How long have you been a gamer? And what are some of your favorite games?
I've played video games pretty much my whole life. In fact, it's been such a huge hobby of mine that I even co-host a weekly podcast called "Married to the Games." I try to branch out into most game genres, but my top three favorite games would be Metal Gear Solid, Radar Mission on GameBoy, and The Last of Us.
What are some of your favorite products from The Container Store for organizing those games and travel photos?
Of course, I'd have to say elfa shelving and Montauk Bins to hold all of the different gaming memorabilia I have. I sit at my Parson's desk when editing photos, and use many of our mesh and Poppin products for organizing my office supplies.