Finding a job you're passionate about can be difficult, and sometimes you discover it in the most unlikely of places. For this edition of "Careers with Heart" we spoke with Brian Morrison, our Vice President of Visual Merchandising, about how his part-time retail job in college has led to a rewarding 25-year career.
How did your career at The Container Store start?
I started out as a part-time sales associate in the Austin store after seeing an ad in the newspaper for a job opening. I was attending college studying elementary education at the time and felt the job would be a flexible fit with my school schedule and, I quickly discovered that I loved helping set up our product displays! More than 25 years later, I've held many different visual sales-related roles before recently being promoted to Vice President of Visual Merchandising.
What are the responsibilities of VP of Visual Merchandising?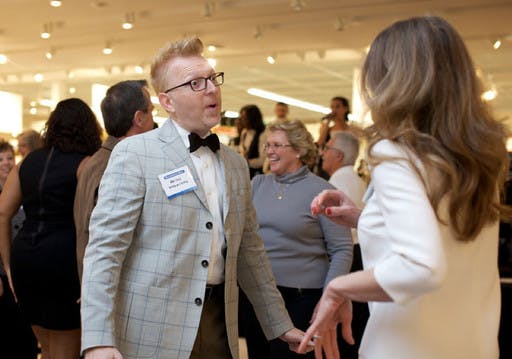 Well, I think I have the best role in the whole company but I think everyone might feel that way, which is great! My team and I oversee the visual presentation and overall merchandise presentation in our stores. We focus on how the products are displayed for our customers, for both our permanent product collection and seasonal campaign, as well as how to train our store employees to keep everything clean, consistent, and appealing. And I also work closely with our Buying and Creative departments to help shape the overall "look" of The Container Store, to ensure we have consistency from platform to platform, whether in-store or online.
Because of the nature of my role, I get to attend most of our new store openings. And as part of each Grand Opening, we host a private preview party for the supporters of our local nonprofit partner and future customers, our new employees, and many of our vendors who often travel in from across the country! So, it's a great party and we do quite a bit of dancing to celebrate...I'm always one of the first people on the dancefloor shaking my groove thing alongside our employees and vendors – after all, our business has been built on Air of Excitement and creatively crafting those mutually-beneficial vendor partnerships! What better place to do that than on the dancefloor?!
What are some of the most interesting or exciting projects you've been a part of?
One of my favorite projects was guiding several new Visual Sales Managers through "Visual Sales University," a week-long class on how to elevate the daily visual presentation in our stores through regular and routine maintenance, as well as finding the best approaches to merchandise processing and sales campaign setups. It was an exciting time for our employees to feel the impact and importance of Visual Sales in our stores, which continues throughout the company in many other forms today.
Visual Sales is a critical part of our Man in the Desert Selling philosophy and inspired me to coin the term, "Visual SELLS." It's the idea that the way our stores and products look actually help SELL them - what we do directly contributes to the bottom line – those things are "silent salespeople" and vital to our customers' experience. This phrase has become a part of our company lingo and is part of our culture, despite the fact that some of my colleagues playfully teased that it was actually a fluke and I only started saying "visual sells" because of my very strong Texas accent!
A recent highlight within the past year was helping to roll out our TCS Closets line to all of our store locations nationwide. It involved a ton of coordination between multiple departments, outside contractors, and our TCS Installation team, but it was truly a "whole-brained" project with significant impact on the future of our company – really our biggest merchandising initiative to date!
What's your favorite product at The Container Store?
That's difficult to say – all areas of the store have great products! I love the Superior Soft Matte Hangers in our Closet section, the Eagle Creek Pack-It Folders in the Travel section, the Murchison Hume soaps and cleaners in the Laundry section, and the Bigso Magazine Files in our Office section. The TellFresh containers and Fridge Binz are both great kitchen products, and I love all of our gift wrap as well. Oh, and obviously elfa! But my favorite product is probably one that we have yet to discover or introduce! See, I told you it was hard to pick just one!
Are you a "piler" or a "filer"?
I'm definitely a piler but I think I am a filer. Except when it comes to my bow ties! I'm a bow tie filer as you can see from the recent Container Stories blog post on my bow tie collection!
What are your hobbies and interests outside of work?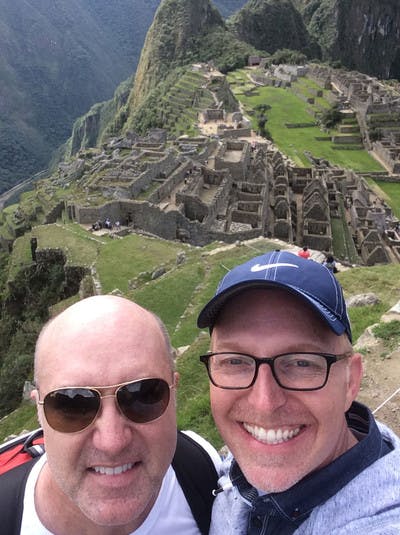 Outside of work, I enjoy spending time with friends and family, especially with my partner John and our dog, Oakley. We like to travel—both around the U.S. and abroad. We also enjoy visiting great art galleries and museums.
If you could go to dinner with one celebrity, who would it be?
Jimmy Fallon AND Justin Timberlake. Clearly I have a problem choosing just one of anything!
What quality do you most appreciate in your friends?
Kindness and consideration of others.
Which living person do you most admire?
My mom. She is absolutely, hands-down, without-a-doubt the strongest woman I have ever met and she'll do anything for anybody, no questions asked. She is smart beyond her education, talented beyond her creativity, and caring beyond her emotion. She's a gem!
What's one word that would describe your career at The Container Store?
Okay, I can do this…I can choose just one! Blessed! I've truly loved every opportunity I have had since the beginning, as a part-time and full-time employee, manager, director, and now Vice President! Beginning as a part-time employee, I never thought I would be in the position I am today or that I would have the impact that others hopefully feel, and I truly look forward to what's to come!