In this installment of our Careers with Heart series, our employee Ken Van Speybroeck talks about what it's like to be one of our Information Systems Quality Assurance Engineers (say THAT three times fast) and gives us a sense of what makes his department so special.
How long have you worked for The Container Store? And how did you start your career here?
I've worked at The Container Store for 4 ½ years. I studied Computer Science in college and then went to work as a software developer for a telecommunications company after graduation. After about 12 years of development, I transitioned into more of an operations and testing role. I discovered TCS through a very dear friend who said she worked at a great company, and encouraged me to consider The Container Store. Now, each year on my work anniversary, my family and her family celebrate together over a nice dinner. (Yes Karyn, I still owe you for this year!)
What are your job responsibilities? And what does a typical work day look like for you?
Primarily, I validate the function and content of our ecommerce site – www.containerstore.com. Others might say, I play around on our website and try to break things – haha! In doing so, I get to interact with our ecommerce developers as well as many other different areas of our business from buying, stores and distribution, to creative, marketing and legal. My typical days includes asking a lot of questions and having discussions with developers on how our new website features are implemented and how these might impact our customer. I love working with our development team. Everyone makes mistakes and in my role, I try to identify potential issues before any of our customers see or are impacted by them. Our company wants QA (Quality Assurance) to be heavily involved across the board and our work is highly appreciated and respected.
We talk a lot about the culture here at TCS. How has that culture impacted you?
I am actually happy at work! The culture here definitely affects my attitude both in and out of the office. I love that I work with the kind of people who are always ready to support great causes. I like to cycle, and at least once a year I team up with other employees from The Container Store to ride in the Tour de Cure benefiting the American Diabetes Association!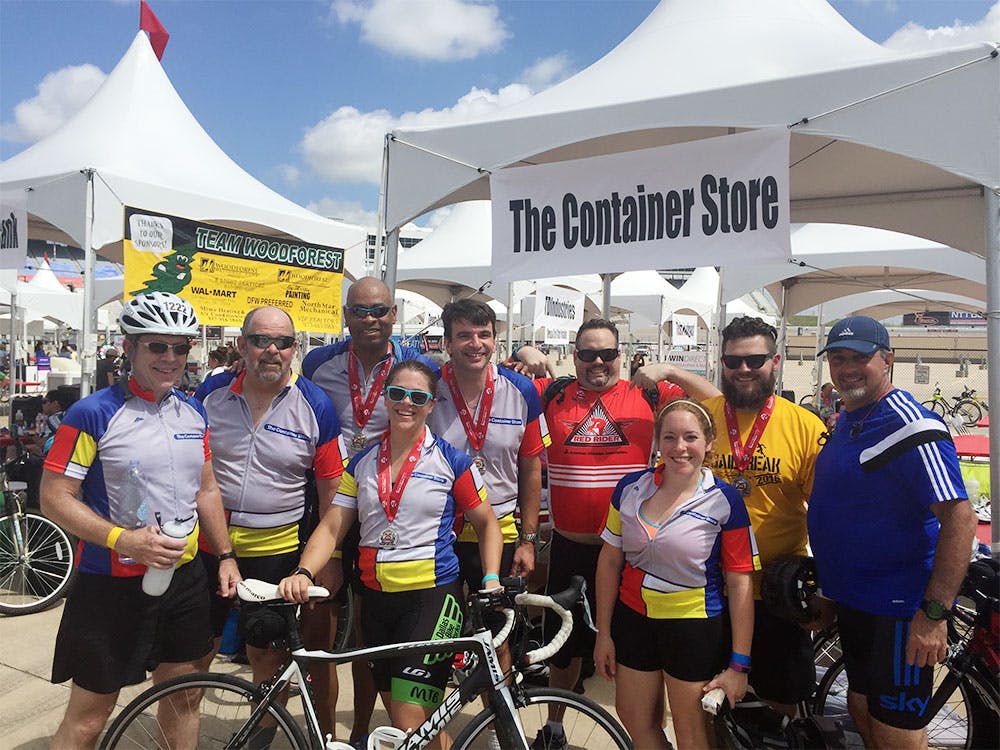 Ken (back row, center) with The Container Store's 2016 Tour de Cure team.
I also love that I can personally impact and add to the culture and great work environment at The Container Store. Our 1=3 Foundation Principle means each employee is valued and valuable. Everyone's work is vital to our company and as such everyone respects, appreciates and knows each other. This is the first company I've worked at where titles don't matter. I know our executive management team from spending time in their offices and working with them. Since they know me, I'm much more comfortable when I do things like knock two Vice Presidents out of the Musical Dairy Crates game at our Holiday Party. (Rematch Joe and Melissa?)
Does your department have a special culture all its own?
I'm sure the entire company agrees Information Systems has its own "special" culture. We like to participate in all the company events like the DC Derby, Chili Cook Off and Gift Wrap Wonderland Fashion Show. We have a good time at these events, often pushing the limits of the guidelines and rules, and always keeping others wondering and laughing.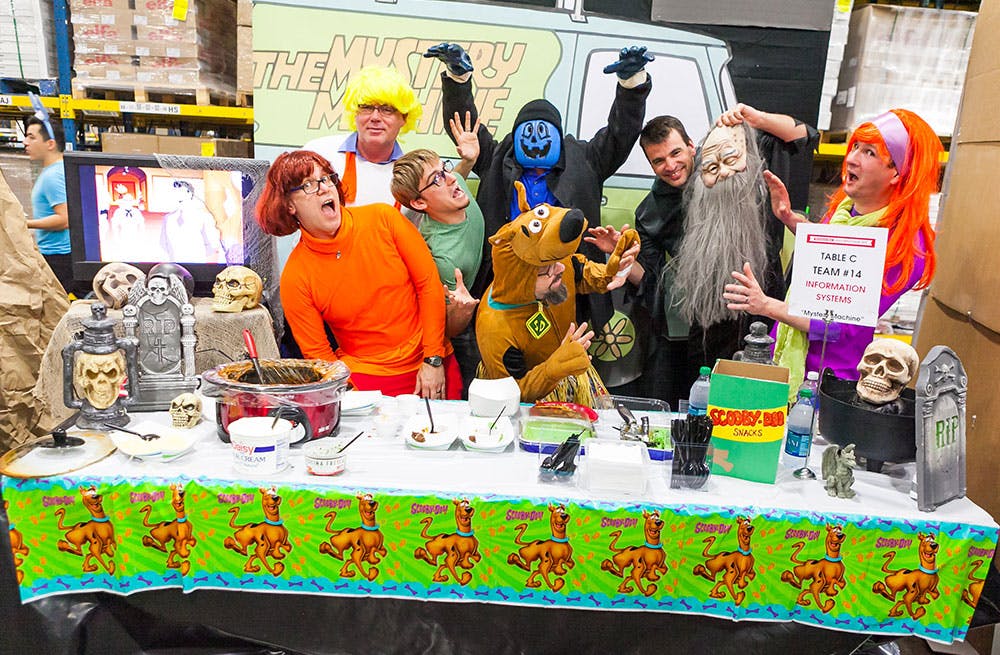 Ken with members of the Information Systems team dressed as the gang from Scooby Doo at our Chili Cook Off
We've done some quirky things on the Web IS Team – somehow we've started a tradition of helping expectant parents in our Online Marketing and Merchandising Department name their children. I suppose this is our chance to show our creative side. Upon hearing the awesome news, we dedicate a portion of our whiteboard space to add baby name suggestions. Some of our better name suggestions have included Ra, Festivus, LeBronda, Anakin, and Braveheart. Luckily these babies have parents with their own creativity and sanity, and none of our name suggestions have been used…yet.
Our team has also, on occasion, left the office a bit early to catch the latest Sci-Fi film. It's a nice break and a good time for team building. And then once a year we have a small little potluck event known simply as "Carnita Fiesta." YUM!
Bottom line - we have seriously talented individuals and teams, we have fun, and together we do amazing work.
What's your favorite product from The Container Store?
Wow! Impossible to pick just one. The Magnetic See & Store Container – hangs at my workspace on my elfa utility board and holds community M&Ms. I can't live without my simpleHuman Touch-Free Soap Pump (my wife love this one too). And of course, TCS Gift Cards—I love giving these to family, friends, and my kids' teachers.
What are your hobbies/interests outside of work?
My wife and I have three boys and I've been coaching them in rec league soccer for the past 13 years. I thought coaching would be a great way for me to share something I enjoy with my boys and now I've impacted so many more kids over those years.
Also, fall is marching season, and I have a son in the horn line in his high school band. The band's motto is "All in All the Time." So of course, I volunteer with the band as a booster parent, help where I can, and I manage the concession stand for Friday night football games. As you can see my kids and family keep me busy!