Tony Stark, the alter ego of Marvel superhero Iron Man, is known for his inner strength, determination, and perseverance in the face of deadly odds. While these traits may describe a comic book character, they're also descriptive of Alex Alvarado, a part-time employee (or prime-time as we like to call them) at our San Antonio store. In this edition of "Careers with Heart," we spoke to Alex about how The Container Store gave him the support and perspective he needed to help him pursue his dreams of working in both retail AND medicine.
How long ago did you begin your career at The Container Store? And what made you want to apply?
I began my career at TCS 10 years ago. I was planning on returning to college and needed a part-time job, so I applied to several different retailers. The management team ended up offering me the job here, and on my very first day on the sales floor, a customer left me a positive comment card! That made me realize that I had a real passion for retail that was further fueled by my love for The Container Store's culture.
What are you studying in school?
I'm currently studying Echocardiography (the process of taking a sonogram, or ultrasound of the heart). I have a rare congenital skin disorder that affects my tissues, joints, and organs, so I've had to endure 14 different operations during my life. One of those was a 13-hour heart operation (my 3rd heart operation overall) in 2012 to repair an ascending aortic aneurysm, which is a serious ordeal - I didn't think I'd make it through and honestly it was nothing short of a miracle that I survived. It was a tough time for me, but the doctors did a great job. When I woke up from surgery I was amazed at the work they did and was inspired to switch my major from pharmacy tech to cardiovascular tech.
How does being a prime-timer allow you to balance your work life and school life?
It's been instrumental in my success at school. One of the things that makes TCS a great employer is the flexibility. The management team works around my school schedule so that I never feel like I need to compromise in either area.
What are some qualities that a salesperson needs to have?
Over the years I've learned that a salesperson needs to be a better listener than talker. If you listen to the customer well, treat them like family, and then take appropriate action, they'll certainly appreciate it more. Having said that, you've also got to be bold and not be afraid to demonstrate the products for them (particularly elfa). It makes a big difference in the type of service they receive!
Are there any great customer interactions you've had that stand out?
My first year on the salesfloor I was assisting a retired couple and it was their first time visiting the store. We spent about 15 minutes walking around the store together and I showed them some of my favorite products in different departments. When we got to the kitchen section I tossed the unbreakable pitcher into the air and let it land on the floor, and they were both very impressed with it! Later, when they purchased their items I said goodbye to them at the register and the gentleman once again tossed the pitcher into the air and let it land harmlessly on the floor. We both smiled at each other, and I knew then what a big impact the right presentation has on a customer.
Speaking of favorite products, which one do you love most?
The Bungee Chairs are by far my favorite product at The Container Store! Anyone at the San Antonio store will tell you how I love to demonstrate and sell that product more than anything else. In fact, I'd love to be able to compete with other stores to see who could sell the most! I think our store would have a great chance! (Laughs)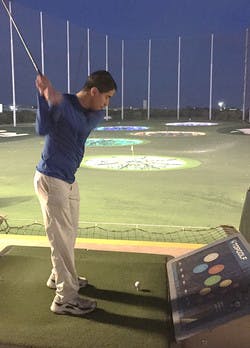 What are some of your favorite things to do outside of work?
When I'm not busy with school, I love going to the movie theatre to check out all the latest blockbusters. I enjoy all the Marvel Universe movies, particularly any of the ones with Iron Man. I also like to play golf occasionally or visit local museum exhibits.
It sounds like you've experienced a lot over these last ten years. What lessons have you learned from all these experiences?
Sometimes life throws you a curve ball, but despite all my surgeries I'm still here and still pursuing my dreams. The culture and support of The Container Store has taught me to never give up, and it's helped me learn to be accepting of others. We've all had our own challenges and limitations, but it's important for us all to show patience and understanding towards one another. No matter what happens or what medical career I may pursue in the future, I'll always find time to be a part of The Container Store!