When were you your sharpest? If you're like most people, you are going to say 10 years ago or more. According to Dr. Sandra Bond Chapman of The Center for BrainHealth, part The University of Texas at Dallas, research shows that the brain is dynamic, adaptable, flexible, and repairable! This knowledge, along with a strong commitment to its application, has the potential to dramatically improve the mental capacity of all Americans, regardless of age, even those who have experienced brain illness or injury. Research like this inspired The Container Store to begin what is now a decade-long partnership with The Center for BrainHealth.
For years now, we've proudly sponsored their annual sell-out public lecture series, The Brain: An Owner's Guide, which delivers groundbreaking brain health research straight from renowned leaders in the field every Tuesday night in February.
The Center for BrainHealth is a research institute committed to enhancing, protecting and restoring brain health. Since its founding in 1999, the Center has made exceptional progress in brain research areas of health, injury and disease. In 2013, the Center launched the Brain Performance Institute to make these discoveries available to the public. By delivering science-based innovations that enhance how people think, work and live, the Center and its Brain Performance Institute are empowering people of all ages to unlock their brain potential.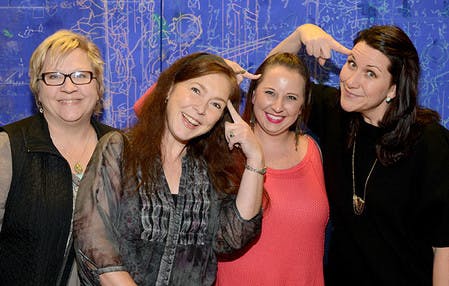 Rene, Karen, Courtney and Callie from our Buying and Merchandising teams attend a lecture and playfully remind us of the importance of brain health.
The annual lecture series is one way the Center shares groundbreaking brain health research from around the world. This year's lecture topics are Alzheimer's, Neurodegenerative Disorders, Neuroscience and Understanding the Teenage Brian. The guest lecturers are at the top of their respective fields and include one of the "30 Most Influential People in the World of Public Health," biochemist Dr. Gregory Petsko, director of the Appel Alzheimer's Disease Research Institute at Weill Cornell Medicine.
We know that an organized life and a sharp mind go hand-in-hand, and we're proud to have been supporting this important work for the last ten years.