Father's Day is an interesting time of year for me. While it's certainly nice to have a national holiday devoted to dads like me—as well as a chance to honor my own awesome dad—I can't help but feel a bit unworthy of it. (After all, I'm just another mistake-prone human being like everyone else.) But because I try to soak up parenting advice like a sponge, I decided to speak to a few other TCS dads to get their perspectives on fatherhood, and what they told me was very inspiring.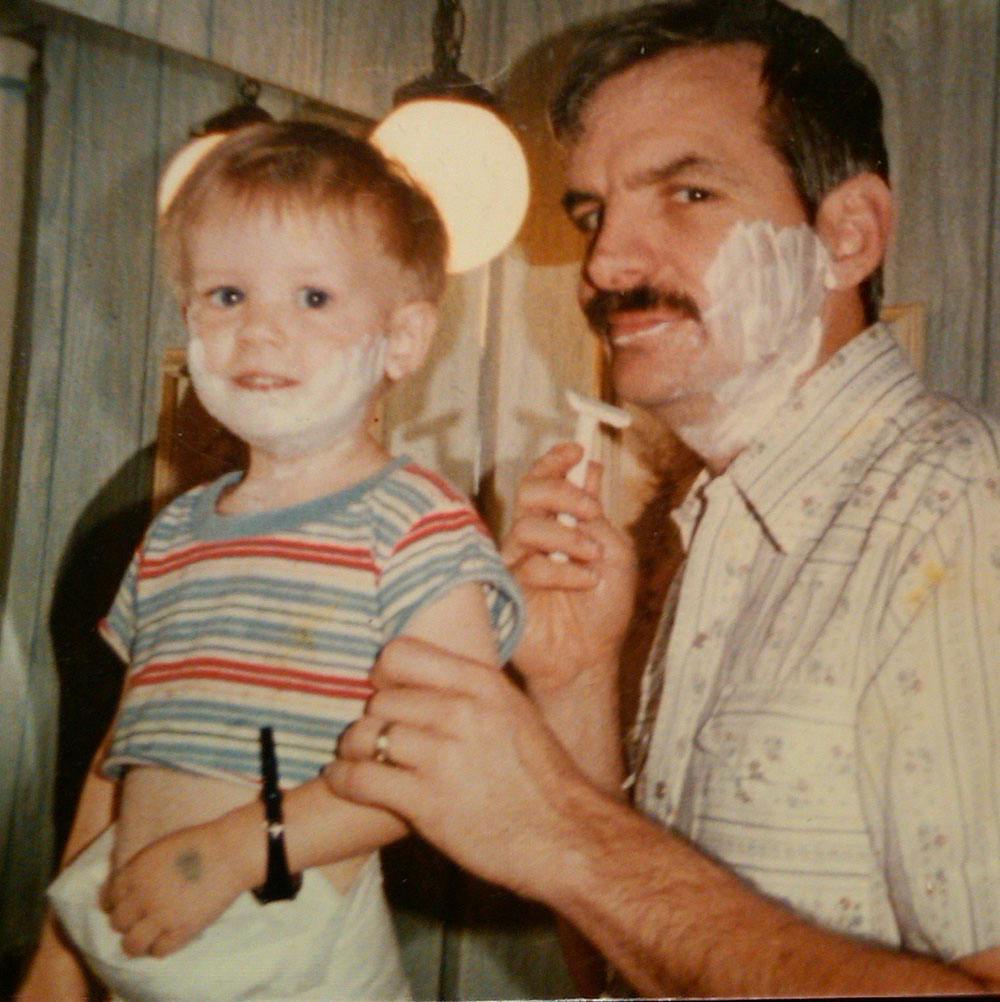 My dad and I before I gave up shaving altogether.
For Custom Closets Project Coordinator John Bush, the very mention of fatherhood brings a huge smile to his face. "Being a dad means the world to me," he says. He's passionate about spending as much time as possible with his family, and he's quick to brag on his two amazing kids: "Penelope is one of the sweetest, kindest, and smartest kids I've ever met. And Henry has a great sense of humor and such a big, caring heart." John takes his parenting role very seriously, and relishes the opportunity to be a positive role model. "I love being able to influence them and teach them things that they can carry with them long after I'm gone," he says.
"Being a father means setting an example," agrees Mike Aplis, Store Facilities Director. "One of the most important things I've learned about being a dad is that everything you say—or don't say—has meaning and impact." Mike and his wife Maggie (our Corporate Facilities & Logisitics Director) have two college-age children and take every opportunity they can to spend time with them. While home from college this summer, their son Eric has spent time working in our Distribution Center, and Mike enjoys having lunch with him in our Gumby Café. He fondly recalls all the time he spent at Eric's childhood soccer games, and he appreciates this opportunity to catch up with him each day. "It's great to get even a few extra minutes with him each day," Mike says. "I'll take any time I can get!"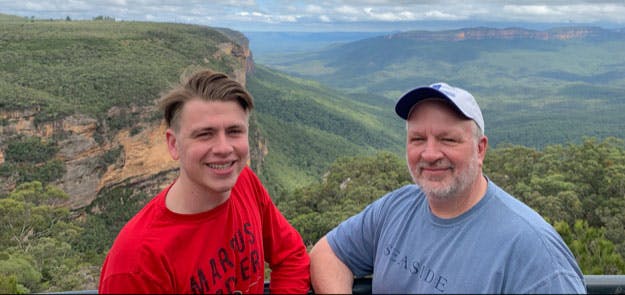 Eric and Mike Aplis on a recent family vacation to Australia.
Reid Rosser, one of our Custom Closets Designers, also loves attending sporting events with his family. As a proud grandfather of five, he often spends weekends traveling to watch his grandchildren compete in a variety of sports, including baseball, football, basketball, soccer, and lacrosse. But Reid is more than just their cheerleader; he also generously dispenses love and wisdom in equal measure, and he sums up his philosophy as follows: "Enjoy every day, never give up, always do your best, and treat others the way you would want to be treated."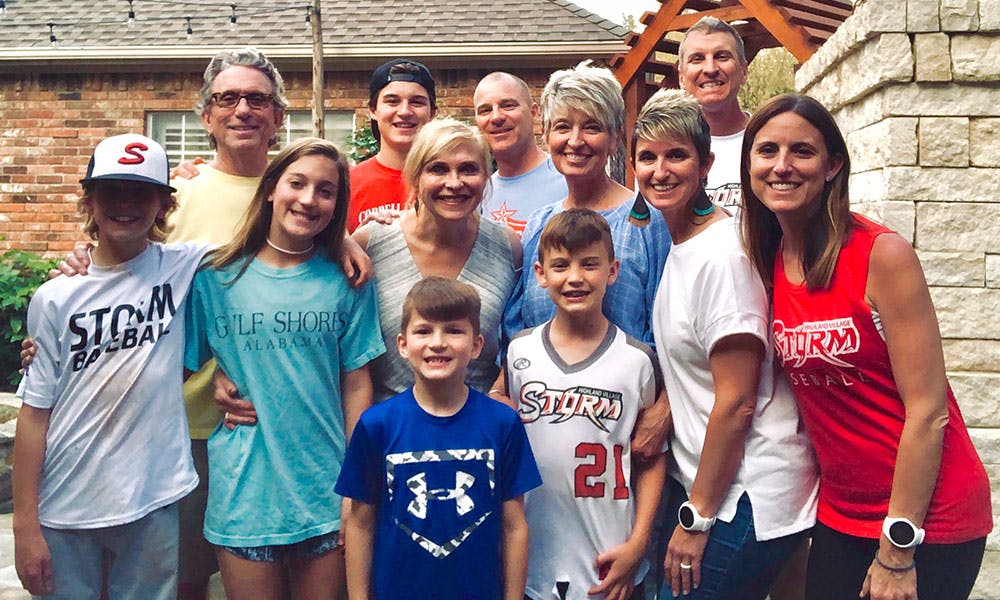 Reid Rosser (back left) with his family.
Regional Director John Norman also loves staying busy with family activities. He's a father of five (ages range from 17 to 5), and he's honest about all the ups and downs of parenting. "It's the hardest thing I do, but also the greatest joy in my life," he says proudly. Whether he's attending one of their dance recitals, track meets, golf tournaments, or their weekly movie nights, he savors every moment. And much like Mike Aplis, he's acutely aware of how his actions affect the next generation: "Everything I do or say shapes the person each of my kids will become. If that idea isn't sobering, I don't know what is!"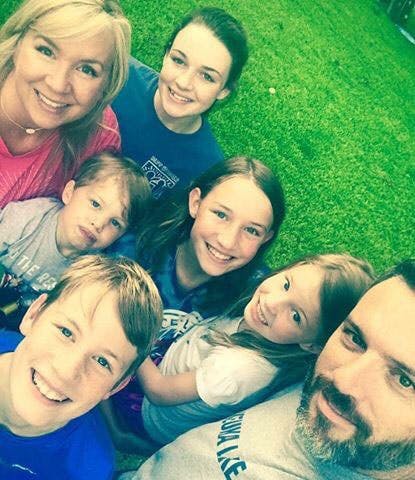 John Norman (right) with his wife and kids.
For Applications Engineer Quentin Donnellan, fatherhood is "sharing the love, joy, and challenge of raising children with my wife." As the father of three boys—the youngest of whom is only two months old—he's committed to leaving them with a great legacy and a strong model for fatherhood should they one day decide to become fathers themselves. "It means owning the responsibility of teaching my boys the knowledge and values they'll need to live fulfilling lives," he adds.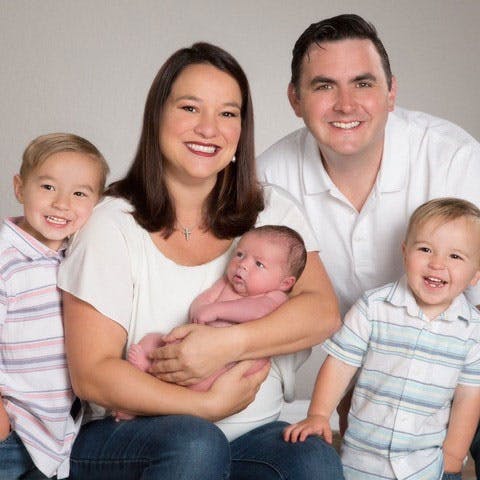 Quentin Donnellan (right) with his wife and three sons.
One of the many perks of working for The Container Store is having the privilege of working alongside great men such as these every day. They serve as a constant source of wisdom and inspiration to me, and I'm in awe of the positive impact they make on their children. Despite whatever flaws or insecurities I may have, it's reassuring to know that if I'm even half the father to my daughter that these guys are to their children, everything will be okay.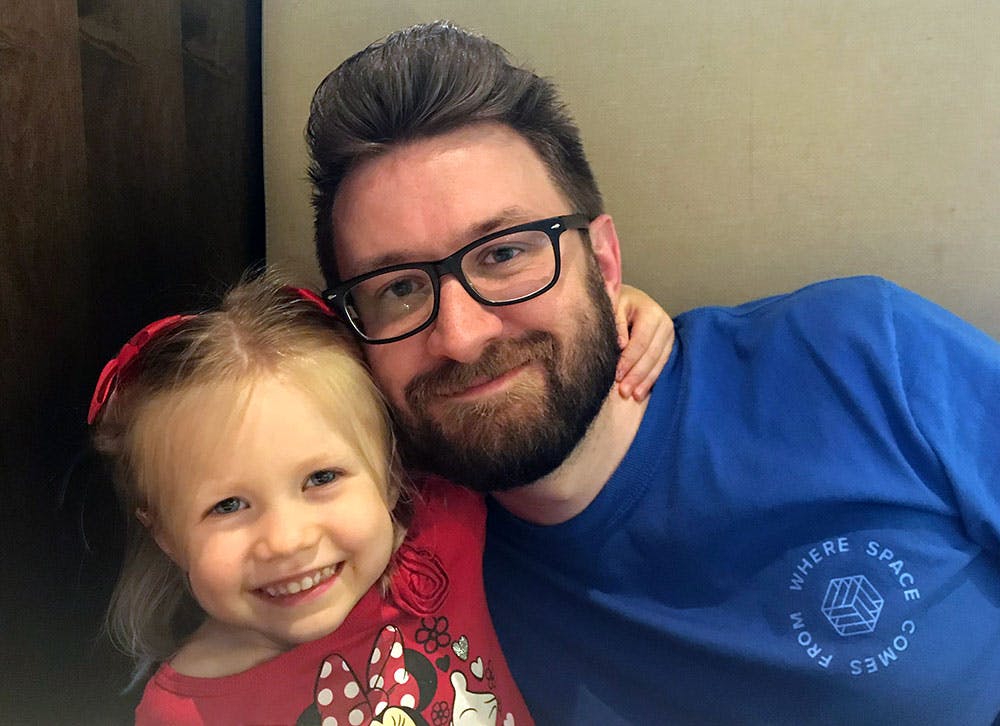 Ruby and I.
Happy Father's Day from all of us at The Container Store!