When I started my career with The Container Store in 2014, one of the many things that drew me to this fabulous place was our Foundation Principle Communication IS Leadership. Who doesn't want to work in a place that values clear, open, unbridled communication? Over the past year, I have been a sponge, absorbing the astounding amount of communication shared throughout the company.
But what has really impacted me even more is the amazing example set by my team on what great communication looks like every day. They live it, and they graciously have taught me what consistent, reliable, predictable, effective, thoughtful, courteous and compassionate communication looks like. You might wonder, "What's so difficult about communicating with your team?" And my answer is, The Container Store family practices and values communication that is above and beyond the standard email-centric workplace. It takes extra time and effort to thoughtfully send the additional voicemail to everyone who would benefit from the message, and it's hard to communicate up, down, and all around ALL the time. But what an impact this new approach to communication has had on me both professionally and personally!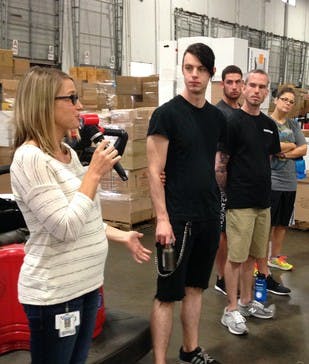 And I'm just one piece of the large, beautiful TCS puzzle. I have seen how Communication IS Leadership impacts all stakeholders in this company in a very similar way to how it impacts me! Because each employee consciously practices this Foundation Principle, it inspires a deeper commitment to our company from each of us, our vendors, and our customers, and it creates a sense of ownership in our day to day business and in our service to the community.
For example, last year, in order to improve personal schedules and maximize efficiency of the workforce in our Distribution Center, we needed to change all Distribution Center employees' schedules. This major change could have easily created a lot of worry and stress for our 300+ Distribution Center employees. But instead, we approached this change with open, honest communication with each employee throughout the whole process. We surveyed every single employee to determine their first and second choice of schedule, held group meetings to get feedback, and encouraged one-on-one conversations between employees and managers. Then, taking all of this feedback into consideration, our Distribution Center leadership team lovingly found the win-win schedule for each person. It definitely wasn't the easy way to adjust our scheduling structure, but wow, the results from all of that communication were fantastic! Nearly all employees got their first choice of new schedule, and most importantly, there were no surprises – all employees knew exactly what to expect throughout the whole process, making them feel safe and secure.
What a great example of this Foundation Principle at work! Communication IS Leadership is something I keep top of mind every day, and I'm thankful to work with a team who does the same!