Our Annual DC Derby is truly a time for both brains and brawn—the place where creative genius and muscle cars intersect. Each year, departments collaborate to create the fastest, most aerodynamic, and most original designs, and the result is a fast-paced event that celebrates smarts and speed in equal measure.

A small sampling of this year's sweet rides.
Plus: costumes. Lots and lots of costumes. With themes and car designs ranging from pop culture-inspired (such as Marie Kondo or Marvel characters) to the incredibly arcane (such as "Lake Tindell Towing;" more on that later), these teams are always determined to have a blast and look great doing it. The derby's dual MCs, Los Mejia and Rhonda Nichols, were also decked out—as Freddie Mercury and Brian May, respectively—though Rhonda decided against custom-building her own guitar like the real Brian May. (She's not a method actor, after all.)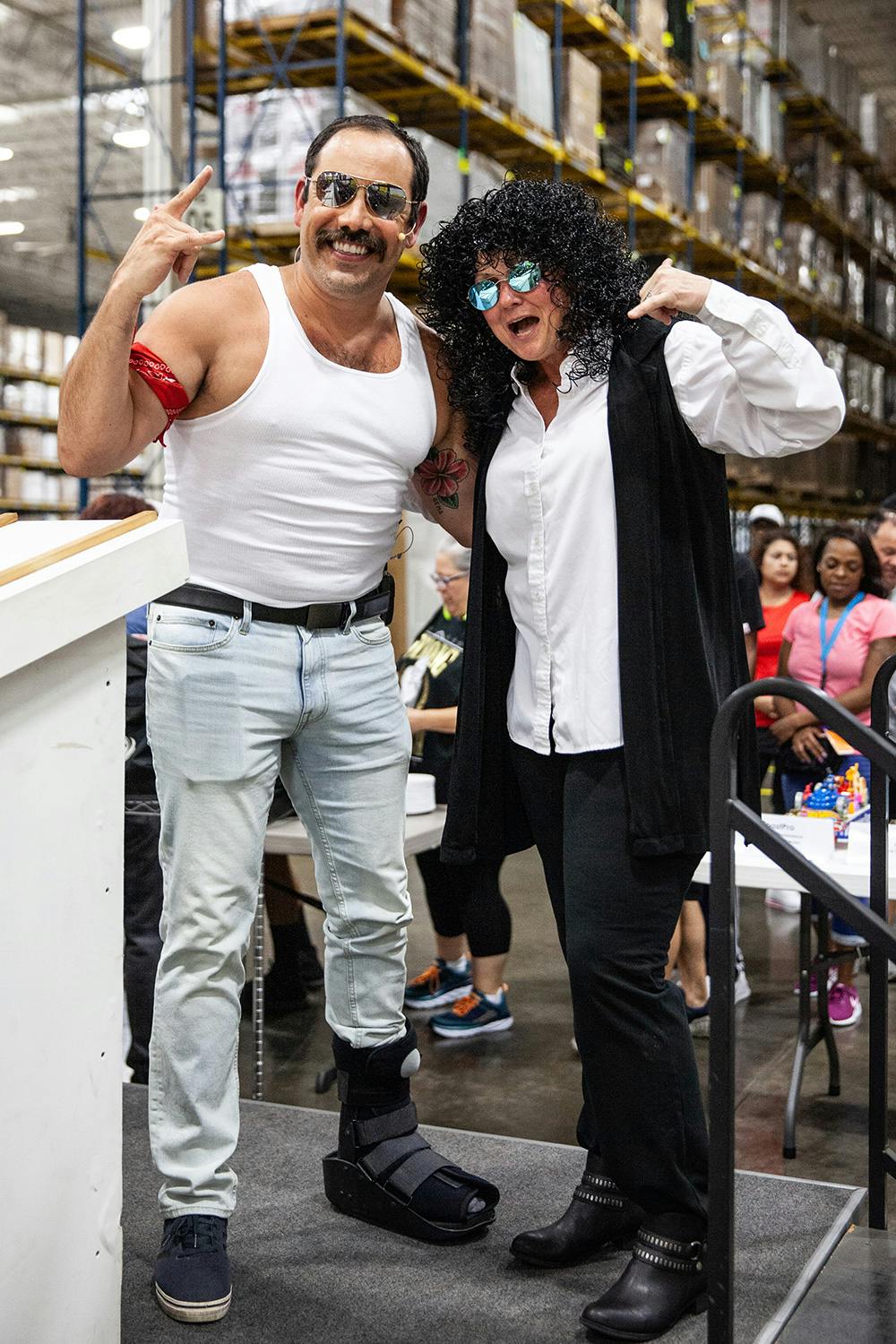 With the MCs sporting Queen costumes, it seems like a missed opportunity that this event wasn't a bicycle race. Oh well…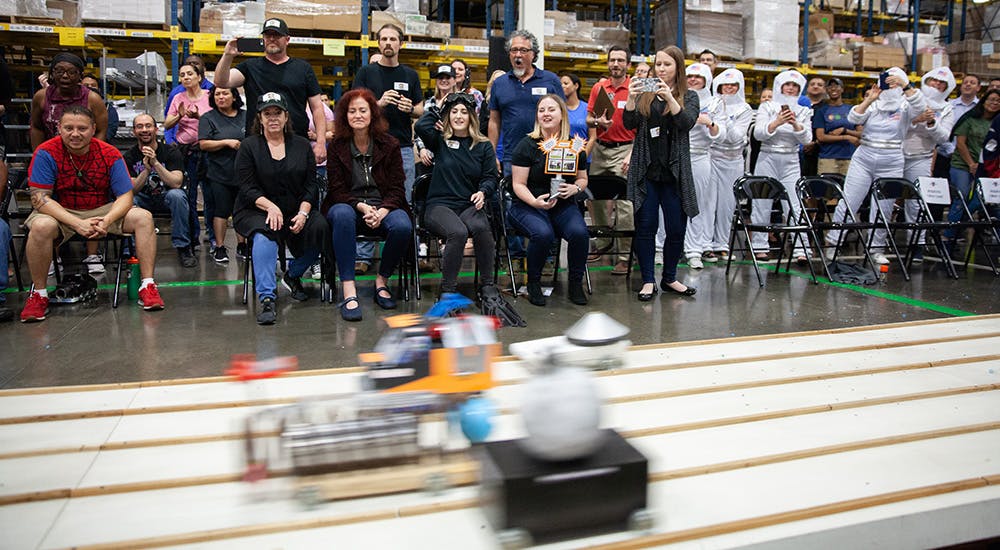 The derby's spectators cheer on their favorite cars.
One of the most distinctively designed cars was "Pride Rock", a speedy soapbox car crafted by the Merchandising team evoking the iconic scene from Disney's The Lion King. But there was nothing "Hakuna Matata" about this ride: any challengers were warned to "Be Prepared" for its speed. Although the team just couldn't wait to be king of the racetrack, they unfortunately did not advance to the final round. However, they did pick up the People's Choice award for their car's beautiful design.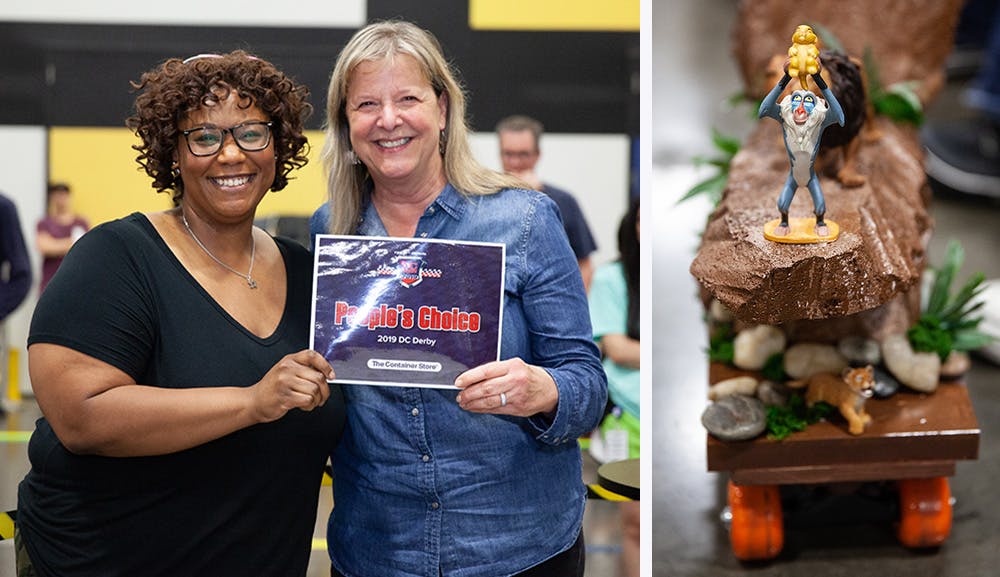 Janelle Dismuke (left) accepts the People's Choice award for "Pride Rock."
Another great car was the Visual Sales team's space-themed "One Giant Leap." Clad in astronaut attire, they cheered on their roadster through several amazing victories and ended up winning third place in the overall competition. Did they celebrate their fantastic achievement with a Tang toast? Probably.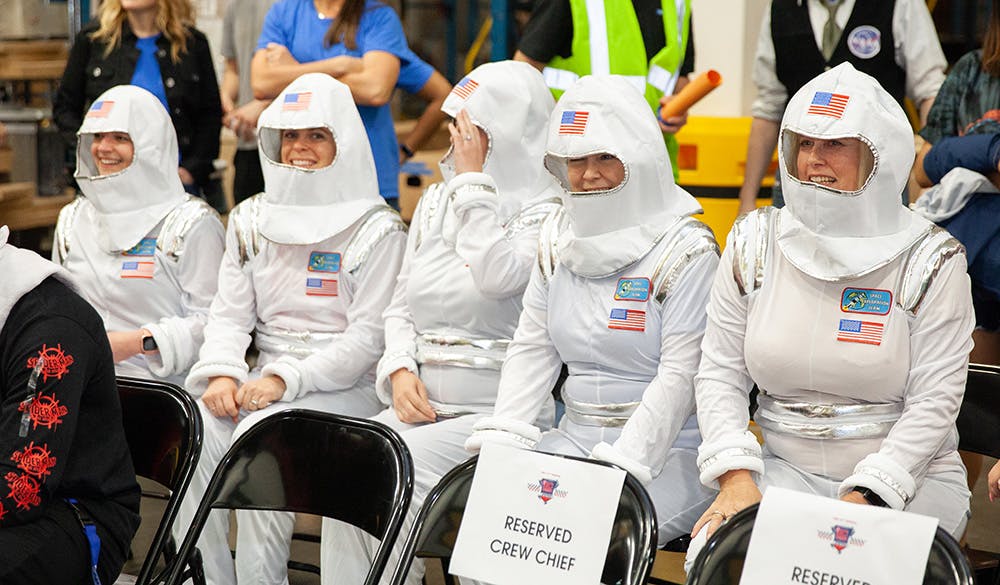 The Visual Sales team is dressed and ready to blast off (or do experiments on E.T.).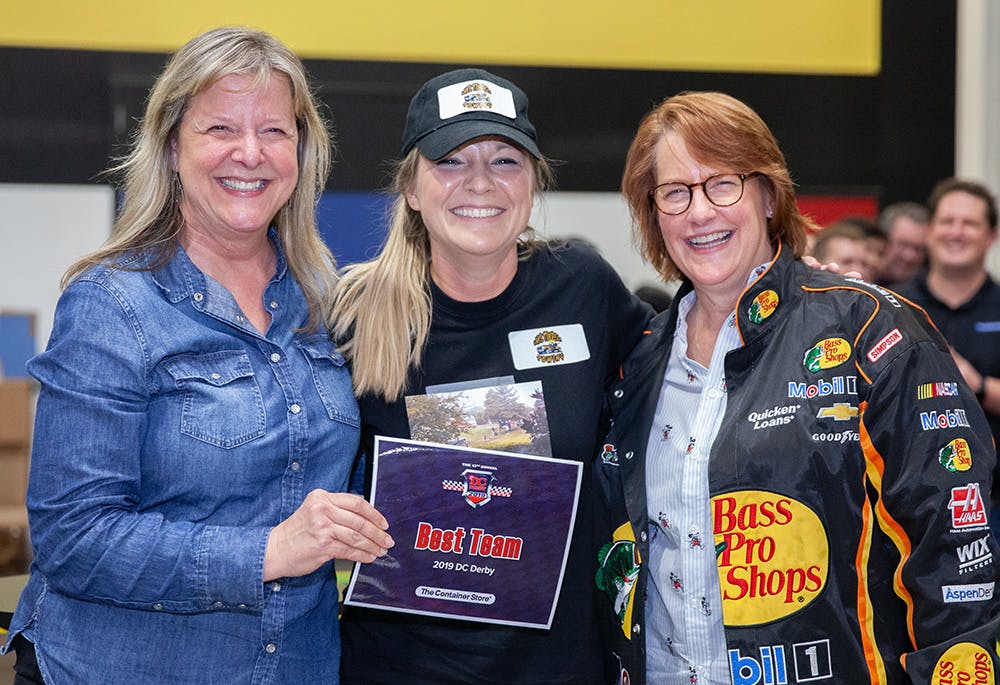 Crew Chief Lauren Rose (center) of "Lake Tindell Towing" accepts the award for Best Team.
The aforementioned "Lake Tindell Towing" team's theme requires some explanation, so sit down and relax. Maybe grab a coffee…
You comfortable? Cool. Okay, a few years ago, a local teenager accidentally drove his car into Lake Tindell—the small pond outside our Home Office affectionately named after our Co-Founder Kip Tindell—and it had to be fished out by a specially-equipped tow truck (Luckily, the poor kid was unhurt.) The whole incident made for a pretty amusing day around the office, which inspired the Marketing team's leitmotif. Included in the gang: a wrecker operator equipped with a snorkel and an insurance claims adjuster ("Jake from State Farm" of course). It was a big hit, and they ended up taking the Best Team award and placing second overall in the competition.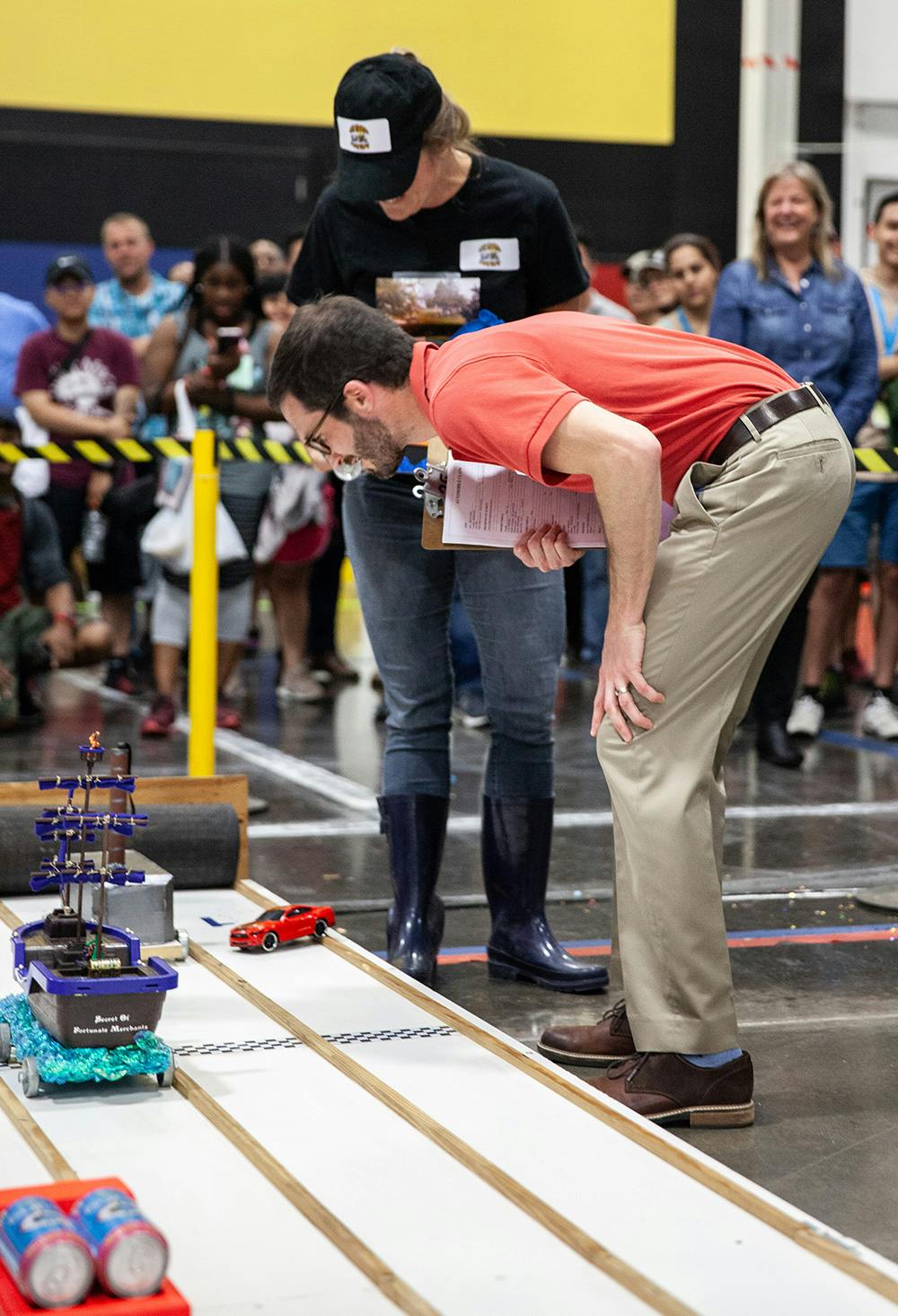 Jake from State Farm assesses the damage after a collision on the racetrack.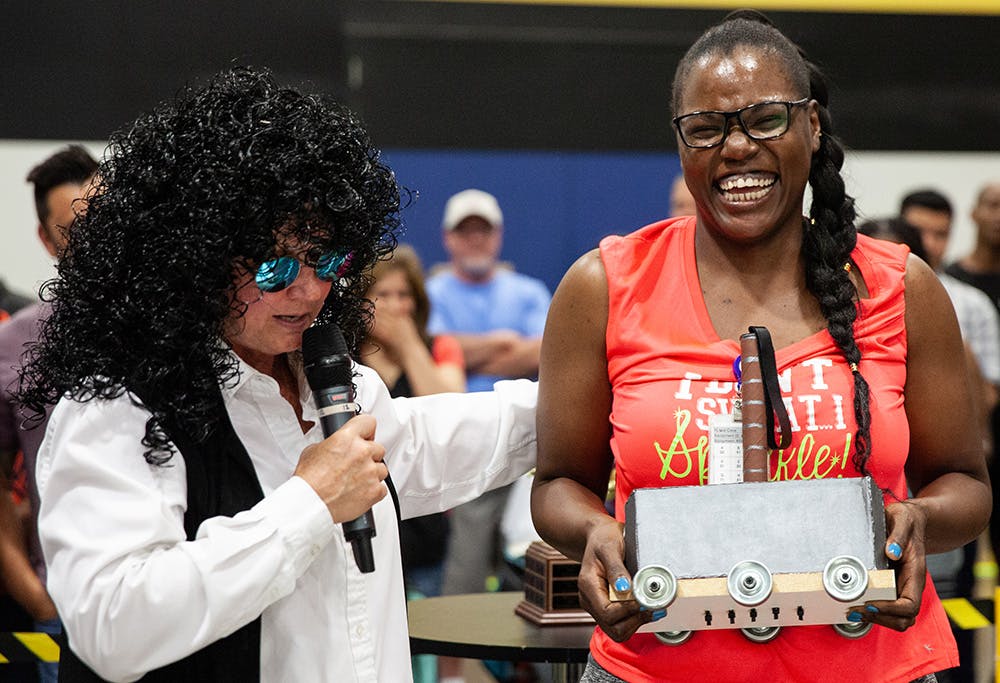 Shaniece Chandler was deemed the only crew chief worthy to wield their Mjolnir-inspired racer.
But of all the amazing autos in the competition, the one that truly stood out was named thusly: "Spring It On…Come At Me Bro." For a car with such a delightfully aggressive moniker, the design itself was quite eccentric, sporting a bubble blower, two plastic "thumbs up," and one giant, heavy spring. Constructed by the Evening Store Replenishment team, the finished product was a racetrack beast that looked like something straight out of a Mad Max movie (though a bit more whimsical) and proceeded to destroy all challengers. After winning first place in the Distribution Center's evening shift race, the racer returned the following day and trounced the competition again, winning the coveted championship trophy. The victory was especially sweet for Crew Chief Beau Still: after five years of defeat, he'd finally emerged victorious!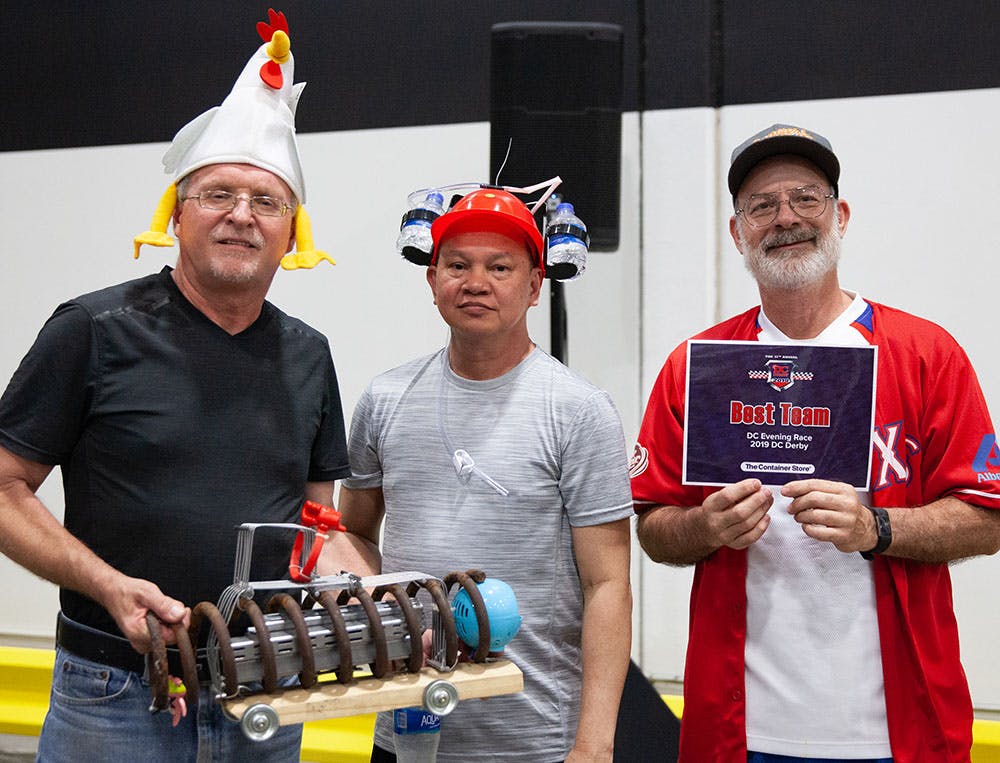 The crew of "Spring It On…Come At Me Bro" after winning the evening race.
In the end, no matter who won or lost, the derby all boiled down to one thing: fun. A great time was had by all, and we're all looking forward to more racing excitement next year!

Beau Still holds the trophy aloft, savoring the thrill of victory.