We've been working with Dallas-based Dwell with Dignity for years – a nonprofit group of Interior Designers and volunteers who are dedicated to creating soothing, inspiring homes for families struggling with homelessness and poverty. Can you imagine the difference it makes to a family to have a beautiful home they're proud of, where they can really grow and thrive?
We truly believe in the work Dwell with Dignity is doing, and for every home project that Dwell with Dignity completes, The Container Store donates a wish list of items for the family who will be moving in. This can range from outfitting entire closets and pantries with elfa shelving, to providing products like cabinet and drawer organizers, utensil holders and trashcans to organize the kitchen.
Most recently, we supported the very first Dwell with Dignity project in Atlanta, for a mom and her two sons. We put elfa in every closet, to make sure this family's home is a completely organized oasis!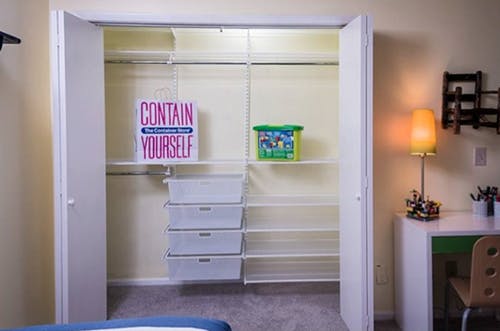 Watch a video of the home being revealed to the excited family, and see more photos of the project on the Southern Hospitality blog.