We're kicking off our second annual Holiday Hugs drive to benefit children staying in hospitals this holiday season. "Every holiday season, The Container Store embraces the spirit of giving by helping those in need in our local communities," said Chief Executive Officer, Melissa Reiff. "Imagine how difficult it would be if your child, or a child in your life, had to spend the holiday season in the hospital. Our Holiday Hugs program is an easy way to bring joy to these young patients and their families through this gesture of love from everyone associated with The Container Store." 
You can help by dropping off new and unwrapped books, small toys and games, toiletries, gift cards at any of our stores now through December 18th. Or, come visit us and purchase any of our kid-friendly stocking stuffers to donate. Our employees will put them in our signature Holiday Hug Sacks and deliver them to children staying in a hospital in your local area.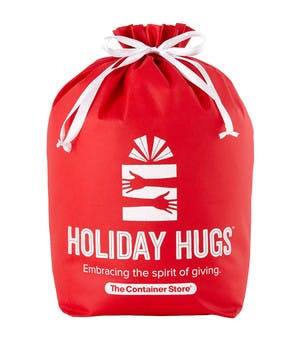 Acceptable Items
Small Toys
Toiletries
Books and Games
Gift Cards
Arts and Crafts
The Container Store stocking stuffers
Restricted Items
Used items
Food, Candy or Gum
Anything containing latex
Stuffed Animals
Anything with a violent theme and or guns
Video Games that are rated T, M, AO or RP
Movies that are rated PG-13, R or NC-17
Any item that is too big to fit in our signature Santa Sack (15.5" x 3.5" x 17")
For more information about the Holiday Hugs program, please visit standfor.containerstore.com/holidayhugs.