For more than 40 years, the name "Eagle Creek™" has been synonymous with two things: quality and adventure. No wonder their quality travel products have accompanied so many adventurers around the world, whether on a casual weekend getaway or a canoeing expedition down the Amazon. Equally adept at creating products to carry a laptop on a business trip or a sleeping bag on a mountain hike, Eagle Creek offers endlessly useful and versatile solutions for our customers.
The Eagle Creek story begins in Southern California in 1975. (Imagine mellow vibes, lots of polyester shirts, and the Eagles softly playing on the radio.) Steve and Nona Barker ran a small retail store in Idyllwild and, inspired by their love of traveling, began sewing their own travel products and selling them in the store. As time went on, these products became more and more popular, and by the early '80s they let go of their retail operation entirely to focus on manufacturing their travel gear. One revolutionary category they pioneered was "undercover" travel gear (products for discretely hiding passports, valuables, etc.). Another was space-saving organizers for toiletries and by the end of the decade their path crossed with ours at a trade show.
The Container Store's buying team fell in love with Eagle Creek's clever, durable products, and we began selling the Wallaby in stores a short time later. No, not the small Australian marsupial—this one: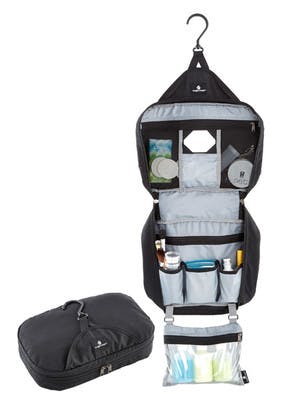 This is the type of Wallaby that's actually legal to carry on an international flight.
Still one of our best-selling travel products some 30 years later, the Wallaby was the first Eagle Creek product we introduced to our customers. And thanks to its success, we continued to partner with them to offer a wider variety of smart travel solutions in our stores.
Then came 1996. (Now picture chunky boots, boys with bowl cuts, and the Spice Girls on the radio.) That was the year Eagle Creek introduced the Pack-It™ System, and our lives (travel-wise, anyway) were changed forever. Our customers were now able to take a look at their messy suitcases, utter a collective sigh of relief, and use these products to keep everything neat and orderly while on the go. Pack-It made staying in a hotel or going through customs so much easier for countless travelers (even quite possibly saving a few marriages).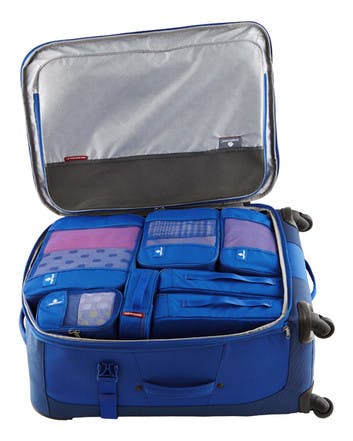 Our Eagle Creek Pack-It System AKA relationship savers. You're welcome.
In addition, Eagle Creek is also known for their famous No Matter What™ Warranty. Because they take such pride in the craftsmanship and durability of their products, they're able to guarantee their products are free from defect and built to last through whatever adventures await. It's just one more reason we're proud to offer their products to our customers.
As our years together have shown, the partnership between Eagle Creek and The Container Store has been a match made in heaven. "Eagle Creek's durable, amazing products have revolutionized the luggage industry," says Christine Hemmi, The Container Store's Divisional Merchandise Director. "I'm always amazed at the products they develop, whether it's packing organizers, luggage, backpacks, or any number of other great solutions they offer!" For Gabe Artalejo, Eagle Creek's North America Sales Director, the feeling is mutual: "The partnership we have with The Container Store is invaluable to our brand. They've given us so much feedback and have helped us better understand our customers. It's that openness that has helped Eagle Creek evolve to where it is today."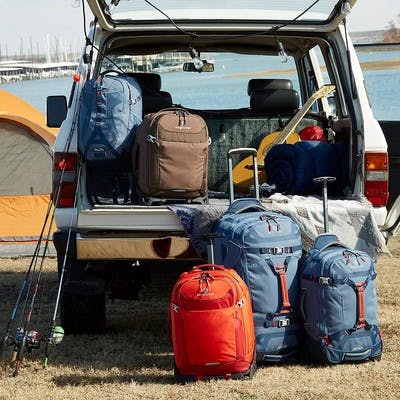 From baby boomers to Generation X, millennials, and beyond, Eagle Creek has offered multiple generations of travelers the security, durability, and organization they need to have the adventure of a lifetime. Our partnership with them has been an incredible and satisfying adventure unto itself. And we can't wait to see what lies beyond the horizon!