In early May, IRIS USA celebrated an historic event for our company, the opening of our third manufacturing and distribution facility in Surprise, AZ. The need for this expansion in large part, is due to the continued growth from the business we enjoy with The Container Store, which is served from our Mesquite, TX facility. This new facility will free up much needed production and warehouse capacity in Mesquite to support the continued growth of TCS. In addition, the facility will also transition into our North American headquarters by the end of 2017, which is currently located in Pleasant Prairie, WI. Our overall growth as a company has been greatly enhanced by the extreme partnership and support with we receive from TCS, and more specifically, the conscious way we go about conducting our business together.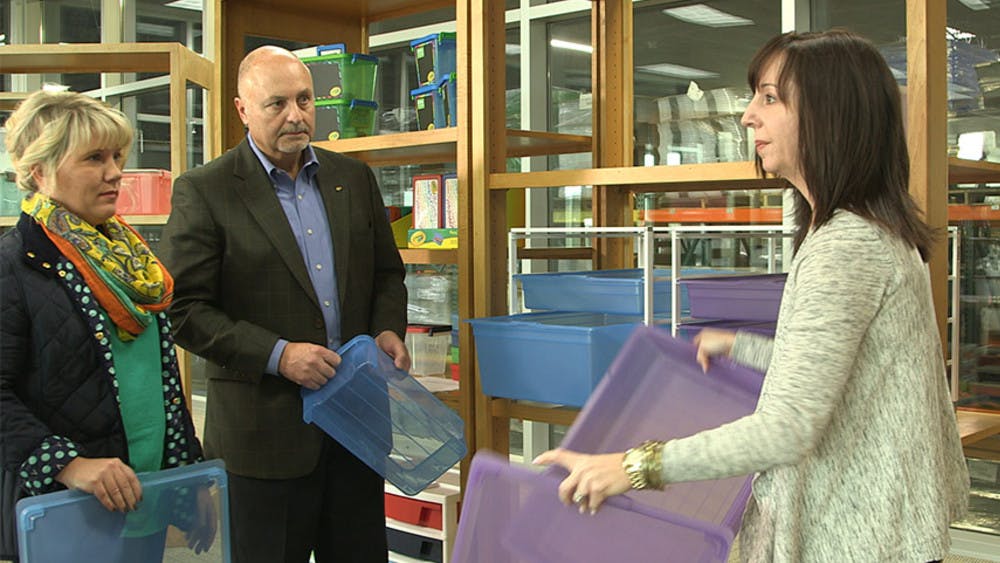 Chet discussing some of their products with TCS Senior Merchandise Category Director Carolyn Regala.
Our relationship with TCS is very special for me and my associates at IRIS. I have been incredibly fortunate throughout my career to be, for the most part, a conscious capitalist, even though I really didn't know it. I never gave it serious thought until I started working as a supplier to The Container Store back in 1997, and as my business with them grew becoming now, their second largest vendor, I learned that a business relationship could have much deeper meaning and significance, not just attaining financial rewards, but professional and personal "quality of life" enrichment. The people at TCS are so very special, and as the years have passed, I have learned so much about being a loving, caring, authentic, passionate, honest and trustworthy stakeholder, leader, and whole person. They have set such a profound example for me. One of the remarkable things is that during all of these years, their high standards and commitment to their Foundation Principles, through good times and bad (like the 2008 Great Recession), have never wavered! There has never been a compromise or tradeoff in order to take advantage of a particular economic or financial situation. Never! Needless to say, this enduring consistency and commitment to conscious business excellence is their most admirable attribute.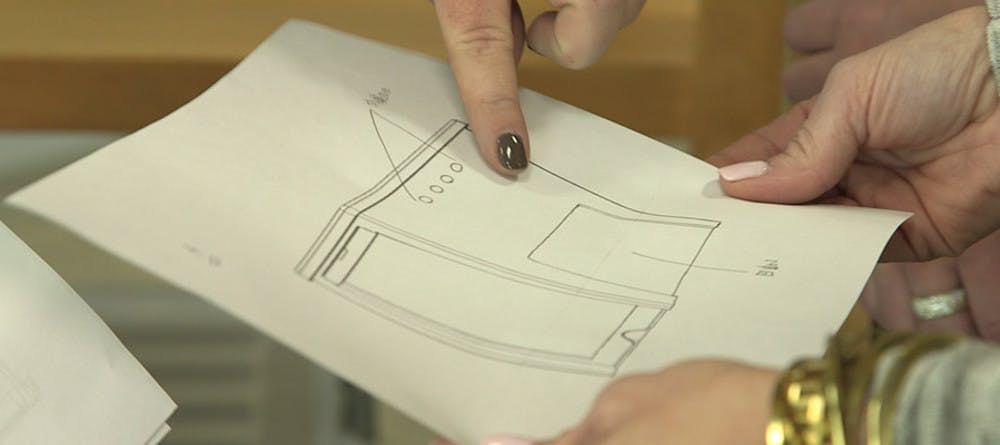 TCS Buyers discussing product designs with the team at IRIS, USA.
Through Kip Tindell, Chairman of TCS, I was introduced to the Conscious Capitalism organization back in 2011. Since that time, learning and implementing practices to be a more conscious leader has garnered record breaking results for my company, but more importantly, it has made my professional and personal life so much more fulfilling, not to mention the positive impact it has had on the people around me, including family, friends, pretty much anyone I come into contact with. IRIS USA now has an articulated "higher purpose", which makes all the difference in the meaning of our overall business philosophy, why we exist as a company, and the innovation of the "why and how", in everything we do.
Celebrating our new facility was extra special with the participation from our dear friends at TCS. If you've ever attended a grand opening celebration for a new TCS location, you know TCS throws a great party! So it's no surprise that we fashioned our event using the great resources used by TCS when they opened their Phoenix area stores. Great food, music, and dancing made for a special evening.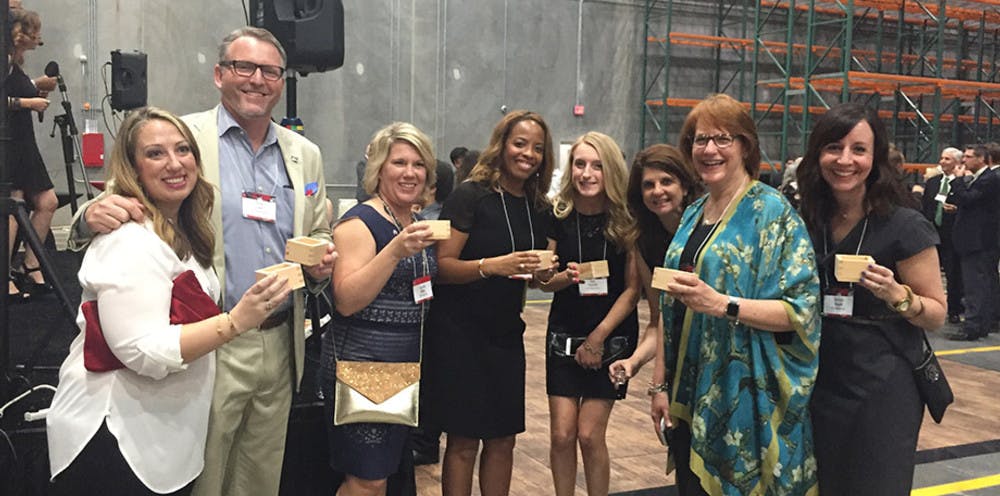 TCS Employees celebrating at the new IRIS, USA facility.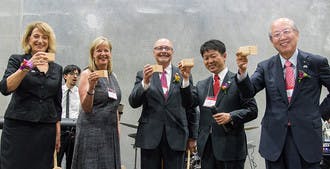 The Container Store was well represented with many of their key executives in attendance, led by Sharon Tindell, President and Chief Merchandising Officer of TCS. This brought back memories of when they helped us celebrate the opening of our Texas facility back in 2002, a facility that was built to support TCS and their growing business. IRIS USA is the North American subsidiary of Iris Ohyama, a family-owned global consumer products business based in Sendai, Japan. So when we celebrate a new facility in the US, we do the traditional grand opening ribbon cutting and acknowledgments from local city and government dignitaries. In addition, we celebrate a ritual in Japan that is in essence, the Japanese version of our ribbon-cutting ceremony. We have a huge wooden barrel filled with sake, and leaders of the company take wooden mallets and bust open the barrel, at which point, the sake is served to the guests and there is a congratulatory toast. It's great fun! We were honored to have Sharon Tindell participate in this special ceremony.
However, what happened immediately before the sake ceremony is what I will always cherish. Sharon spoke to our more than 350 guests about the incredible partnership between TCS and IRIS. She spoke about our "mutually beneficial relationship," and how we work together as true partners to meet challenges to help each other to grow and succeed. She spoke of the mutual trust we share, and how great communication facilitates great understanding and leads to the best results.
However, there was one word that came up over and over again as Sharon spoke about our relationship, and that is the word "LOVE." This word is rarely used in describing a business relationship, or in any business context, for that matter. Of course, the use of this word is quite common in a conscious business relationship, as the word describes emotion and passion, the joy, the respect and trust and friendship that true conscious companies share for one another. Love is an attribute that is to be embraced, not looked at as a sign of weakness.
Sharon presented a special gift to us in honor of our grand opening, a beautifully framed piece of art that captures all of the attributes and emotions that describe our partnership. Along with phrases like, "simple design," "attention to detail" and "quality," are the words "trust" and love," "family," and "respect." What a beautiful and thoughtful gift! We have this prominently hanging at the entrance of our lobby to share with everyone. We also want all of our visitors to know that the words and statements on this artwork symbolize what IRIS USA is all about, and how much we cherish the special relationship we have with TCS. Of course, actions speak louder than words, and it is our goal to live up to these attributes every single day, in both our professional and personal lives.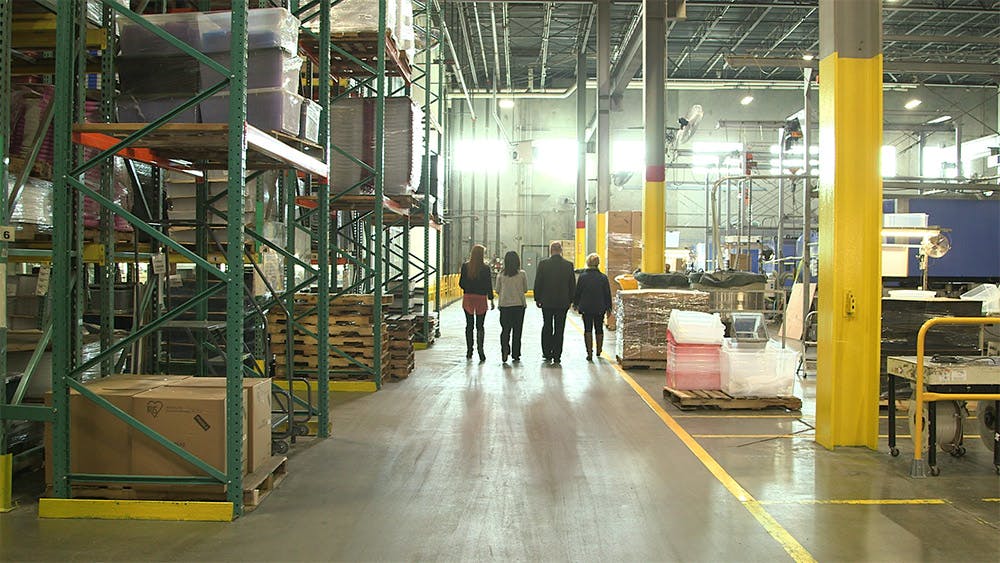 Chet leading TCS Buyers on a tour of the IRIS, USA Mesquite, TX facility.