We connected with Bethany at the Conscious Capitalism 2016 conference in Chicago earlier this year. She's a 22-year-old passionate conscious capitalist, an account manager for Improving and a dance enthusiast. This is the story of her journey to find a workplace that shares her values…
"We are going to be taking the company in a different direction and this is your last week." At times, those words echo in my head, as it was the moment that launched me into a new phase – job searching.
As I thought about what company I wanted to work with next, I was open to almost anything. I didn't care about industry or location; even job role and salary were secondary concerns. Non-negotiable factors I did take into consideration were working for an organization that lived out a purpose beyond just making money, and had leaders with character.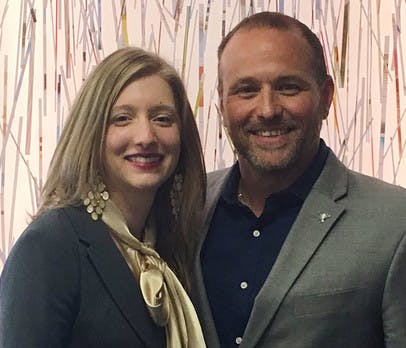 Bethany and Improving CEO Curtis Hite at a Conscious Capitalism event
I wanted to work for a company where the purpose was alive and drove the team to accomplish results; where the leaders operated with integrity; and where people approached their work with a desire to create value for everyone involved, not just themselves. These qualities were so important to me that when I found a company that met my lofty criteria, I changed major aspects of my life. I changed from the marketing industry to IT services. I said goodbye to my hometown community, and I moved from New York to Dallas. I did this to join a family of people that seemed to get something that most did not.
I found a business that I could proudly represent. Now, almost a year later, I continue to be inspired by what we are doing as a company and I'm even more convinced that purpose and great leadership are the foundations for loving your workplace. As I look back, I may have never left New York if those difficult words had never been said to me. But now, I take pride in the courage it took to follow my own intuition and join this great team.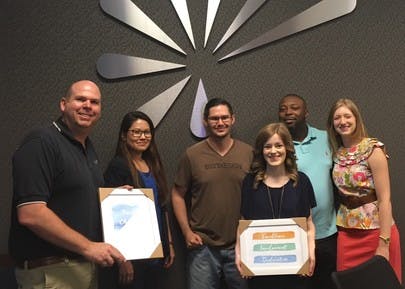 Bethany (far right) and her colleagues at Improving
If you're interested in connecting with other people and companies who share my views on the importance of higher purpose in the workplace, I'd encourage you to visit consciouscapitalism.org to learn more, or engage with me on my blog at BethanyHilton.com. I'd love to hear from you!