The talent and creativity of our 1=3 GREAT employees is just off the charts. This year, in true "Project Runway" fashion, we asked our employees across the company to design fashion looks crafted from our signature gift wrap, ribbons and trimmings to display in the windows of three of our stores – Century City (Los Angeles), 6th Avenue (New York City) and Lexington Avenue (New York City), as well as the atrium of our Home Office.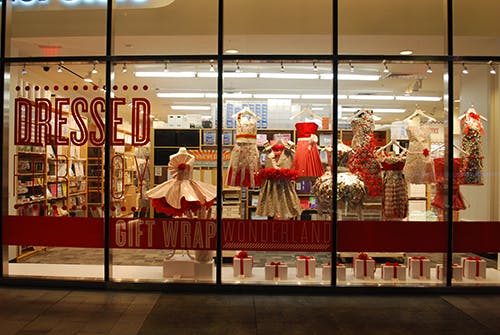 The only word to describe the resulting gift wrap looks that were created is WOW!!! We had so many employees volunteer to participate in the project – and not just from our Visual Sales department, but incredibly talented and creative people from our Stores and our Distribution Center crafted some of the most stunning works of fashion we've ever seen!!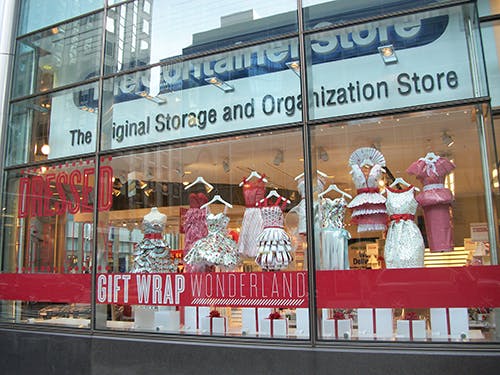 Our 6th Avenue prime-time employee Emily W., who's also currently a student at the Fashion Institute of Technology, said, "What girl doesn't dream of designing a dress for a New York City shop window? I was so excited when I heard about this opportunity I couldn't wait to start! I enjoyed every minute of this experience. Not only was I able to bring out my creative side, but I was also able to see the creative side of my coworkers as well." Look at the amazing dress that Emily created! It's been quite the buzz around the store!

Our Vice President of Visual Merchandising, Peggy D., loved how excited our employees got about this project. "This has been such a fun opportunity to share with our store teams. We're consistently delighted and amazed by the creativity that comes from our employees," said Peggy. "One of our Foundation Principles is Air of Excitement, and this is just another example of our employees contributing to that! It gives our customers a little smile and inspiration as they shop with us this holiday season."
In addition to the looks created for the displays, we also hosted our second annual Gift Wrap Wonderland Fashion Runway at the holiday celebration held at our Home Office and Distribution Center. These looks not only had to be gorgeous, but sturdy enough for someone to model them down the runway! Check out all of the fabulous photos from this fun event in our photo gallery.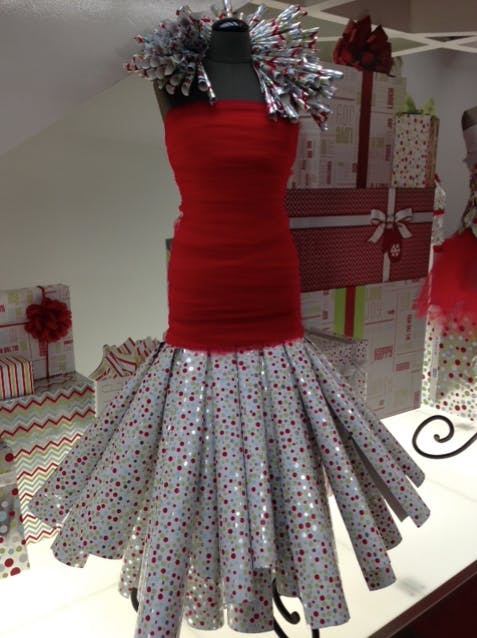 One of the many gorgeous dresses designed by our Home Office and Distribution Center employees!