When we first decided to open a second Distribution Center in Aberdeen, Maryland, one of the most important factors was making sure we had plenty of great people to work there. Because we place so much emphasis on culture here at The Container Store, it wouldn't work to hire only brand-new employees, so naturally we had to carefully choose veteran employees who not only represented our culture effectively, but who were also willing to move halfway across the country! Luckily for us, an extraordinary group of employees at our original Distribution Center in Texas stepped up and agreed to take this huge leap-of-faith, and two of them are married couple, Jenn and Mike Markiewicz.
Mike Markiewicz first joined the TCS family in October 2002. At that time, his then-fiancee Jenn had just moved from Michigan to Texas and taken a job as an athletic trainer at the University of Texas at Arlington, so he decided to move with her. Having been a regular shopper at our Oak Brook store since high school, Mike was familiar with our company and culture, so he applied for a job in Store Replenishment at our brand-new Distribution Center in Coppell.
Jenn and Mike married the following year, and over the next decade had four children together. Mike continued to enjoy his career at The Container Store, and his combination of warmth, enthusiasm, and know-how lead to his promotion to the Distribution Center's management team. "Before TCS, I had not worked for a company for more than three years," he says. "But now I'm working towards my 17th year here and couldn't be happier!"
After spending a few years as a stay-at-home mom, Jenn was anxious to return to the workforce. By this time, the long hours and demanding schedule of an athletic trainer were no longer a reasonable option, so in 2013 she was hired by our Customer Solutions Department as a Customer Contact Coordinator. As time went on she developed a passion for learning and sharing her knowledge with others, and eventually she took on a new position as an Installation Coordinator. "My favorite thing about working at The Container Store, aside from the amazing products, is the way all of our managers have allowed us to achieve a work-life balance," says Jenn. "We're so blessed to work for a company that values our family as much as we do."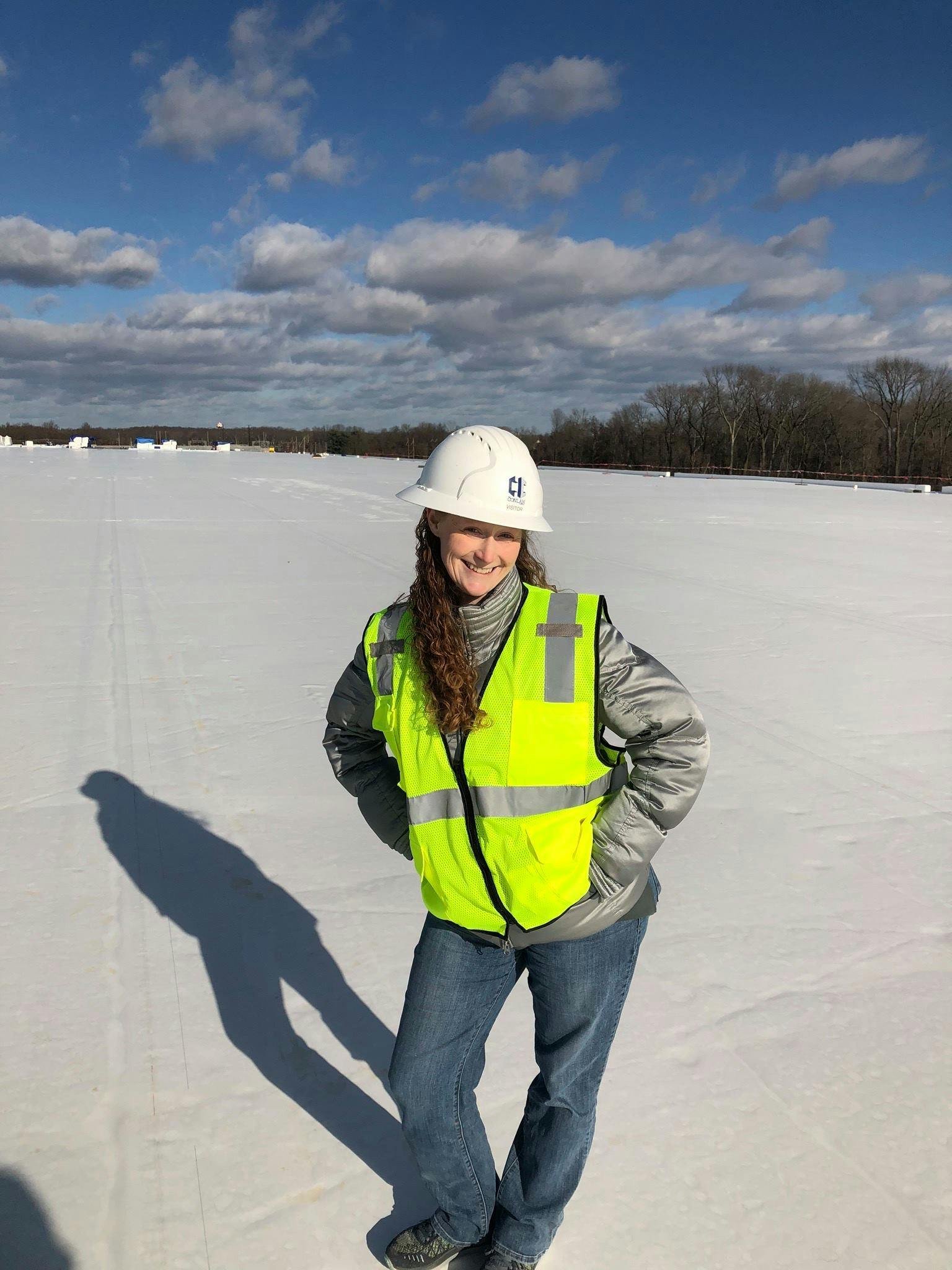 Jenn on a recent visit to our new Distribution Center in Abereen, Maryland.
By the time 2018 rolled around and The Container Store began preparations for a second Distribution Center, Mike's own managers began talking to him about the possibility of him helping lead the new Aberdeen team. This exciting opportunity was well-deserved, but obviously wasn't something he could agree to instantly; after all, Jenn's career aspirations were equally important. But fortunately for them, the second Distribution Center would also have a need for a Recruiting and Training Supervisor, and Jenn turned out to be the perfect fit for the role. "Although the transition from CSD to the DC was bittersweet for me, I was very excited about my new challenges!" Jenn says. "Thankfully, the DC welcomed me with open arms, and I look forward to creating that same environment for our new employees in Aberdeen."
Both Mike and Jenn marvel at what a big role The Container Store has played in their lives, and they appreciate spending time with their fun, supportive colleagues every day. "The people I work with make it so much fun! And with four kids at home, work sometimes feels like a vacation!" Mike jokes. But on a more serious note, he also credits his "amazing mentors" and coworkers with helping him grow as not only an employee, but also as a husband and father. It's the company's total investment in people, he says, that makes all the difference. "I couldn't agree more!" Jenn adds. "From the culture and people to our amazing organizational products, every part of our lives has been touched by TCS!"
If you're interested in applying for a position at our new Distribution Center in Aberdeen, MD, please check out our Careers page.