*This post is part of Chairman and Co-Founder Kip Tindell's Thoughts on Thriving Blog Series. Read other posts in the series here.
How do you find a great employee? We spend a lot of time thinking about that question, because as important as motivating and retaining talent is, the ability to identify and develop talent really is where it all starts.
The first place we look is among our own customers. They're people like Cricket Stewart, a suburban mother of three who, before coming to work for us, shopped at our store in Tysons Corner, Virginia so often she felt like Norm in the TV series Cheers (okay, I know I'm dating myself). But, remember how everybody yelled "Norm!" whenever he walked into the bar? Well, at The Container Store, they shouted "Cricket!" She got to know everyone so well, her employee friends finally said to her, "Cricket, why don't you work here?" So, she applied and got the job.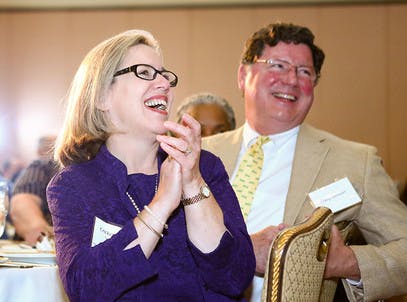 Cricket and her husband enjoying the service awards dinner.
A couple years ago, we got to fly Cricket and her husband to Dallas for our Service Awards dinner to say "Thank you!" for giving us 15 wonderful years (and counting), all part-time. Her husband joked that even with her 40% employee discount they're just about breaking even on the deal! Everyone laughed because we could all relate: Being able to pay only sixty cents on the dollar for the incredible selection of merchandise at The Container Store is actually a big reason why some of our most loyal fans come to work for us.
By hiring your customers, you get employees, like Cricket, who were already fans of your products. They come with a wealth of first-hand knowledge that makes them even more well prepared to provide your customers with the best possible service. Your customers benefit from the excellent service that only a passionate brand-ambassador and product expert can provide. And the customer-turned-employee gets to work some place that brought her joy even before it brought her a paycheck, and as Cricket can attest—the discount is pretty great too!
Want to work for us? Apply online!