Part of having an employee first culture means celebrating the diversity of our colleague's passions, backgrounds, and talents. On Veterans Day, we want to spend time honoring the men and women who wore a military uniform before donning our signature black polo and taking on our customers' storage and organization challenges. This year, we spoke with Brandon Coquyt, the Visual Sales Manager at our Tampa Store, about his transition to civilian life.
Q: Tell us about your time in the Army.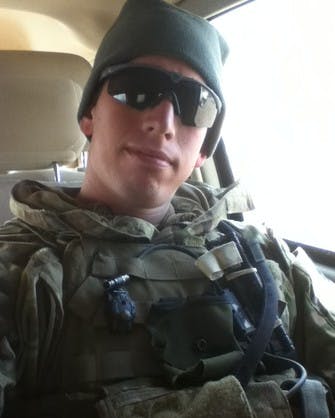 I enlisted in active duty a year after I finished college in 2010. I went to Ft. Benning in Columbus, GA, where I completed Basic Training, Advanced Individual Training, Airborne school, and Ranger selection. I was an Airborne Infantryman and I was assigned to 3rd Ranger Battalion, Delta Company.
As an Airborne Ranger: I jumped out of airplanes and helicopters, drove tactical vehicles, trained in harsh terrains during the day and night, became proficient with multiple weapon systems, and fought with the best warriors in the military. I did two tours to the Middle East, spanning roughly nine months. During my deployments, our primary mission was to close with and capture or eliminate enemies throughout our area of operation. I worked closely with other Rangers, Navy SEALS, Parajumpers, and Special Forces. Rangers Lead the Way.
Q: Tell us why you decided to work at The Container Store after serving in the military?
I separated from the military in February of 2013 and my transition back to civilian life was quite the adventure. Just two weeks after I left the Army I moved back to Tampa, got married to my phenomenal wife, went on a honeymoon, and started pursuing a career in law enforcement. Unfortunately, my law enforcement career plans did not come to fruition. A good friend who worked for The Container Store turned me on to the idea of working here. When I came to my group interview I quickly felt the Air of Excitement, which is my favorite Foundation Principle, and I knew that I wanted to be part of this incredible team. I remember getting the call and learning that they had a spot on the team for me. I was ecstatic and quickly jumped at the opportunity.
Q: What has your career path been here?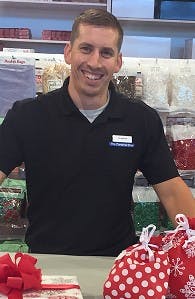 I started out part-time unloading merchandise trucks. Why not, I was good at picking stuff up, putting it down, and moving quickly (typical Army guy). I loved processing the merchandise and the people I worked with. From the beginning, I was open with our management team about my desire to move up to a leadership position. I was fortunate that each person I spoke to was supportive and wanted to help. Our General Manager, Jaimie, became a mentor to me and I was soon promoted to Full-Time Visual Sales. My role continued to evolve and about a year later I took part in the Leadership Development Program, and was fortunate to be promoted to the Visual Sales Manager position.
Q: How are you able to use your military experience in your job with TCS?
I believe using my ability to lead others, motivate with intensity, and take care of my people are what I take from my military experience. I was fortunate to work alongside great men and leaders in the military. I am fortunate that I get to work with the same caliber of people here at The Container Store and while it's a different arena, the leadership exemplified and the care for others are parallel.
Q: What's your favorite part about working at The Container Store?
Hands down, I love working with the people here. I enjoy seeing everyone interact with one another, joke around, grow together, and make each other better. Our store management team and Area Directors have all been influential in my development and guiding me throughout my career. I enjoy generating some Air of Excitement during meetings or events with a fun skit. I love leading Merchandise Processing because the logistics involved in unloading a full semi-truck and merchandising that product on all our shelves in a matter of a few hours before the store opens reminds me a little bit of the military. It involves a great group of people, everyone is up super early, highly motivated, fighting to beat goals, execute plans and best practices with excellence—we are yelling, and the music is loud! The people and the atmosphere that they create makes coming to work enjoyable for me.
Q: What advice would you give to other veterans seeking their first civilian job?
I would encourage everyone seeking a civilian job to be open minded and to go for anything. We may have a plan for our lives but circumstances may not pan out as we wanted. Being open minded to different career paths may lead you to something new, exciting, and something you may eventually love. I would also say that you are not alone. Whether that be through the VA or a friend, it's always better to have someone on your side when conquering life.