The Container Store's third Foundation Principle reads as follows: "Intuition does not come to an unprepared mind. You need to train before it happens." While it's well-known that we're big believers in extensive training for our employees, we also want them to bring their own life experiences to the table and let those experiences guide and shape their work. 
There may be no better example of this principle than the origin story of Our Tall Shoe Box. The story began when Lauren Hill (no, not that one) became our Closet Buyer in 2013. Although she was obviously a fan of our products, she had a difficult time finding a shoe storage solution that worked with what she refers to as her "sky-high heels." Ideally, she wanted a modular solution that was durable and attractive. And while she could have just kept the original cardboard shoe boxes, she was also aware that the glue used in the boxes tends to attract bugs, so that wouldn't work either. Over time, she and a few of her colleagues brainstormed and tossed around a few ideas, but nothing seemed to work.
Then one day, essentially by accident, the solution came to her. While at work in her office, Lauren took off the pair of tall heels she was wearing and put them on the floor—right next to a small stack of our regular Shoe Boxes. "I suddenly did a double-take and realized that if I had a tall shoe box that was the exact same size as a stack of two of our regular shoe boxes, that box could not only hold any pair of my heels, but it could also stack modularly with our regular ones!" she says. Not one to take this lightning bolt of inspiration for granted, she immediately began making sketches and called our shoe box manufacturer to pitch them the idea.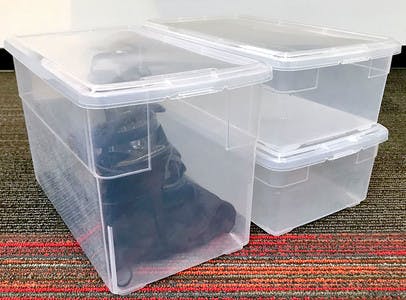 Our Tall Shoe Box is designed to have the same footprint and exactly double the height of a regular shoe box in order to make stacking more efficient.
Our vendor was very enthusiastic about Lauren's idea. After a period of product development talks, our Tall Shoe Boxes finally hit our store shelves and have been a big hit with our customers—and not just those who wear heels. "As I later discovered," Lauren says, "the Tall Shoe Box was also the perfect size for sewing patterns, large spice packets, extension cords, and even our DiscSox storage for CDs, DVDs, and Blu-rays! Our customers LOVE it!" But, had she not spent many hours working on this problem and developing her intuition, the solution may not have come at all.
Though the process can be challenging, working with our vendors to creatively solve problems is one of Lauren's favorite parts of her job. She now holds the title of Divisional Merchandise Director, so although her role has changed quite a bit, it still allows her to channel her passion and intuition into developing even more great products for our customers. "Creating a product on paper and then seeing it on our shelves is awesome," she says. "Knowing that you are literally saving a customer time and energy with something you created is an amazing feeling!"