A HUGE congratulations to our wonderful Indianapolis store for being recognized on the Indianapolis Star's Top Workplaces list for the second year in a row! Out of 119 companies that participated in the survey, 75 were selected for the Top Workplaces list, including our Indy store! Plus, The Container Store was the ONLY retailer on the list!
Here's what two of our Prime-Time Indianapolis employees had to say about the honor, after attending the local Awards Breakfast held for the recipients – so proud!:
"As a member of The Container Store team, I've found a truly unique corporate philosophy that is foreign to most work environments and almost non-existent from the retail world. Driven by the leadership team, that philosophy is mostly to credit for The Container Store's long-lasting presence on FORTUNE Magazine's list of "100 Best Companies to Work For" (a span of 14 years!), as well as locally on this list.
How fortunate I feel to have been (literally) at the table representing the rest of my amazing team members during that awards ceremony. Thank you, The Container Store, for this experience and the many other Exceptional Benefits I receive as a part of the simple decision to join the family."
Sara R., Prime-Time Employee, Indianapolis Store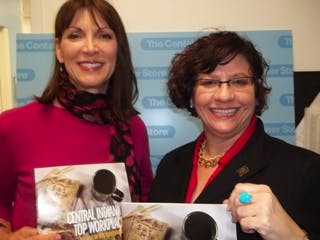 "What an honor and pleasure it was, to attend the "Indianapolis Star Top Work Places 2013," awards breakfast! I felt quite proud to be with three of my colleagues, representing the entire team. As we all enjoyed a delicious breakfast, I was elated to realize we were in the company of many important Central Indiana business organizations, both large and small. And when I realized The Container Store was the only retail business represented on the top 40 "Small Companies" list, I was so excited…another HUGE CELEBRATION!!! Being selected as a top workplace allows our company to stand out and be recognized with respect, in the business community and also attracts great employees. The trickledown effect…customers want to do business with great companies, which, in turn, leads to growth. We have so much to appreciate and be proud of!! CONGRATULATIONS to all of us, at The Container Store Indianapolis!!!!"
Deborah S., Prime-Time Employee, Indianapolis Store