Working at The Container Store is a source of great pride for me. There are many reasons I so deeply believe this statement, but the biggest may be that through my now seven years of working here, I know and can feel in my heart that everyone at The Container Store cares about me as a person. That may sound very simplistic, but trust me, it's not. Many companies invest just enough into an employee to support the role in which they perform. They give them the specific tools they need to accomplish the specific task they wish for them to achieve. Nothing more, nothing less.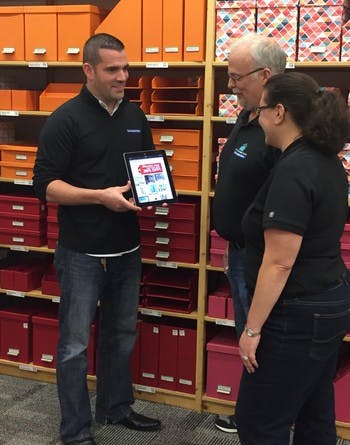 At The Container Store, they really care about me because they didn't necessarily hire me for a specific role I can perform but more for the specific person I am. Yes, as a General Manager here in our beautiful Raleigh, North Carolina store, I have specific expectations set and goals that I work to achieve. But my leaders take a "whole brained" approach to assuring that I accomplish my objectives. They empower me to utilize my life experiences as a father and a husband, my 20 years of retail experience as a sales person and a business leader and pair that with the hundreds of hours of training The Container Store has provided me, in order to develop a "whole brained" leader who can make the best decisions in any situation. This is all done through our Foundation Principle, Intuition does not come to an unprepared mind. You need to train before it happens.
The Container Store's balance of training and encouraging employees to use their intuition leads to not only more well-rounded and productive employees, but it leads to a level of engagement that you cannot achieve by simply training employees alone. Based on this Foundation Principle and training philosophy, our employees know we care about them and as a result they are more engaged in our business, with our customers and in our communities.