We just wrapped up our first Kiss Clutter Goodbye Weekend as part of our partnership with Goodwill Industries. We were thrilled to see so many customers come out to our stores to donate their gently-used items to support Goodwill's mission to help our underserved populations obtain employment, independence and dignity as they provide for themselves and their families.
Want to declutter your life and help your community at the same time? Visit us next weekend and bring us the clothing, small appliances and household goods that you no longer need. And while you're decluttering you can also contribute to the important efforts of Goodwill through a tax-deductible monetary donation at any of our locations.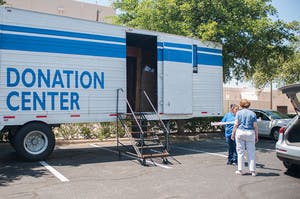 Now through May 15, donate any amount at checkout—or donate your items during our Kiss Clutter Goodbye Weekends—and you'll receive a FREE bag to help you stay decluttered throughout the year! Learn more at whatwestandfor.com/goodwill.