Imagine you're coming to The Container Store to get a few items to help organize your closet. You might be thinking that new hangers or a couple of bins would make the difference in your desire to get organized. But when you arrive at the store, you partner with one of our employees who starts by asking you questions about your closet set-up, really trying to get to the root of your organization challenge, which she guesses is probably not just needing some more hangers. As a result of this interaction, the employee recommends a complete organization solution for your closet that you never would have thought of – something FAR better than hangers and bins – something that will actually allow you to utilize your closet efficiently for the first time! You're so happy you are practically dancing in your closet already! This is Man in the Desert Selling – our selling philosophy – and my favorite Foundation Principle.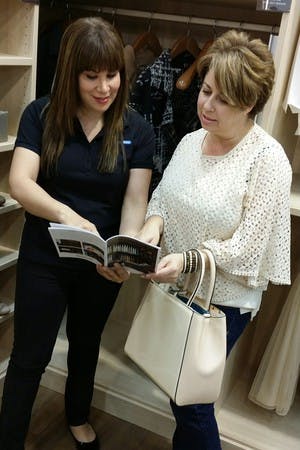 Our customers benefit greatly from Man in the Desert Selling because we're able to astonish them with complete solutions while earning their trust. Using our extensive training and product knowledge, we're able to uncover customers' organizational challenges and work to create something for them that's truly perfect and personalized – and better than they could have ever imagined.
And our employees love Man in the Desert Selling because it challenges them to think outside of the box when recommending a solution for a customer. If we just give her what she's asking for (those hangers or that bin) then we're actually letting her down. Instead, we work to understand her needs to uncover and recommend solutions that she never would have thought of on her own.
Man in the Desert Selling takes courage, the ability to connect and willingness to articulate your vision every single time with every single customer. But the results – for the company, the employee and the customer – are beyond worth the extra effort.