Since 1949, Mental Health Awareness Month has been observed during the month of May as a way to promote the importance of mental health. Though it's often not as emphasized by society as heart health or healthy eating, good mental health is an extremely important aspect of one's vitality and quality of life.  Unfortunately, it's something more of us struggle with than most people know.
Mental Health Facts:
1 in 5 adults experience metal health problems in any given year.
1 in 17 adults live with a mental illness such as major depression, bipolar disorder, or schizophrenia.
Approximately one-half of chronic mental illness begins by age 14, and three-quarters by age 24.
That's why at The Container Store, we've made it a priority to help educate our employees about this important issue. This year, our Home Office and Distribution Center hosted several events. We collaborated with our longtime community partner, Center for Brainhealth, to offer a Stress Solutions "Lunch and Learn," as well as a free Integrative Restoration (iRest) Interactive Meditation class for our employees. Originally developed at Walter Reed Army Hospital, iRest is a form of yoga and meditation that is utilized widely within the military and other organizations to induce deep relaxation and provide a midday "recharge" for its participants. This meditation class is in conjunction with the center's affiliate, Warrior Spirit Project, who assists veterans dealing with PTSD.
The power of simply focusing on your own mental health can't be denied. Finding 10 or 15 minutes a day for meditation and relaxation can reduce the production of the stress hormone cortisol and inflammatory chemicals called cytokines, which in turn can reduce anxiety, lower blood pressure and promote better sleep.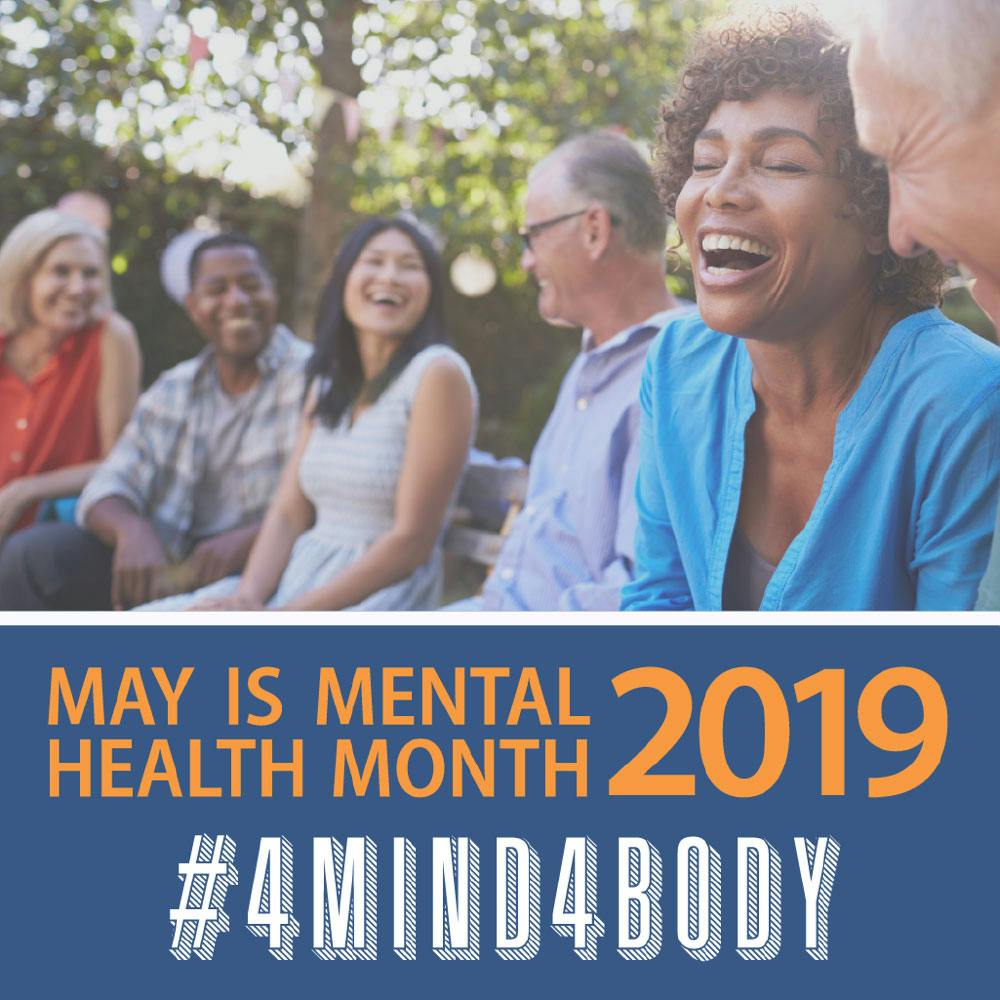 #4mind4body
And increasing awareness of mental health issues is key to solving them. That's why Mental Health Month, with its focus on learning how to recognize early symptoms of mental illness and the importance of discussing any concerns with a doctor or a mental health professional, is so valuable. It's also a time to de-stigmatize seeking mental health treatment. Early identification and treatment can make a big difference in how successfully a condition can be managed.
For example, major depression is a mood disorder that is far more serious than simply "feeling blue." Some people may experience it only once, but more than half have at least one additional episode over their lifetime. Be alert to any combinations of the following symptoms:
Depressed mood (sadness)
Poor concentration
Insomnia
Fatigue
Disturbance of appetite
Feelings of guilt
Thoughts of suicide
Anyone who experiences symptoms of mental illness should see a doctor for a focused discussion about mental health concerns and assessment of potentially related physical conditions.
For more information on Mental Health Month, you can visit the Mental Health America website. Remember—your brain is the key to everything, so do whatever it takes to keep it healthy!