Learning to be a Mom is hard. Really hard. Having the right support system makes all the difference.
Was my hospital bag fully packed? No. Did my sleep stretch more than 3 hours? Hardly. Did I know my team would handle things while I was out? Absolutely.
Our son Will surprised us all, showing up three weeks early. With nothing but a frantic text message from me to go on, my team swept into action. They spread our joyous news, saw to it that I had no distractions outside of new parenthood, and of course - brought over muffins.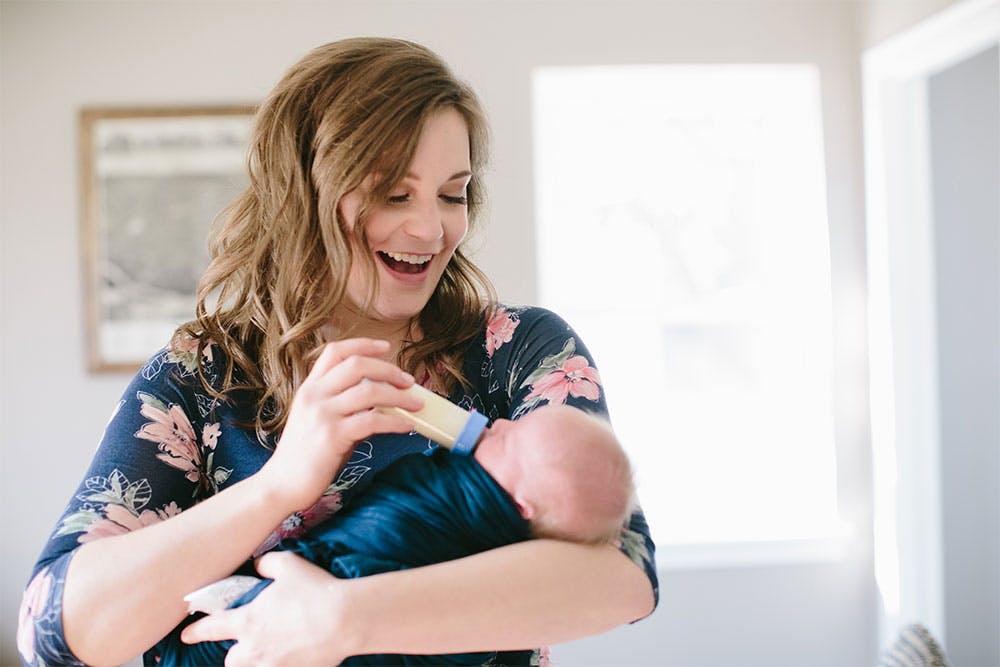 We felt very loved, and cared for! We discovered, unsurprisingly, that The Container Store does so much to support new families.
Will has not started using utensils yet, but every employee with a new addition receives an engraved silver spoon from the company.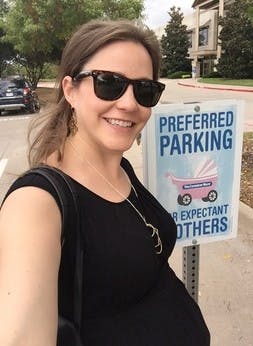 Expectant mothers at our Home Office enjoy the closest employee parking spaces in their final trimester. This definitely helps when you feel as big as a houseboat! (Now if we could just get grocery stores to get on board with "new parent" parking...)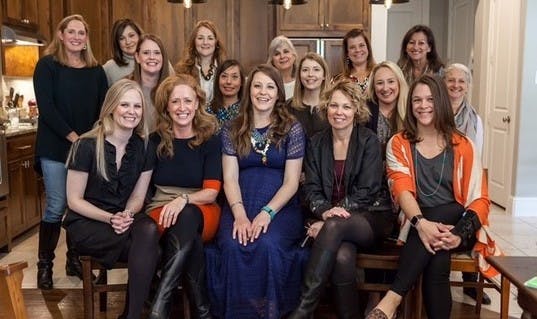 It is not a requirement that your team throws an awesome woodland-themed baby shower for you. However, those around you will support you in any way possible. Guaranteed.
The Container Store has a generous maternity policy. Moms that have been with the company for a year are eligible for 8 weeks of paid leave (6 weeks disability + 2 weeks of maternity leave) at 100% pay, and can take up to 12 weeks off. They also offer 2 weeks of 100% paid paternity leave for dads who have been with the company over a year...and they can take it any time within the first year of the baby's life. These policies are good for adoptive parents, and parents in registered domestic partnerships too. All of this is given in addition to regular paid time-off. Our company policy states:
We are committed to ensuring that our mothers can strike the perfect balance between work and family life. This belief exceeds that of many other companies that are much larger than ours, and is in keeping with our philosophy of providing outstanding benefits to our employees.
I am so grateful to work for an employee-first firm that encourages family time. There is enough worry with a newborn (Is he eating enough? Is he too cold? Did we already ruin his chances at college?). This time with my son I will always cherish (it was a bonus to have time to recover from zombie-like sleep deprivation). While I had grandiose ideas of reorganizing our guest room closet during maternity leave, we all just needed that time to adjust to being a family of three.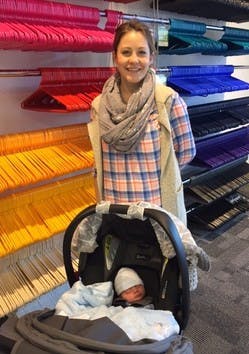 Will and I make our first trip out of the house. Did I know how to unfold the stroller? No. Did I understand how to unclip the car seat from its base? It was a struggle. Was The Container Store our first stop? Absolutely.
During maternity leave, it was difficult to leave all-day pajama pants behind, but I knew I needed to get out of the house. Our first outing was a visit to our Northwest Highway location in Dallas! It has always been a zen place for me, and the aisles are wide enough for strollers. Many TCS products truly have made our life more organized. Organization to me means more time spent with family, something I can never get enough of! As a new mom, I am totally in love with our Packit Personal Cooler (it fits 8 oz bottles perfectly!), Travel Happens Wet Bags (great for carrying wet baby clothes) and Our Label Maker (so dad knows where to store the onesies).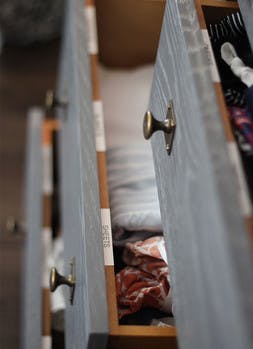 A few weeks before I returned to work, we enjoyed visiting friends at the Home Office. Truthfully, I just wanted to show off the cutest baby in the world. Will was unappreciative and slept the whole time, but it was lovely to see friendly faces before starting back at work. Now that I have returned to work, not a day goes by that people don't ask about him. (OF COURSE I'll tell you about the most perfect baby on the planet!) While it is challenging to juggle work, family and an unruly garden, I truly feel encouraged as a parent here.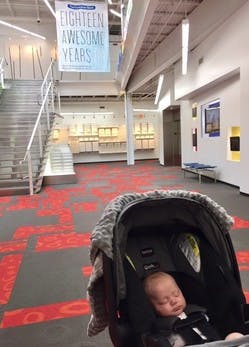 At The Container Store, having a child is not a pause button on your career. I have found that having a child is an experience that everyone in this company wants to celebrate with you. There is so much excitement for the new shape your life has taken.
If you are an expectant parent, I encourage you to look into all of the wonderful resources at your disposal. At The Container Store, we love our employees, through the many steps of their lives!