Watch our video – "The Great Hug"
Happy National We Love Our Employees Day!!
On this day, of all days, we want the world to know how warm and fuzzy we feel about each and every one of our amazing employees! It's our tradition to celebrate February 14th as a day of appreciation and love for all our employees for all they do for our company.
Today, we're treating all 6,000 of our employees to special gifts and recognition at our stores across the country, our home office and our distribution center. In honor of the warm moments we've shared and will continue to share, each of our wonderful employees is receiving a t-shirt, along with a super-soft lamb's wool blanket, symbolizing a thousand hugs from The Container Store! Watch "The Great Hug" video above to see what we're talking about.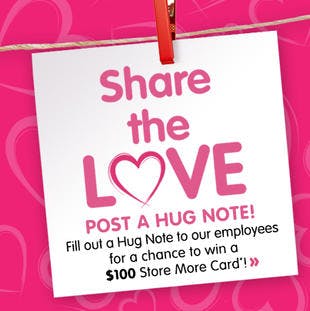 Please join us in celebrating the thousands of GREAT employees who make The Container Store such a fun place to work and shop by sharing your own "Hug Note" with them below.
Simply comment on this blog post and tell us why you love The Container Store's employees, and we'll select 10 customers to win a $100 Store More Card for sharing the love and a hug!
The contest ends Feb. 21 and we'll announce the winners on the blog shortly afterward!
*Share the Love and a Hug Giveaway Official Rules [click here]